Inbox: Who should be the Mets' new GM?
Beat reporter Anthony DiComo answers questions from fans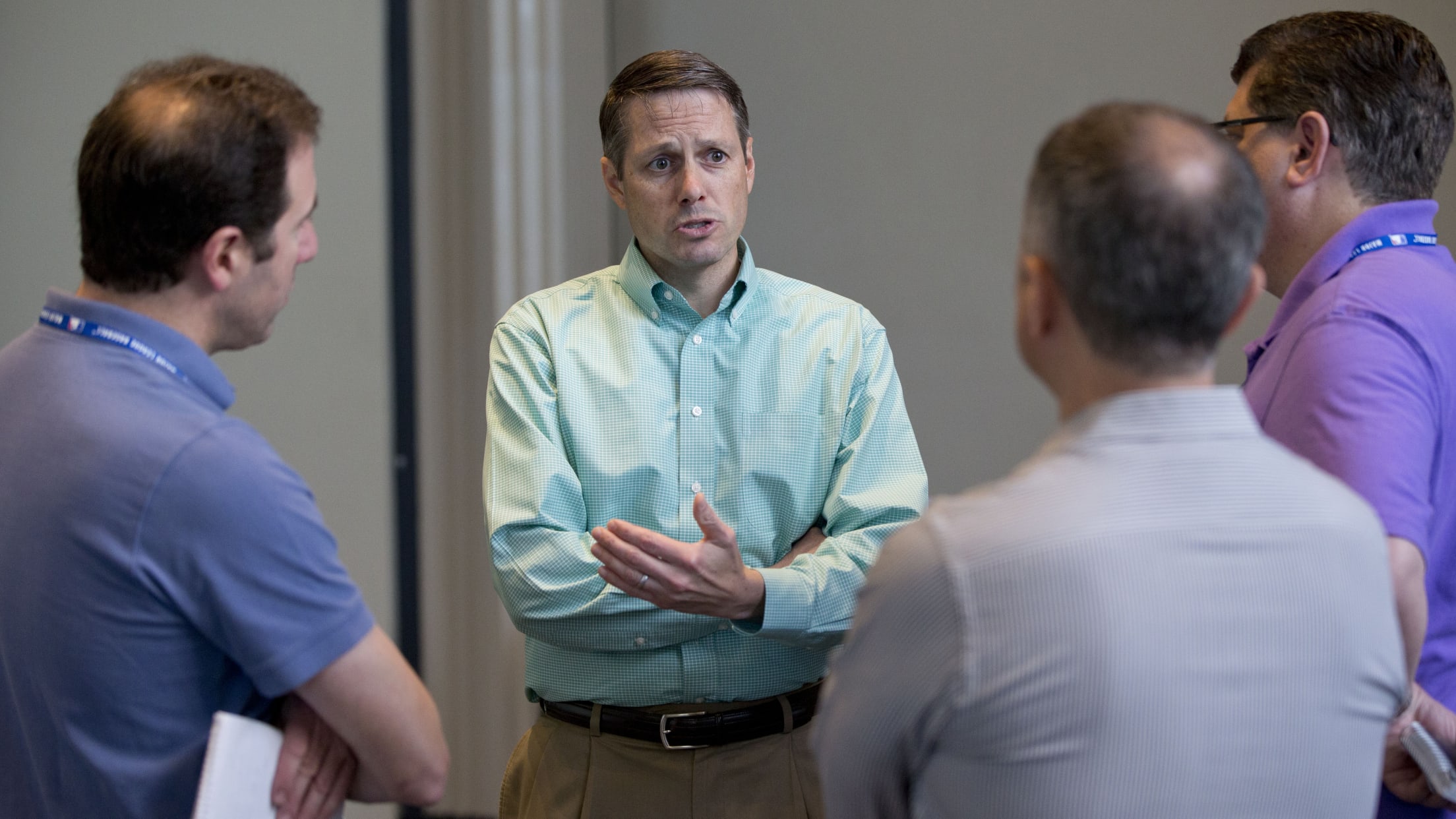 John Ricco, second from left, New York Mets assistant general manager, speaks to reporters after attending the baseball general managers' meetings, Wednesday, Nov. 11, 2015, in Boca Raton, Fla. (AP Photo/Wilfredo Lee) (Wilfredo Lee/AP)
The Mets' general manager search is kicking into full swing this week, as the initial wave of candidates meets with chief operating officer Jeff Wilpon and assistant general manager John Ricco. While we wait for a resolution on that process, let's dive into the first offseason Inbox:Who do you, Anthony
The Mets' general manager search is kicking into full swing this week, as the initial wave of candidates meets with chief operating officer Jeff Wilpon and assistant general manager John Ricco. While we wait for a resolution on that process, let's dive into the first offseason Inbox:
Who do you, Anthony DiComo, think should be the Mets' general manager? Also, how many analytics staffers should the Mets have?
--@JamesGBeattie via Twitter
While it's not my place to stump for one candidate over another, I chose this question to lead off the Inbox because it hits on the underlying theme of the Mets' GM search. Two strong candidates, Ben Cherington and Thad Levine, recently withdrew themselves from consideration, preferring to stay in comfortable situations in Toronto and Minnesota, respectively. Because both are successful 40-somethings with excellent track records, their absences from the process are hard to ignore.
• Submit a question to the Mets Inbox
The Mets GM job should be a sought-after position, given New York's market size and roster talent. And yet uncertainty surrounds it. Reports abound that principal owner Fred Wilpon wants a candidate who will rely on scouting, while his son, Jeff Wilpon, is more interested in executives with a sabermetric bent. The younger Wilpon recently said the size of the Mets' three-man analytics department -- tied for second-smallest in baseball, according to research by The Athletic -- is due to the recommendation of outgoing GM Sandy Alderson. Multiple sources within the Mets' front office have disputed that claim.
Jeff Wilpon has also said that while the next head of operations will have the authority to replace executives Ricco, J.P. Ricciardi and Omar Minaya, as well as manager Mickey Callaway, his preference is for all three to stay in place, creating skepticism within the industry.
Imagine, given all of that as a backdrop, being a GM candidate. You'd probably have some questions.
At least some answers should come soon, as the Mets cut down their first round of hopefuls -- a group that includes Brewers senior advisor Doug Melvin and Cardinals director of player development Gary LaRocque -- to a smaller bunch of finalists. As the Mets began interviews this week, the team has kept the process shrouded in secrecy.
Not everyone is interested in becoming the Mets' next GM, but plenty are. They'll fill the role before long.
Could Craig Kimbrel be a realistic option this winter?
--@ChrisDouthat via Twitter
It's difficult to answer free agency questions without a GM in place, because the new executive's ideas will color the Mets' decisions. But no matter who takes over the job, the Mets need relief help. Kimbrel is probably the biggest-name reliever available.
That doesn't necessarily make him the best option or the Mets' primary target. But the team should absolutely be shopping in the aisle that includes Kimbrel, Andrew Miller, Zach Britton, Adam Ottavino and other top relievers. There's enough inventory that the Mets can certainly acquire one of them. Realistically, they may need two.
Does Peter Alonso get a full chance at first base in Spring Training, or do the Mets try their best to shoehorn Jay Bruce there?
--@TomMorache via Twitter
Ostensibly, Alonso will enter camp with a chance to win the first base job. Realistically, it's difficult to see it happening. Having confined Alonso to the Minors for this long, the Mets now have financial incentive to keep him there a bit longer -- perhaps into June, when they would no longer run the risk of him becoming a Super Two arbitration-eligible player.
If Dominic Smith struggles in camp, that equation could change. If Smith, Bruce or Wilmer Flores suffers an injury, things might be different. But I don't get the sense the Mets will enter camp considering Alonso as the definite guy at first base.
In an ideal world, who should be the Mets' catchers next season? Realistically, who will be the catchers next season? This may be the need that is most difficult to solve considering everything else that is needed.
--@mariamb18 via Twitter
Realistically, Kevin Plawecki will be part of the team, either as the starter or backup. The Mets' other returning catchers are either uncertain to be healthy (Travis d'Arnaud) or unestablished at the big league level (Tomas Nido).
The question is whether the Mets sign one of the top two free-agent catchers available in Wilson Ramos or Yasmani Grandal, or perhaps land a backstop such as J.T. Realmuto in a trade. Given the Mets' unwillingness to engage in bidding wars in recent years, there are no guarantees. It's entirely possible the Mets sign a lesser catcher, keeping Plawecki in a timeshare and hoping d'Arnaud gets healthy. In this situation, as well, things will become clearer once the new GM is in place.
Did Jason Vargas lock up his rotation spot for 2019 with his solid finish this year? And if he didn't, do you think the Mets look to add from outside the organization for that fifth spot?
--@TimothyRRyder via Twitter
I believe Vargas did more than enough to earn a job in the Mets' rotation, going 5-1 with a 2.62 ERA in his last eight starts. That does not, however, mean the Mets have an appropriate amount of starting pitching depth. Beyond Jacob deGrom, Noah Syndergaard, Zack Wheeler, Steven Matz and Vargas, their depth hinges on Corey Oswalt and Seth Lugo. Even if prospects Justin Dunn and Anthony Kay take significant steps forward next season, they can't be counted on early in the season.
Ideally, the Mets will sign another swingman similar to Lugo, who can break camp in the bullpen and bounce to the rotation when necessary.
Lugo seemed to pitch really well this year. Does he get a shot at the rotation next year? Or do the Mets need to sign more relievers to free him from his bullpen responsibilities?
--@CobyWanKanobi via Twitter
Related to that last question, the Mets will stretch Lugo out as a starter next spring, but ultimately look to keep him in the bullpen. They need him capable of filling both roles.
Amed Rosario, Andres Gimenez and Ronny Mauricio are three of the brighter prospects in the Mets system and they all play shortstop. Would you expect them to trade from a strength, or would they plan on moving guys to new positions to accommodate?
--@keithhenn16 via Twitter
Could the Mets ultimately trade one of those players? Sure, but it won't be likely, because all three play shortstop. Gimenez and Mauricio are 20 and 17 years old, respectively. A lot can happen in their development over the next couple of years and, frankly, by the time Mauricio is ready to contribute, Rosario could be nearing free agency. Position switches happen all the time, but often not until players are close to the big leagues. They'll all stay at shortstop until there's reason to change.