Mets express glove love for new equipment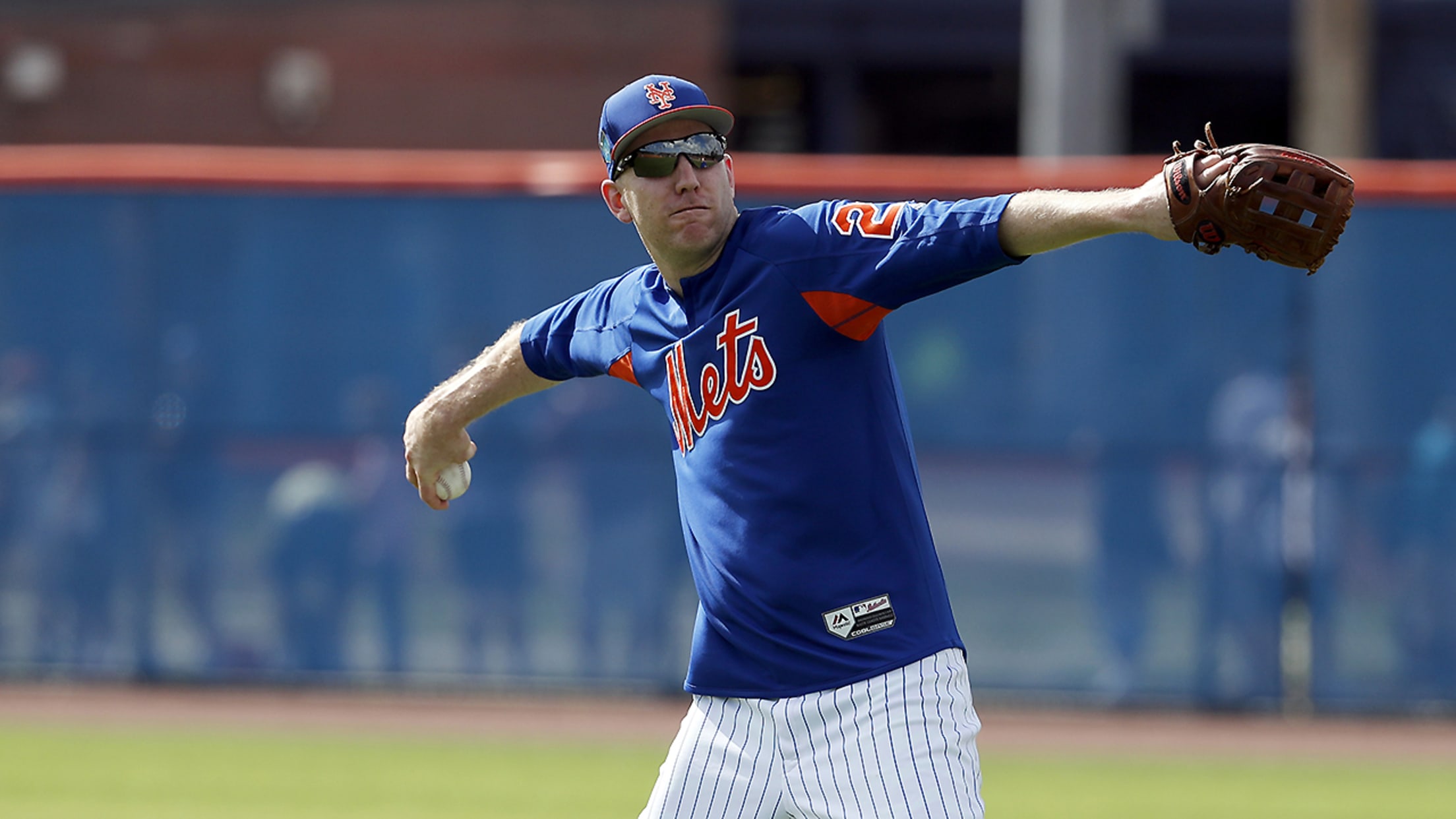 New York Mets' Todd Frazier throws during spring training baseball practice Wednesday, Feb. 21, 2018, in Port St. Lucie, Fla. (AP Photo/Jeff Roberson) (Jeff Roberson/AP)
PORT ST. LUCIE, Fla. -- After beginning Grapefruit League play on Friday with a 6-2 win over the Braves, the Mets took Saturday morning to celebrate another event: Glove Day.In a sport that allows for high socks and retro jerseys, few days are more fun for a baseball player than
PORT ST. LUCIE, Fla. -- After beginning Grapefruit League play on Friday with a 6-2 win over the Braves, the Mets took Saturday morning to celebrate another event: Glove Day.
In a sport that allows for high socks and retro jerseys, few days are more fun for a baseball player than receiving fresh equipment.
"You get two fresh gloves, and they'll make a nice design for you," third baseman Todd Frazier said. "Whatever you really want. Hopefully, it's broken in before the season starts."
Outfielder Juan Lagares will hit the field this year with an orange and blue glove. Lagares opted for tradition when asked to design his glove for his sixth big league season.
Do they come in gold⁉️ @juanlagares2 picks up his new gloves on #GloveDay. pic.twitter.com/TJS1GZIllA

— New York Mets (@Mets) February 24, 2018
"I have three years in a row using the same one," Lagares said with a smile. "Nothing changes. Nothing different."
Lagares showed brilliance with his glove last year, posting a 10.4 Ultimate Zone Rating as a center fielder, his highest total since recording an 18.6 UZR in his Gold Glove Award-winning season in 2014.
:: Spring Training coverage presented by Camping World ::
Frazier, in his first year with the Mets after spending 2017 with the White Sox and Yankees, modeled his new glove -- which features orange and blue along with his name stitched on -- after teammate David Wright.
"It's just a different webbing I have, kind of the same size," Frazier said in comparing his glove to Wright's. "At third base, you want a little bigger so you can get those balls down the line."
Lagares and Frazier both are excited about the future their new equipment can provide.
"It's always fun [to get the new stuff]," Lagares said. "It's fresh, everything's new."
Jake Elman is a contributor to MLB.com.