Mets reorganize staff; Roessler, Bones out
DiSarcina becomes 3B coach; Sherlock moves to 1B; Amaro now an advisor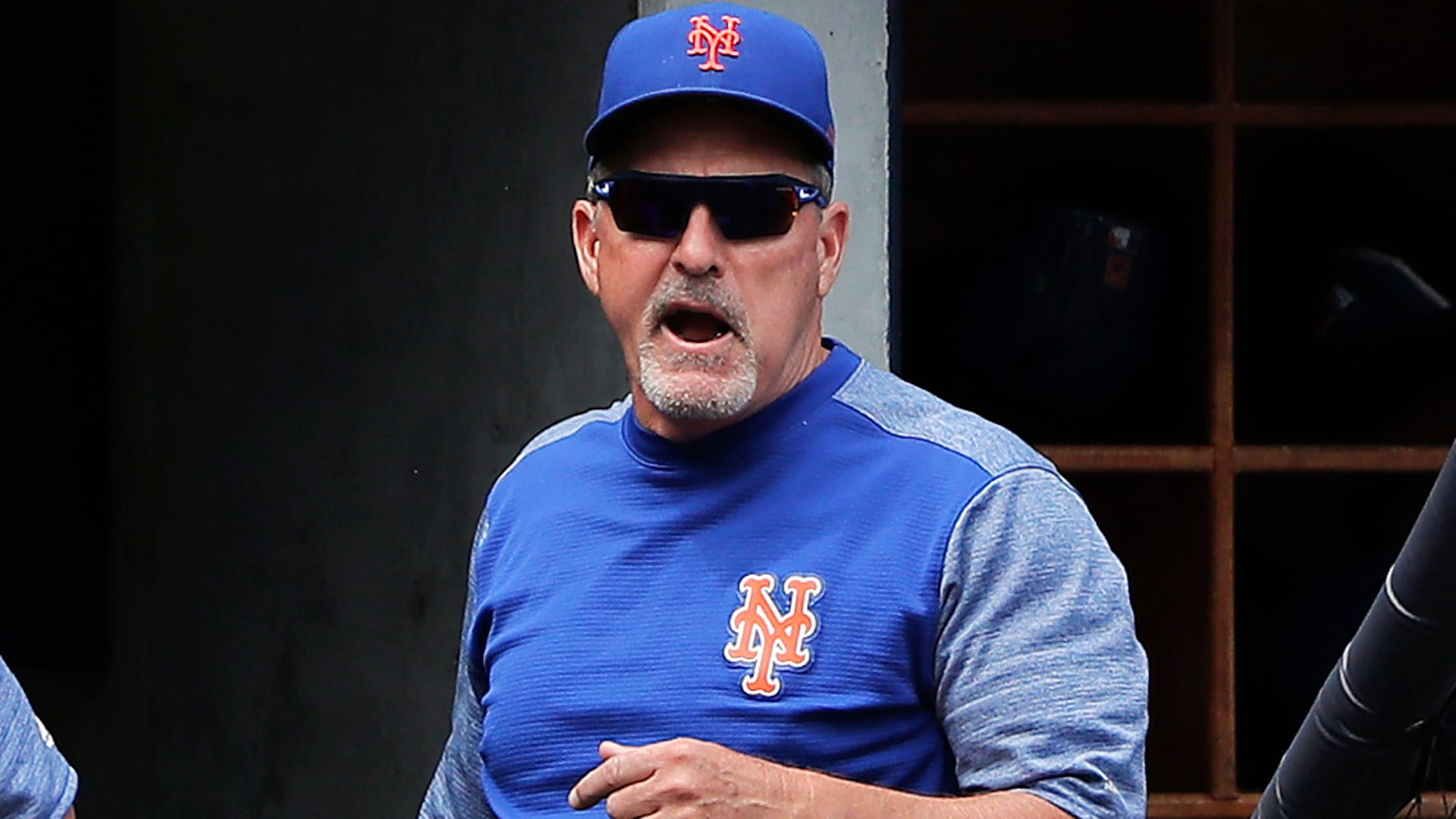 CARLSBAD, Calif. -- Brodie Van Wagenen's first full week as Mets general manager brought with it a significant coaching shakeup.The team is not retaining hitting coach Pat Roessler and bullpen coach Ricky Bones on the big league staff, Van Wagenen said Monday after arriving at the General Managers Meetings. Bench
CARLSBAD, Calif. -- Brodie Van Wagenen's first full week as Mets general manager brought with it a significant coaching shakeup.
The team is not retaining hitting coach Pat Roessler and bullpen coach Ricky Bones on the big league staff, Van Wagenen said Monday after arriving at the General Managers Meetings. Bench coach Gary DiSarcina will become third-base coach, while Glenn Sherlock will move from third base to first base. Previous first-base coach Ruben Amaro Jr. will move to the front office in an advisory role.
Manager Mickey Callaway will be in New York next week to conduct interviews to find a new bench coach, hitting coach and bullpen coach, and he will be "very much involved" in the hiring process, according to Van Wagenen.
"Any time you make a staff change, it's a tough decision -- especially from my vantage point to come in on Week 1 and have to make some difficult calls, or have Mickey make some difficult calls after his first year in the dugout," Van Wagenen said. "It's never easy. But my thought was if we're going to identify some changes, let's do it immediately."
Here's Brodie Van Wagenen discussing the decision to move on from hitting coach Pat Roessler: pic.twitter.com/W68CumSpku

— Anthony DiComo (@AnthonyDiComo) November 6, 2018
Roessler, 58, joined the Mets as an assistant hitting coach under Kevin Long in 2015. The team promoted him to hitting coach when Long left for the Nationals last offseason, but Roessler's Mets ranked 23rd in the Majors in runs, 29th in batting average, 21st in on-base percentage and 26th in slugging in '18. Still, Roessler was hugely popular with Mets hitters. Prior to joining the team, he spent nine years in various roles in the Yankees' organization.
"At this point, our goal is to try to show improvement offensively," Van Wagenen said. "We're going to keep our eyes open to a variety of different options."
Bones, 49, a former All-Star for the Brewers, has been in the Mets' organization since 2006 and the bullpen coach since '12. A source said Bones will have an opportunity to move to another role in the organization. Bones, Roessler and Sherlock were the three holdovers from former manager Terry Collins' staff.
Set to return are pitching coach Dave Eiland, who guided the Mets to the Majors' eighth-best ERA after the All-Star break, assistant hitting coach Tom Slater and DiSarcina, Sherlock and Amaro in their new roles. Prior to joining the Mets, DiSarcina had only one year of experience as a bench coach (with the Red Sox in 2017). Van Wagenen said that hiring a more experienced bench coach "would be a win for Mickey" to "help him in his development."
Amaro, the former Phillies GM, has a "long history" with Van Wagenen dating back to the latter's college years, and continuing with their negotiations as a GM and agent in the 2000s.
"In my transition, he can be a valuable asset for me in the front office," Van Wagenen said.
Van Wagenen's first week on the job has been a blur of personnel issues, both on the field and in the front office. Last week, he committed to keeping Callaway as manager. Special assistant to the GM Omar Minaya also committed to staying, though there has been no public word regarding fellow executives John Ricco and J.P. Ricciardi. Both are at the GM Meetings this week.
When asked if he had any clarity on the futures of those two executives, Van Wagenen said "not yet," but later added that he is not waiting to hear any sort of decision from them. When asked another time if they will stay, Van Wagenen answered, "I hope so."
"At this point, we want to identify where our greatest needs are, and make sure we're putting our best people in that position," Van Wagenen said. "We've talked to those guys about various different roles and areas of focus. Hopefully we can get more definition as it goes forward. But they're certainly important to me, and that's why they're out there this week."