Injured Indians share in clinch celebration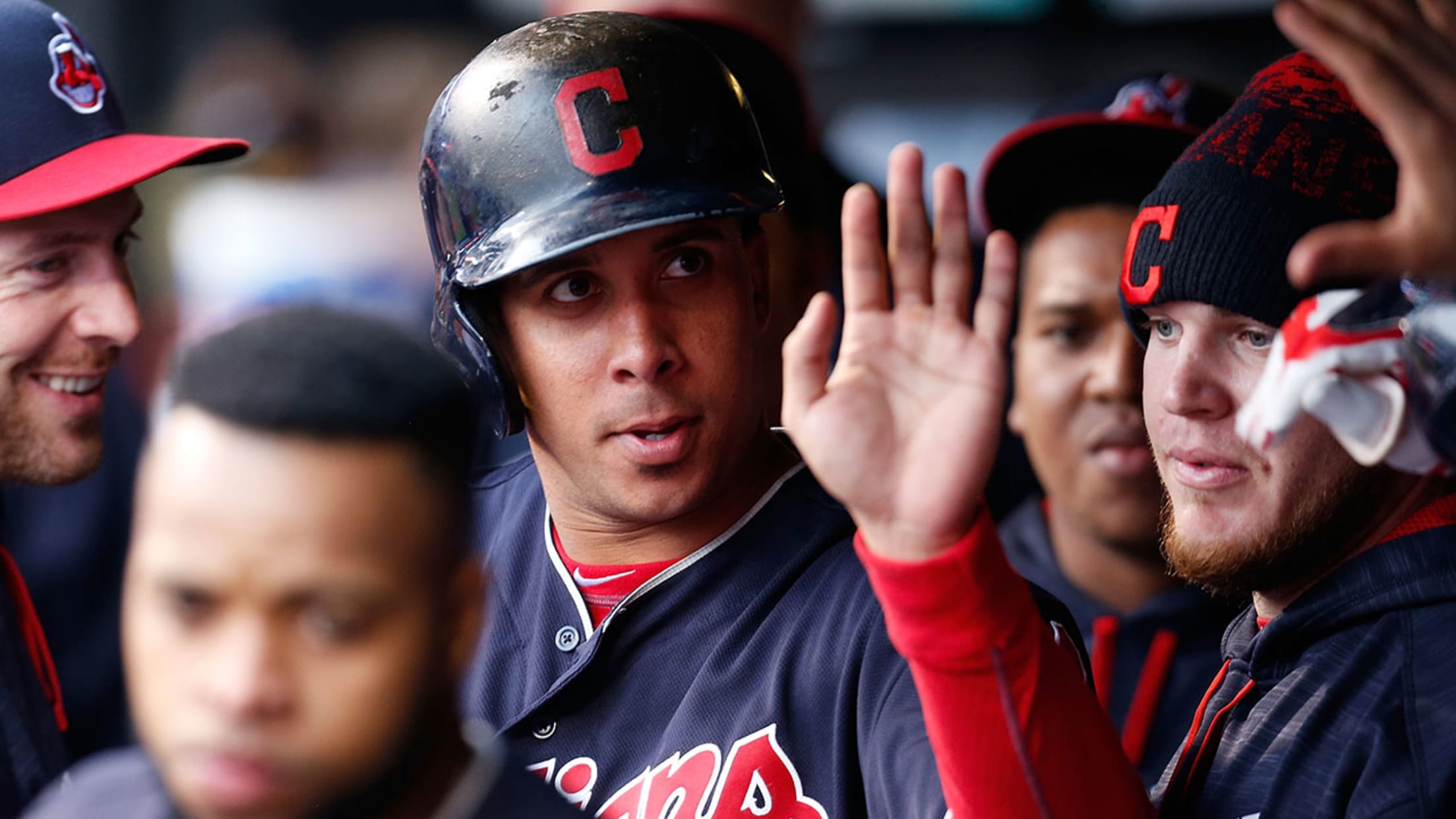 Michael Brantley has been limited to 11 games this season. (Getty)
DETROIT -- Michael Brantley leaned against a wall, arms folded across his chest, and just watched. Across the clubhouse hallway and inside the visitors' locker room at Comerica Park, his Indians teammates poured champagne, drenching everything and everyone in sight as they shouted, laughed and hugged after winning the American
DETROIT -- Michael Brantley leaned against a wall, arms folded across his chest, and just watched. Across the clubhouse hallway and inside the visitors' locker room at Comerica Park, his Indians teammates poured champagne, drenching everything and everyone in sight as they shouted, laughed and hugged after winning the American League Central title.
Brantley soaked it all in from afar on Monday night.
"To be here," Brantley said, "to celebrate with your teammates, with all the hard work all the guys put in together as one, I don't know if there are the right words for it."
• Shop for postseason gear
With a 7-4 victory over the Tigers on Monday, the Indians put the finishing touch on their run to their first division title since 2007. With six games left in the regular season, Cleveland can still try to chase down the Red Sox and Rangers to earn the right to home-field advantage. To get to this point, the Indians have had to overcome a series of injuries, and the club will continue to be tested into October.
Brantley is a key member of Cleveland's core, and finished third in AL Most Valuable Player voting two years ago, but shoulder woes limited him to only 11 games this season. The Indians did this without Brantley, and despite a variety of other issues that arose throughout the year.
Also on hand in Detroit for the Tribe's party were pitchers Carlos Carrasco and Danny Salazar, as well as catcher Yan Gomes. During the celebration, Carrasco walked around with a water-proof sleeve over the cast on his fractured right hand. Gomes joined in the fun, but had his broken wrist taped. Of the injured players, only Salazar has a realistic chance of returning for October.
Even though he is done for the year, Carrasco was happy to be there for the celebration.
"It means a lot," Carrasco said. "We are together from Spring Training, so there's no reason to stop. I just want to go with my teammates everywhere. We are family here. I just want to be with them."
In the wake of Brantley's shoulder injury, which led to season-ending surgery in August, Jose Ramirez has emerged as an offensive weapon potentially worthy of MVP votes for the Tribe. The loss of Carrasco and Salazar paved the way for rookie Mike Clevinger to step up for Cleveland this month. In Gomes' absence, Roberto Pérez has handled the pitching staff, controlled the running game and picked up his offense of late.
During the division-clinching win over the Tigers, Perez delivered a key home run in the seventh and an RBI single in the eighth.
"We've been doing it all year," Brantley said of the team's resiliency. "We've just got to rely on one another, and just keep being great teammates and keep pushing forward. We have a great group of guys and great teammates. I'm excited to see what we do in the postseason."
Indians second baseman Jason Kipnis said it was important to have Brantley and the others on hand for Monday's celebration.
"We wanted to make sure they were here for this," Kipnis said. "They're as big a part of the team as anybody. You're naming a bunch of our core guys. You're naming a bunch of guys that got us this far. So, even if they may not be playing right now, they're as big of a reason as some of the guys who are playing. They need to be a part of this. They need to celebrate. They need to enjoy themselves, because they earned it, too."
As Brantley looked on, Gomes walked over with two drinks in hand to share one with the outfielder.
"I can't get hit," Brantley said. "I've got to look from the outskirts."
Eventually, Brantley did join the clubhouse celebration -- once it no longer resembled a mosh pit -- to share in the moment with his teammates.