Brantley a hit with fans, babies as he rehabs
Recovering with Double-A Akron, Indians All-Star signs infant's shirt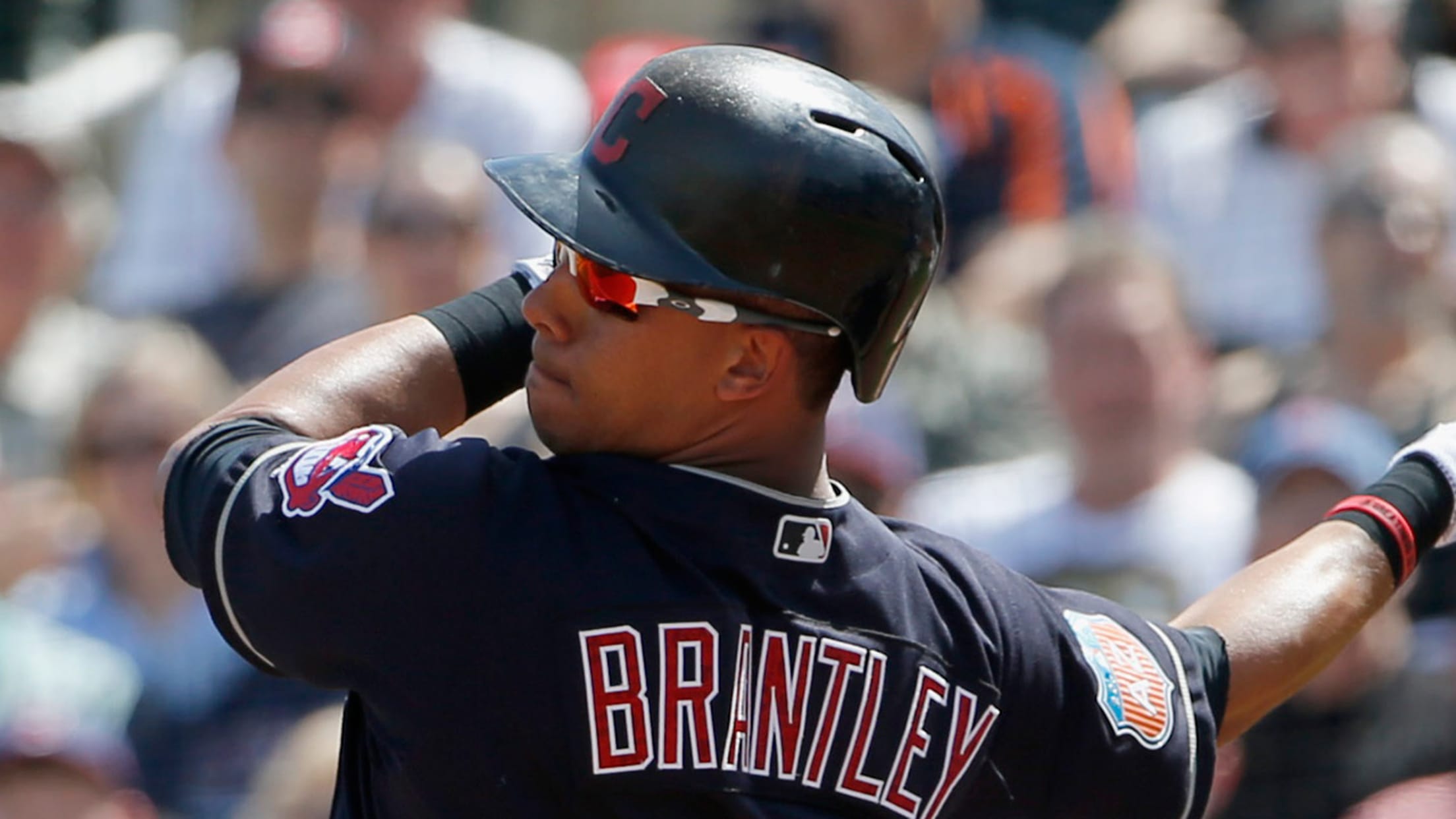 Michael Brantley went 1-for-2 on Thursday as he rehabs with Double-A Akron. (Ross D. Franklin/AP) (Ross D. Franklin/AP)
CLEVELAND -- Going back to the Minor Leagues for a rehab assignment can be a unique experience for a big leaguer. Not only did Michael Brantley have to suit up as a RubberDuck on Thursday for Double-A Akron, one excited fan actually asked the Indians outfielder to autograph her baby.Brantley
CLEVELAND -- Going back to the Minor Leagues for a rehab assignment can be a unique experience for a big leaguer. Not only did Michael Brantley have to suit up as a RubberDuck on Thursday for Double-A Akron, one excited fan actually asked the Indians outfielder to autograph her baby.
Brantley penned his name -- which happened to also be the baby's name -- on the child's shirt.
"The baby's name is 'Brantley,'" he said with a smile on Friday afternoon. "I signed a baby. It's actually not a first. There's another couple that also named a baby 'Brantley,' and I signed that baby as well."
@BrantleyDaily Dr. Smooth can handle babies as well as baseballs. #TCPPhotoCLE #indians @MLB @ESPNCleveland pic.twitter.com/jZAHtsBfNQ

— TCP Photography (@TCPPhotoCLE) April 15, 2016
During Brantley's stop at Double-A on Thursday, Cleveland's left fielder went 1-for-2 in his latest step toward coming off the 15-day disabled list. Brantley, who is recovering from November surgery on his right shoulder, is scheduled to play six or seven innings on Saturday with Akron again, according to Indians manager Terry Francona.
Francona added that Brantley will continue to play on an every-other-day basis for a few days, while the Indians monitor how he bounces back from the games. The manager noted that Brantley will likely need to play in consecutive games before rejoining the Indians' active roster.
"He's doing pretty well. I think he's pretty excited about how he feels," Francona said. "I think the best way to put it is we want to make sure this works. We'd hate to get him back here and then find out that maybe he's not bouncing back, or he's not ready to bounce back."
Other items of note
• Heading into Friday's game against the Mets, Indians veteran Juan Uribe was 1-for-19 to start the season. Francona said it is far too early to be concerned about the third baseman, especially given the number of hard-hit outs that Uribe recorded in the early going.
"The last couple games, he hasn't swung the bat great," Francona said on Friday. "But the first five games, they have one stat where it's hard-hit outs or something, and I think he led baseball. He hit some balls to center field here -- three or four before we left -- in the cold, that he hit right on the screws. Small sample size. Those things will even out."
• Indians outfielder Lonnie Chisenhall (15-day DL with left wrist issue) is scheduled to continue his Minor League rehab assignment on Friday and Saturday, per Francona. Chisenhall will then be re-evaluated by Cleveland on Sunday before the club maps out the next step in his comeback.