Brantley staying with Indians before rehab stint
Outfielder will work out at Triple-A, while Cleveland plays in Chicago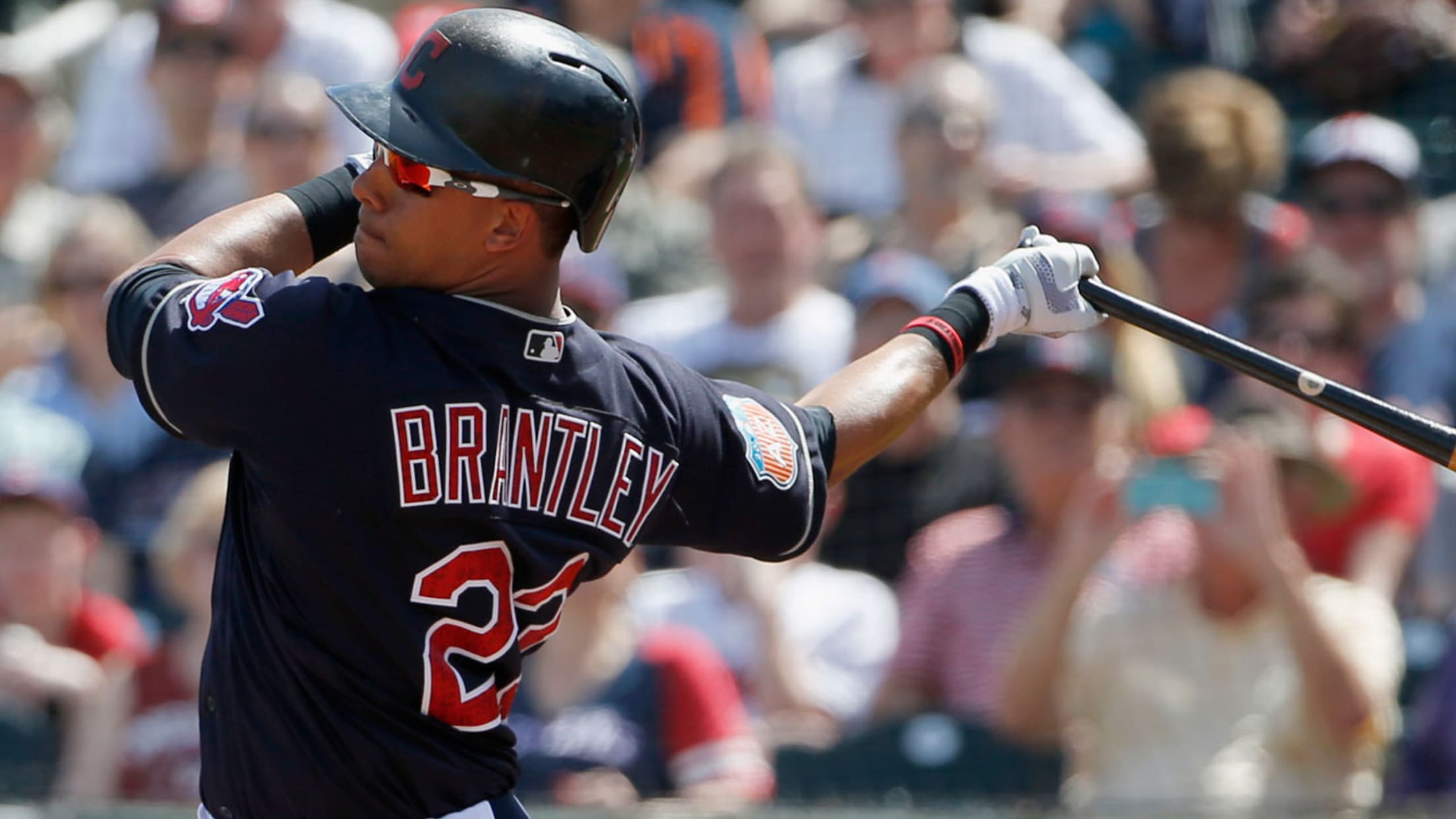 There is still no timetable for when Indians outfielder Michael Brantley will begin a Minor League rehab assignment. (AP)
CLEVELAND -- Michael Brantley has stated a preference not to return to Arizona to continue his comeback from right shoulder surgery. Given the rehab work the left fielder is putting in and the progress he is making behind the scenes, the Indians do not see a reason to go against
CLEVELAND -- Michael Brantley has stated a preference not to return to Arizona to continue his comeback from right shoulder surgery. Given the rehab work the left fielder is putting in and the progress he is making behind the scenes, the Indians do not see a reason to go against Brantley's wishes.
"He doesn't need [to go back to Arizona]," manager Terry Francona said on Thursday. "He's been so good about getting his work in and things like that. Whatever he kind of wants to do, he's doing it for a reason."
Given the rainy conditions on Thursday, Brantley remained with the team to get his daily workout and rehab in at Progressive Field. When the Indians travel to Chicago this weekend for a three-game set against the White Sox, the plan is to have Brantley join Triple-A Columbus to work out with the team, but not to play in games.
There is still no timetable for when Brantley will begin a Minor League rehab assignment, or a target date for his activation from the disabled list. Barring another setback, late April or early May remains the possible range for his return.
"He's one of the best hitters in the game," Francona said. "It'll be great to have him back. When you add a hitter to your lineup, it's amazing. It's more than just one hitter. It seems to help everybody in front and behind, too."
Worth noting
• Carlos Santana was a plus runner last season, posting a 1.3 baserunning runs above average, according to Fangraphs.com. Through the first two games, the designated hitter has continued to look aggressive on the basepaths, impressing Francona.
"I'm thrilled," Francona said. "He's had a good spring, as far as work, and you know, and you've seen the first two games, his baserunning has been terrific. He seems to have found another gear, which is good. ... We need to be that type of team."
• Outfielder Rajai Davis (.796 career OPS against lefties and .654 career OPS against righties) has been in the starting lineup only once through three games. That start came on Tuesday against Red Sox lefty David Price. Francona said Davis will start some against right-handers, adding matter-of-factly that, "It's not a platoon."
• Right fielder Lonnie Chisenhall, who is on the 15-day disabled list due to a left wrist issue that flared during the spring, joined Triple-A Columbus on Thursday to begin a Minor League rehab assignment, though the Clippers' game also was rained out. Francona noted this week that the plan is to have Chisenhall play around five games before potentially being activated.