Hermosillo to play in Dominican winter league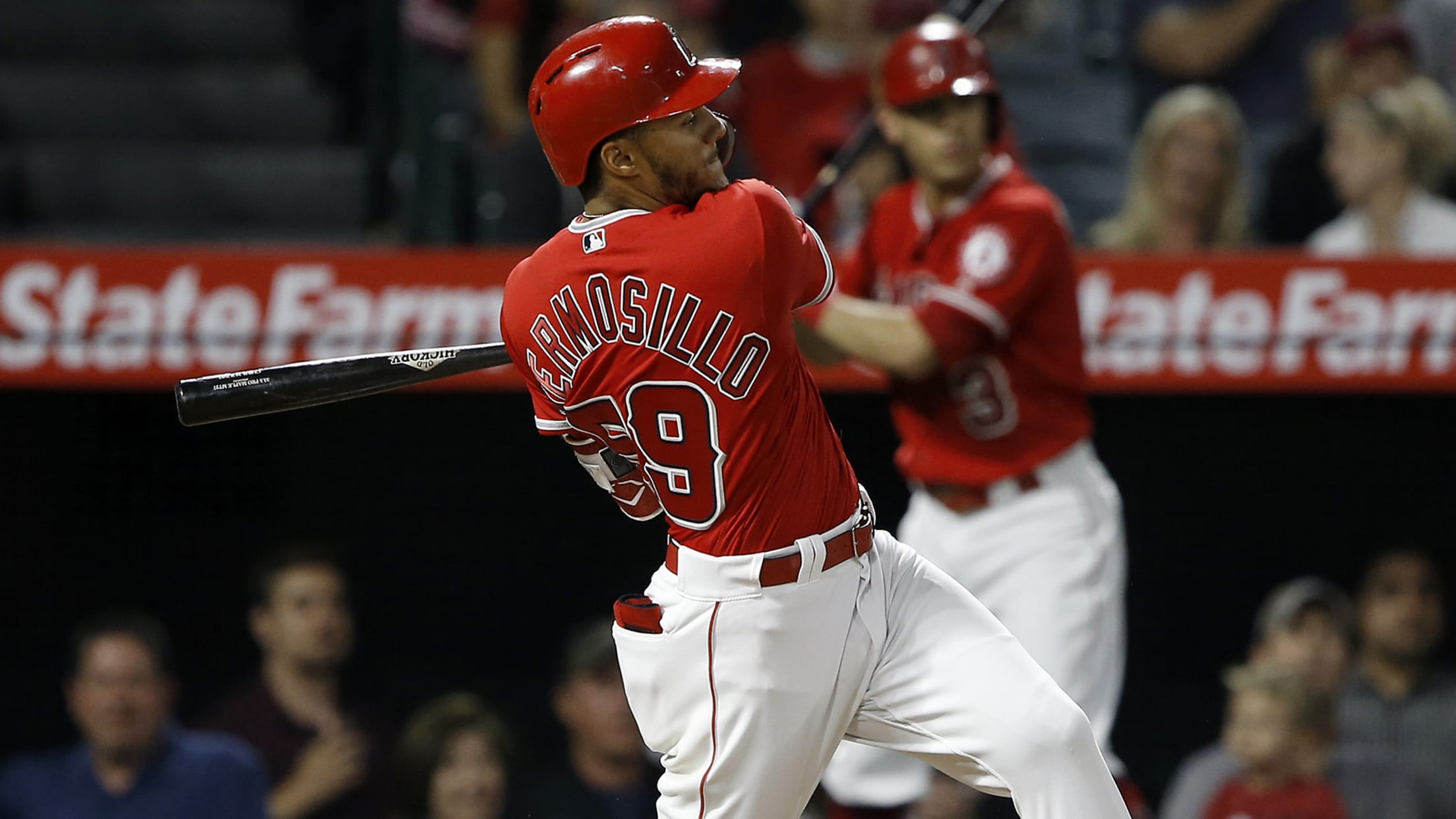 Los Angeles Angels' Michael Hermosillo hits a single against the Kansas City Royals during the fifth inning of a baseball game in Anaheim, Calif., Tuesday, June 5, 2018. (AP Photo/Alex Gallardo) (Alex Gallardo/AP)
ANAHEIM -- Michael Hermosillo's offseason will include a month-long stint in the Dominican Republic, where the rookie outfielder will suit up for the Tigres del Licey and play winter ball in an effort to recoup the at-bats he lost after missing nearly a month with a sports hernia in August."I
ANAHEIM -- Michael Hermosillo's offseason will include a month-long stint in the Dominican Republic, where the rookie outfielder will suit up for the Tigres del Licey and play winter ball in an effort to recoup the at-bats he lost after missing nearly a month with a sports hernia in August.
"I had missed pretty much all of August with a small tear in my groin," Hermosillo said. "I didn't get any surgery or anything like that, it just repaired on its own, but I thought it'd be great to get at least like another 100 at-bats under my belt. Plus, I've just heard great things about winter ball in general just like from [Eric Young Jr.] and Jabari [Blash]. Cameron Maybin had told me last year that he enjoyed it as well. I was really open to the idea."
Hermosillo, 23, batted .267 with an .837 OPS, 12 home runs and 10 stolen bases over 68 games with Triple-A Salt Lake this season, but he's received sporadic playing time with the Angels since debuting on May 18. In 28 games for the Angels, Hermosillo has gone 11-for-52 (.212), though he made the most of his start in left field on Monday, clubbing his first career home run against the Rangers.
"Michael hasn't gotten enough of a look, I think, to say this or that with him or that he stubbed his toe," manager Mike Scioscia said. "He needs more playing time, but even the little playing time he gets and being here will make him better next time. … Everybody in the organization is excited about his athleticism. Hopefully, whatever experience he gets up here, he'll use to get better."
Hermosillo said he plans to report to Licey on Oct. 13, but he will return home to Arizona prior to Thanksgiving to await the birth of his daughter. He hopes the experience will allow him to refine his skills and help position him to further his development in 2019.
"Just enjoy it for one because everyone says it's such a fun experience," Hermosillo said. "And then obviously keep building on what I'm trying to do here, have good at-bats, see good pitching, play against good competition. Just enjoy it."
Robles impressing
Hansel Robles, who picked up his first save with the Angels in Tuesday's 4-1 win over the Rangers, has been enjoying a nice run out of the bullpen, posting a 1.59 ERA with 11 strikeouts over 11 1/3 innings over his last 12 appearances. Since joining the Angels in June, Robles has pitched to a 3.06 ERA, significantly better than the 5.03 ERA he posted in 16 appearances for the Mets earlier this season.
"He's made some adjustments," Scioscia said. "He had a little shoulder flare up that set him back a little bit, but he's been lights out his last handful of appearances. You see the velocity. He's come up with a really good changeup. He's got a nice slider. Three good pitches that he'll use in any situation. He's a guy that's definitely put his best foot forward here with the opportunities he's had in this last month."