Kopech growing out his hair for a worthy cause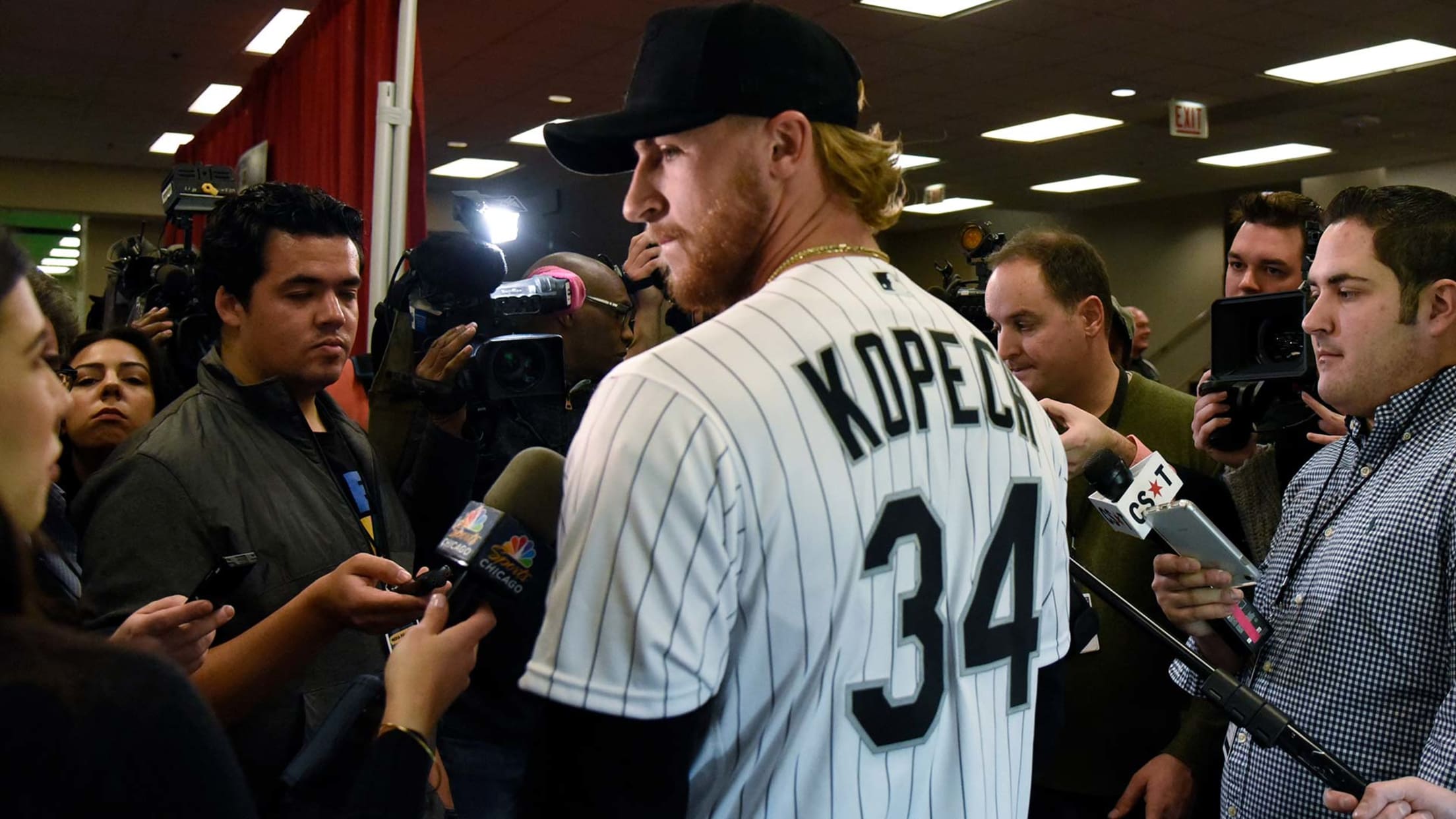 CHICAGO -- Michael Kopech is going against a White Sox team grooming policy, but he's doing it for a great cause, and he's doing it with the full blessing of the organization. In partnership with Chicago White Sox Charities (CWSC), the right-handed hurler has launched "Kopech's Big Kut," a charity
CHICAGO -- Michael Kopech is going against a White Sox team grooming policy, but he's doing it for a great cause, and he's doing it with the full blessing of the organization.
In partnership with Chicago White Sox Charities (CWSC), the right-handed hurler has launched "Kopech's Big Kut," a charity sweepstakes supporting Ronald McDonald House Charities of Chicago and Northwest Indiana and CWSC.
As part of the effort launched in honor of Childhood Cancer Awareness Month, Kopech has pledged to grow out his hair through the end of the year to donate for natural-hair wigs for children who have lost their hair as a result of cancer treatments. The sweepstakes began Friday and will run through Monday, Sept. 30.
All fans who donate through the link at whitesox.com/BigKut are automatically entered into the sweepstakes. Prizes include autographed memorabilia and the chance to win the grand prize -- a Kopech VIP Experience. It features two MVP Passes for SoxFest 2020, limo transportation to SoxFest, an overnight hotel stay, an opportunity to dine with Kopech at a mutually agreeable time, as well as two Magellan Scout Lounge Seats at a White Sox game during the 2020 season (exclusions apply).
In honor of Childhood Cancer Awareness Month, @MichaelKopech5 has pledged to grow out his hair to donate to kids who have lost their hair as a result of cancer treatment.

MORE on "Kopech's Big Kut," a charity sweeps supporting RMHC & @soxcharities: https://t.co/Np2cgkQcBg pic.twitter.com/Gu4rm44Gxw

— Chicago White Sox (@whitesox) September 6, 2019
But the biggest prize for the 23-year-old Kopech is simply the idea of being able to give back.
"Cancer is something that has been very devastating in my family. We've lost so many family members to different types of cancer," Kopech told MLB.com during a Friday phone interview. "And then childhood cancer is something that really sticks out to me.
"Kids that already haven't developed and learned life skills of their own, and are still impressionable, are also having to fight something that is much bigger than the world is able to handle, especially a young child. That was something I just really wanted to be able to help out in some way.
"I know that it may not be much," Kopech said. "But if I can do something with my hair to actually say that, 'I'm on your side and I'm pulling for you, too,' to me that's a bigger picture."
For the fourth consecutive year, MLB Clubs raised awareness for childhood cancer Saturday by wearing "gold" during games on a special league-wide day in ballparks. All players, coaches, umpires and grounds crew members will wear gold ribbon decals and wristbands during games. MLB's "Childhood Cancer Awareness Day" is in recognition of September as Childhood Cancer Awareness Month in partnership with Stand Up to Cancer (SU2C).
On Tuesday, the White Sox will visit patients receiving treatment at the University of Chicago Medicine Comer Children's Hospital and deliver Sox themed Starlight Brave Gowns. Prior to the game that night, the club will welcome a group of pediatric cancer survivors to participate in special pregame experiences, including Kids Take the Field and the Play Ball announcement.
The idea is for Kopech, who is recovering from Tommy John surgery performed last September, to cut his hair as an event with the kids from the Ronald McDonald House around SoxFest 2020, which takes place Jan. 24-25. Kopech understands the idea of the team wanting players to keep their hair and beards well maintained, but given that he's already growing out his hair while not playing this year, he thought about potentially doing something bigger for a worthy cause while going through his rehab work in Arizona.
"There really is just not enough done about [cancer]," Kopech said. "We can really do more, and even just as a small step as me growing my hair out and cutting it all off. If I can help out in any way I can, I think I would really like to.
"I'm in a fortunate position to where I am able to live life pretty easily and play a game that I love, and make the money I've been fortunate enough to make. I feel like it would be selfish of me to not try to give back in some way.
"Whether it's minimal or not, I'm in a position to where I'm able to do so. So, I think that I should," Kopech said. "I'm going to continue to try to give back, but this is just another way. This will be good for all us who join in on it."