Miggy shoots segment for 'Diesel Brothers'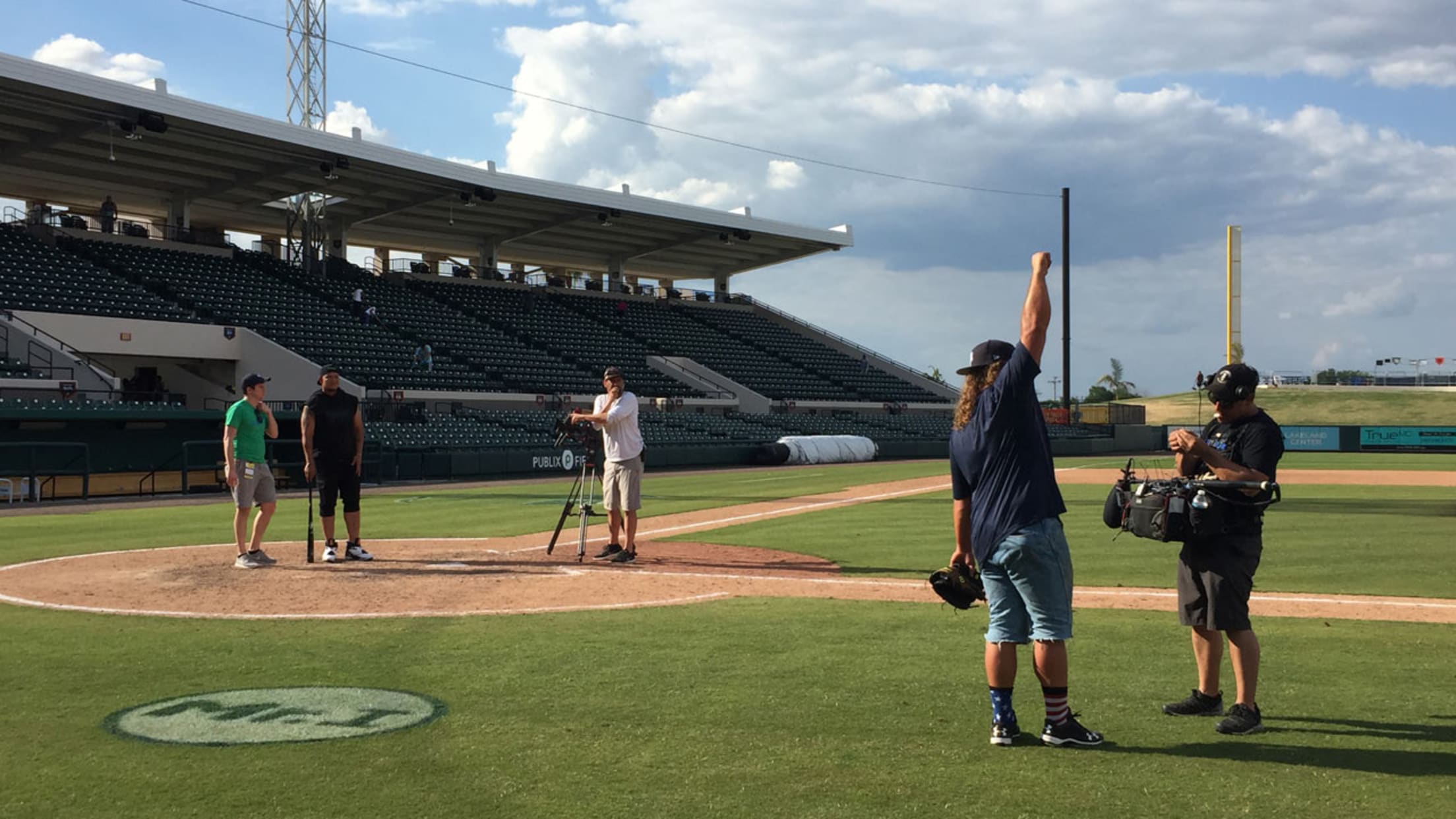 Miguel Cabrera prepares to shoot a "Diesel Brothers" segment at Joker Marchant Stadium. (Tigers)
LAKELAND, Fla. -- Jose Cabrera played his final home game of this Spring Training under the Florida sun Wednesday afternoon. He cleaned up, donned some of his branded clothes for street gear, and got back into the batter's box at Publix Field at Joker Marchant Stadium to play some ball
LAKELAND, Fla. -- Jose Cabrera played his final home game of this Spring Training under the Florida sun Wednesday afternoon. He cleaned up, donned some of his branded clothes for street gear, and got back into the batter's box at Publix Field at Joker Marchant Stadium to play some ball with a couple of guys who consider themselves fans.
Both efforts were under the camera. One was an 8-2 Tigers loss to the Phillies; the other was a segment for an episode of Discovery Channel's "Diesel Brothers." The show teamed up with MLB Network for a baseball-themed episode in which Cabrera orders a custom diesel truck to drive around Detroit.
It's a new venture for Cabrera, a car enthusiast.
"I like old cars because my grandfather used to be a mechanic in Venezuela," Cabrera said. "I like to build cars and trucks."
Asked what he's seeking for a truck, Cabrera said, "Something big, powerful, loud. It's going to be something for charity, too."
Cabrera hopes to use the custom truck as part of his foundation work in Detroit and Miami. But he also needs to be able to drive it around town, which makes it an interesting project.
"The way he was describing it, he wants his truck to look like him -- big, strong, bold," said Heavy D, who headlines the Diesel Brothers along with Diesel Dave. "It's not going to be that difficult of a build as long as we don't take it too over the top, because he's got to drive this thing every day. It's going to be an end-user truck. It's got to be legal where he is."
They can do that. While some of their projects can take two to three months, this one should take two to four weeks, by Heavy D's estimation, to complete at their shop in Salt Lake City.
Before that, though, they had some fun at the ballpark with Cabrera, Hall of Famer Pedro Martinez and former Tigers first baseman Carlos Pena. The latter two are currently MLB Network analysts.
"I love it," said Diesel Dave, who said he was a catcher and third baseman in high school. "We got to swing at pitches that Pedro was throwing at us. We got to run the bases with Carlos, catch, field grounders. It's a dream come true."
Cabrera is hoping for the same from his truck, which should be revealed during the season in Detroit and chronicled in an episode later this year.