White Sox sign former O's righty Gonzalez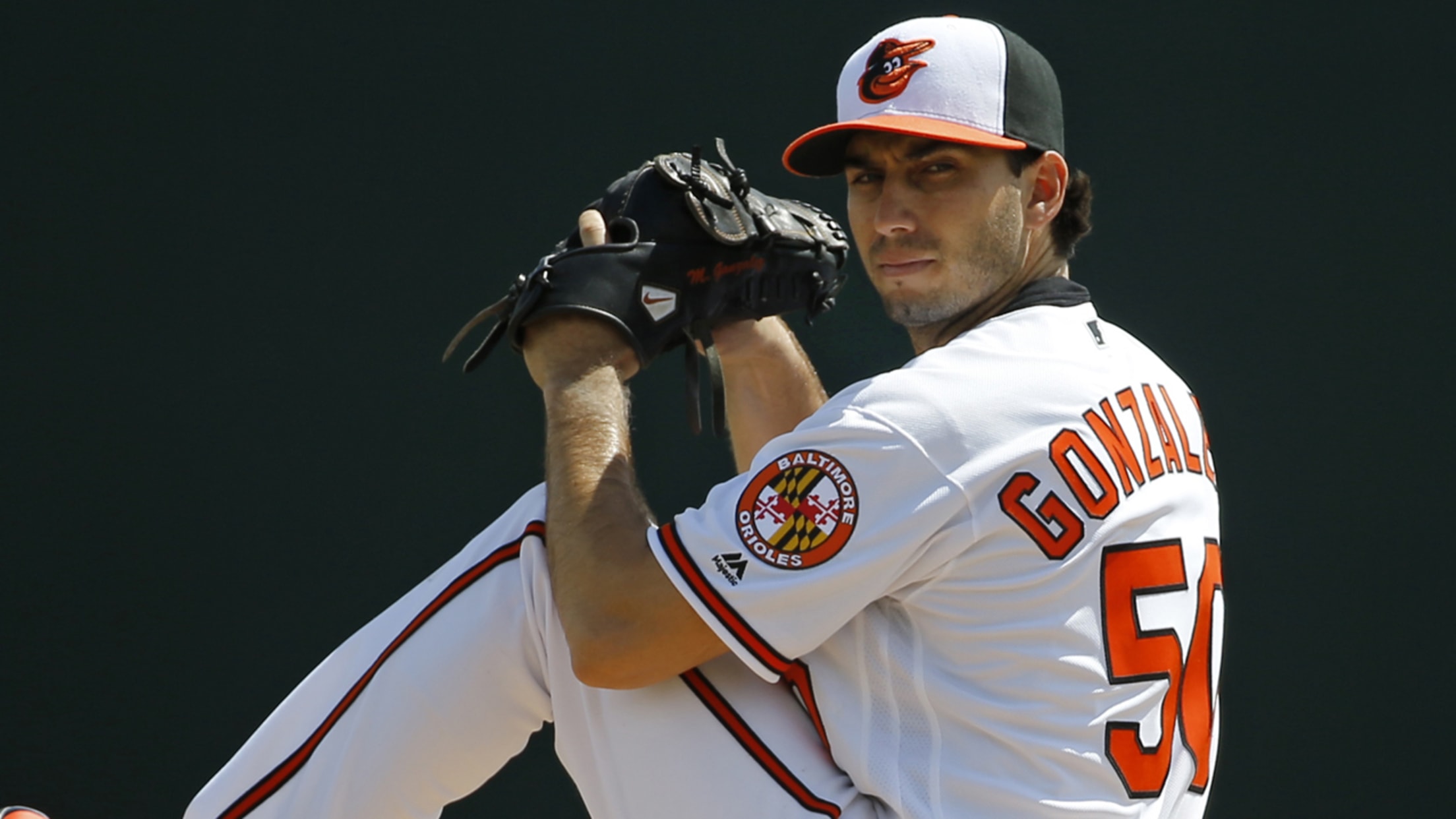 Miguel Gonzalez has a career 3.82 ERA over 101 appearances. (Patrick Semansky/AP)
OAKLAND -- White Sox general manager Rick Hahn believes that the starting five of Chris Sale, Jose Quintana, Carlos Rodon, Mat Latos and John Danks certainly earned the chance to serve as the team's rotation at the outset of the 2016 season."But at the same time, you need to have
OAKLAND -- White Sox general manager Rick Hahn believes that the starting five of Chris Sale, Jose Quintana, Carlos Rodon, Mat Latos and John Danks certainly earned the chance to serve as the team's rotation at the outset of the 2016 season.
"But at the same time, you need to have options available should something not go according to plan," said Hahn as he spoke to the media prior to Monday's season opener.
Enter right-hander Miguel Gonzalez, who was signed to a Minor League deal Sunday after clearing waivers. Gonzalez had three solid seasons with the Orioles, followed by a rough 2015 campaign and an even tougher Spring Training with Baltimore this year.
Gonzalez will join Erik Johnson and Jacob Turner as rotation depth at Triple-A Charlotte.
"We'll get to know him a little bit and see if there are certain things we can do to get him back on track," Hahn said. "Obviously, it's a guy with a pretty solid record of success between '12 and '14, '15 went a little bit sideways, and this spring was not his norm. We'll find out together what we've got and put him in the mix to potentially help us down the road.
"He's not a strikeout guy. He's more of a four-pitch mix. He's got different ways of getting guys out. He pitches well off the corners, and he's a little bit of a different look for us."
Hahn believes that Latos still has more to show.
"I don't think we've seen the best from him yet," said Hahn of Thursday's starter. "He's going to build endurance and crispness in his stuff.
"Each of the last three times out in the 'A' games, we've seen things that have improved and are certainly positive. But we haven't seen a complete outing out of him yet, and I suspect we will in the coming weeks."
Reinsdorf elected to Basketball Hall of Fame
White Sox chairman Jerry Reinsdorf, who on Monday was elected to the Naismith Memorial Basketball Hall of Fame by the Hall of Fame's Contributor Committee, said it was "a very humbling honor" and a day he won't soon forget.
Reinsdorf has guided the Bulls to six NBA championships since heading a group that purchased the team on March 13, 1985. He said the honor was "the culmination of all the input and effort afforded me from so many other people over the years."
"Everybody's proud of him and happy for him that he got in," White Sox manager Robin Ventura said. "It's a tremendous honor to be in it. He's pretty excited about it."
"For someone like me growing up a Bulls fan, who got to experience the six championships and everything he did for the city and for the league and the way that franchise grew under his stewardship," Hahn said, "I think I'm in a better position than he is to appreciate how deserving he is of that honor."
Navarro gets the starting nod
When A's right-hander Sonny Gray was scratched and replaced by left-hander Rich Hill in the season opener, Ventura countered by subbbing in switch-hitter Dioner Navarro at catcher in place of the left-handed-hitting Alex Avila. But Ventura cautioned that playing time would not be a strict left/right platoon.
"Some of it is going to be that, some of it is going to be physically how they're doing, health-wise," Ventura said. "We just want to make them fresh and get in there. Opening Day doesn't matter for that part. But matchup-wise, it's just a better matchup than having Avila in there."