Tejada, Teixeira HRs powered AL in 2005 ASG
Defense helped Orioles SS earn MVP honor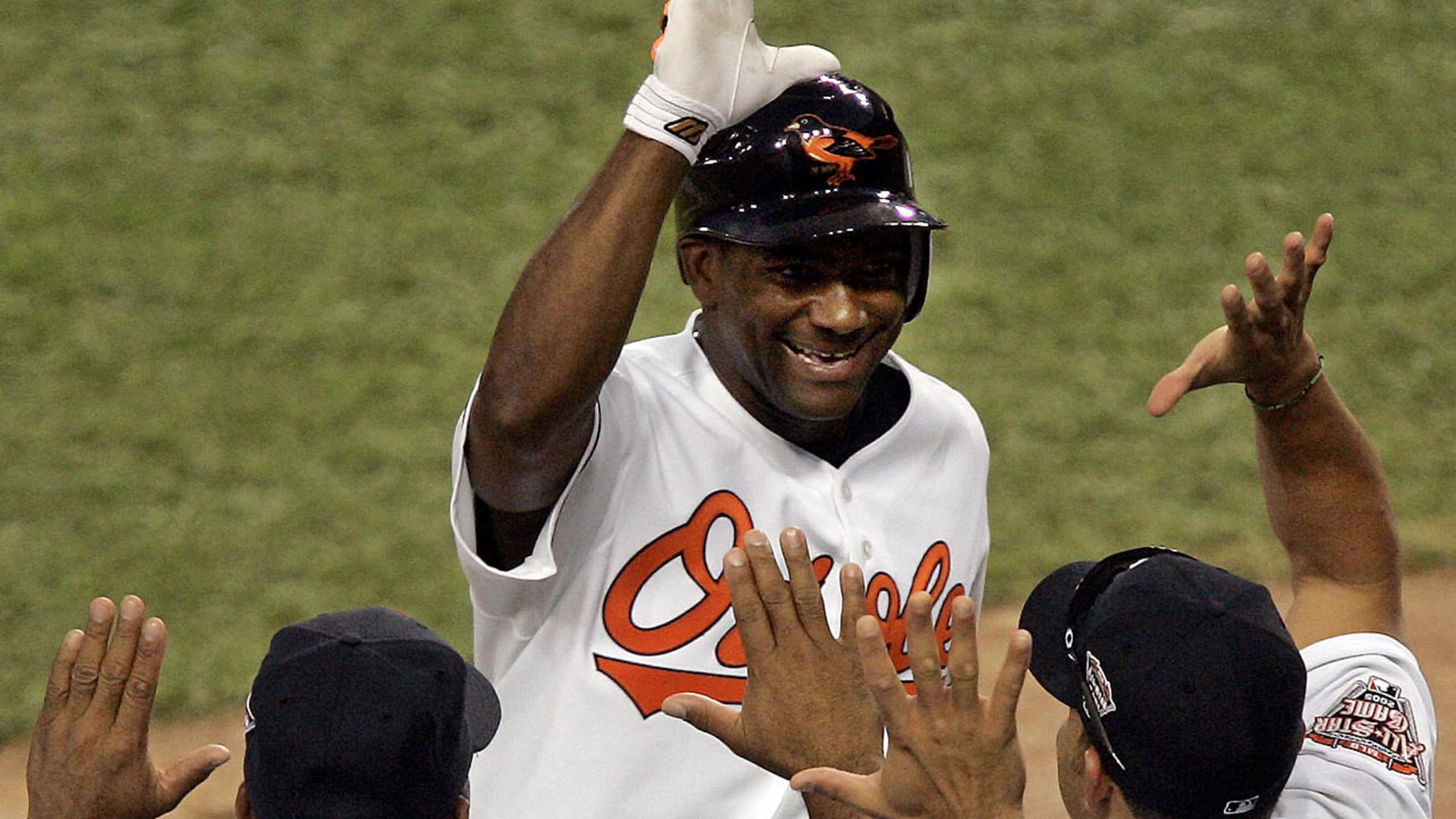 (MORRY GASH/AP)
Bill Center, longtime sportswriter for U-T San Diego, is an employee of the Padres.Miguel Tejada and Mark Teixeira homered and Marino Rivera struck out the only hitter he faced to turn back a National League rally in the ninth on July 12, 2005, to lead the American League to a
Bill Center, longtime sportswriter for U-T San Diego, is an employee of the Padres.
Miguel Tejada and Mark Teixeira homered and Marino Rivera struck out the only hitter he faced to turn back a National League rally in the ninth on July 12, 2005, to lead the American League to a 7-5 victory in the 76th All-Star Game at Comerica Park in Detroit.
Tejada, who also started a first-inning double play with a great stop of a Carlos Beltran shot behind second, was named the Most Valuable Player.
ALstarter Mark Buehrle of the Chicago White Sox allowed three hits in two innings but held the NL scoreless -- with the help of three strikeouts and the double play started by Baltimore shortstop Tejada -- to get credit for the win. Yankees closer Rivera got credit for the save.
Tejada gave the AL a 1-0 lead when he opened the third with a solo homer off Atlanta right-hander John Smoltz, who was charged with the loss.
Boston center fielder Johnny Damon opened the third with a single off Houston's Roy Oswalt and moved to second when Oswalt walked Yankees third baseman Alex Rodriguez. Designated hitter David Ortiz singled, driving in Damon and sending Rodriguez to third. Rodriguez scored on a one-out ground out by Tejada.
Boston catcher Jason Varitek drew a one-out walk from Livan Hernandez of the Washington Nationals in the fourth and advanced to third on a ground-run double by Baltimore second baseman Brian Roberts. Seattle outfielder Ichiro Suzuki drove both in with a line-drive single to right.
Texas first baseman Teixeira hit a two-run homer in the sixth off Florida's Dontrelle Willis, scoring pinch-runner Alfonso Soriano of the Rangers ahead of him.
The NL's unsuccessful rally started against Kenny Rogers of the Rangers with two runs in the top of the seventh. Center fielder Andruw Jones of the Braves followed a lead-off single by Florida second baseman Luis Castillo with a two-run homer.
The NL cut the deficit to 7-3 in the eighth off Joe Nathan of the Twins. Giants right fielder doubled with one out, moved to third on a single by Reds' shortstop Felipe Lopez and scored on a ground out by Marlins left fielder Miguel Cabrera.
The NL scored two more in the ninth against relievers Bob Wickman of the Indians and B.J. Ryan of the Orioles before Rivera struck out Astros third baseman Morgan Ensberg to end the game.
Ryan replaced Wickman after Jones drew an inning-opening walk. Arizona pinch-hitter Luis Gonzalez greeted Ryan with a double to score Jones. Gonzalez advanced to third and scored on back-to-back ground outs.
Right-handed pitcher Jake Peavy was the Padres' lone representative and allowed a hit with a strikeout in two-thirds of an inning. He did not allow a run.