Clevinger, Bauer hoping for epic matchup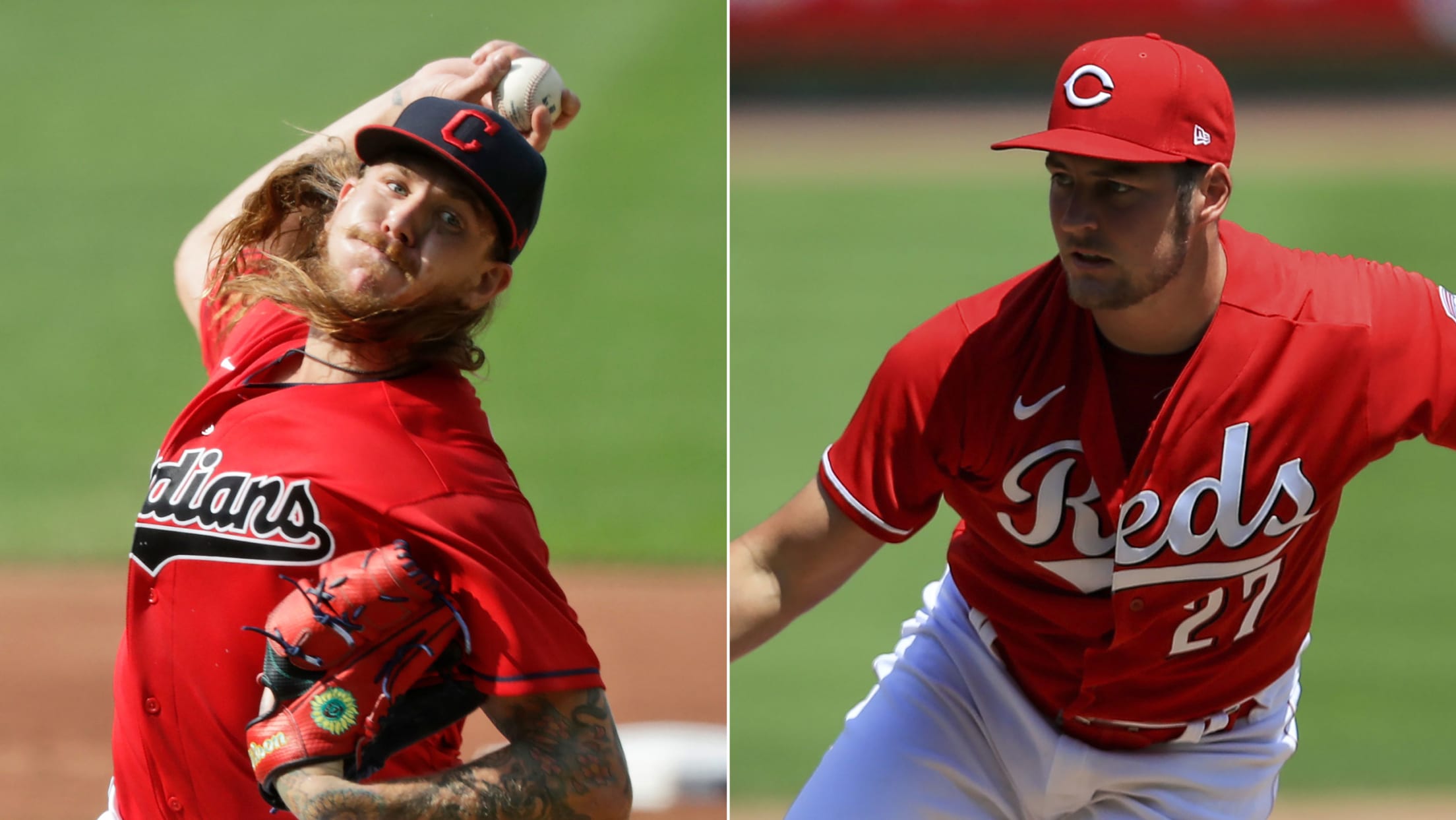 CLEVELAND -- We all know we can't get too far ahead of ourselves during a baseball season, because unexpected weather and injuries can often throw plans off course. However, the Tribe's game against the Reds next Wednesday may be worth keeping an eye on. Entering Thursday, former teammates Mike Clevinger
CLEVELAND -- We all know we can't get too far ahead of ourselves during a baseball season, because unexpected weather and injuries can often throw plans off course. However, the Tribe's game against the Reds next Wednesday may be worth keeping an eye on.
Entering Thursday, former teammates Mike Clevinger and Trevor Bauer were slated to face one another on Wednesday night at Progressive Field. The two were not expected to meet before Monday's rainout in Cleveland pushed Clevinger's start back a day, lining him up to meet his friendly rival. However, with the Reds' game washed out Thursday night, the two will now have to hope that a potential matchup still pans out in their favor.
"It's already started," Clevinger said. "I didn't even get off the field before I got back to my phone and he found out we lined up after our rainout. That day, he already texted me, 'Guess who you're facing?' So it started then and then it made it to Twitter, and now you're gonna get to see it on the field. It's gonna be a good matchup."
Other ways to word this tweet:

The way things currently line up...

1) Apprentice vs. Master
2) Son vs. Father
3 Child vs. Goat

Wednesday in Cleveland. https://t.co/tVRCxv5IzR pic.twitter.com/oSEKC8xdv5

— Trevor Bauer (@BauerOutage) July 30, 2020
The two have been competitive since they were teammates. Before Bauer was dealt at the Trade Deadline last July, they'd reward a crown to the best pitcher from each series, and the two would use the other's success as motivation to be better. Now that they're on opposing teams, the moment they've dreamt about, being able to go toe-to-toe, could potentially be happening.
"We're lobbying to try to get our managers to just go no DH," Clevinger joked. "Then the stars would really align for it. That's what we were aiming for, face each other and then have to pitch against each other."
While teams certainly miss the atmosphere of playing in front of fans in the stands, this may be the only time Clevinger is excited for a quieter environment. The two have already started trash-talking via text, took it to Twitter on Thursday and will absolutely continue it on the field if they get a chance. Both pitchers are scheduled to take the mound Friday: Clevinger at Minnesota and Bauer at Detroit.
Other ways to word this tweet:

The way things currently line up...

1) Sunshine vs Kid who ruined WS with drone
2) Sunshine vs Guy with a career 4.00 era
3) Sunshine vs Guy who threw ball over center field wall during meltdown https://t.co/IKtj7Fu9k3 pic.twitter.com/tTs0nlNFO2

— ❂ Mike 𝕊𝕌ℕ𝕊ℍ𝕀ℕ𝔼 Clevinger ❂ (@Mike_Anthony13) July 30, 2020
It's not only a battle of who's stuff is more elite, but it's also a challenge of who can remain more mentally strong, despite the chirping coming from the opposing dugout.
"It's the whole kit and caboodle. It's everything," Clevinger said. "I don't think I'm gonna go sit underneath to collect myself in between these innings. I'm gonna sit in the dugout and maybe top-step him."