Tauchman arrives; Tulo caps spring with HR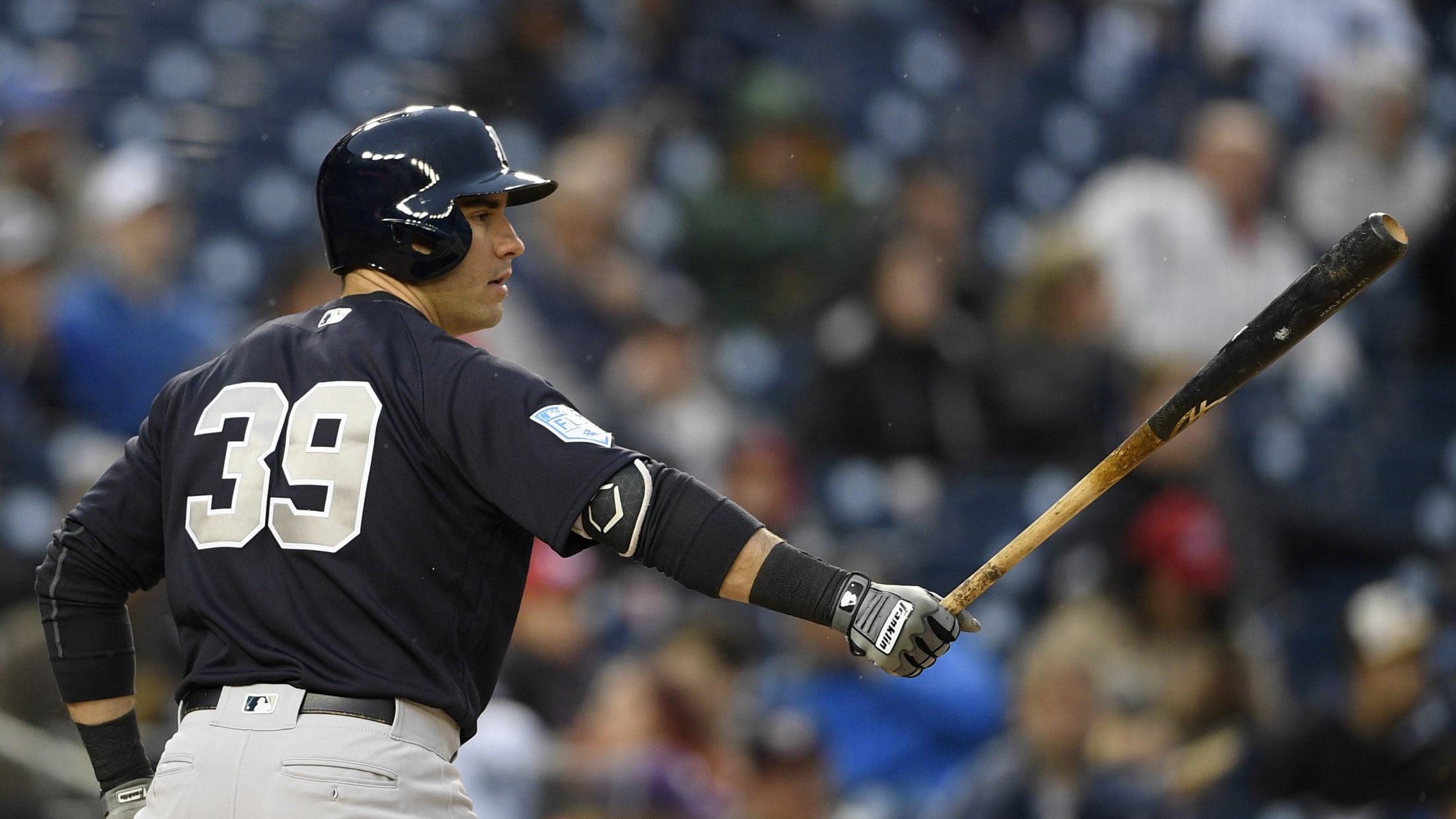 WASHINGTON -- Mike Tauchman had some important business to tend to before meeting his Yankees teammates for the first time Monday afternoon. Given the Yankees' longstanding policy that keeps players from sporting facial hair other than mustaches, Tauchman made an emergency razor run Sunday night. "I only had a trimmer,
WASHINGTON -- Mike Tauchman had some important business to tend to before meeting his Yankees teammates for the first time Monday afternoon. Given the Yankees' longstanding policy that keeps players from sporting facial hair other than mustaches, Tauchman made an emergency razor run Sunday night.
"I only had a trimmer, so I had to find a [store]," said Tauchman, who rid himself of the beard but was still lugging around a Rockies equipment bag in the visitors clubhouse at Nationals Park.
As Tauchman acclimates himself to the Yankees, the former Rockies outfielder is embracing the opportunity. The Yankees acquired Tauchman from Colorado on Saturday for lefty Phillip Diehl.
"It's wild," Tauchman said before Monday's exhibition game, a 5-3 loss to the Nationals. "It's super exciting. This is a franchise and an organization that has a very high level and a high standard of winning baseball games. That's my ultimate goal. It's a super-talented clubhouse, and I'm just excited to be a part of it."
Tauchman, 28, will begin the season as a backup outfielder behind Brett Gardner, Aaron Judge and Giancarlo Stanton. Aaron Hicks is eligible to return from the injured list on April 4, although he's not expected to be fully recovered from a lower back injury.
Tauchman appeared in 52 games with the Rockies the past two seasons and spent much of 2018 with Triple-A Albuquerque. He conceded Monday that when he was called into Rockies manager Bud Black's office over the weekend, he thought he was being optioned to the Minors.
"I assumed we were going to over those details, and then they told me I had been traded," Tauchman said. "I was obviously caught off-guard, but they just explained to me that they had to make a trade and everything that went down and that it had just happened. ... It's been a bit of a whirlwind, but I'm really excited about it."
Although Tauchman primarily played center field in the Rockies' organization, he also played both corner-outfield positions and said he's comfortable playing anywhere he's needed.
"I'm just going to try to stay ready for all three outfield spots," he said. "I'm obviously still getting used to the guys in the clubhouse and the organization, but I just plan to be ready to be used in whatever role they want, especially when it comes to going out to left, center, right or wherever it may be and help the team win some games."
Tulo bookends spring with HRs
Exactly one month after Troy Tulowitzki opened his spring account with a solo homer in his first at-bat, Tulowitzki capped off his spring with a solo blast in his final at-bat Monday at Nationals Park.
He got the Yankees on the board with a homer off Nationals righty Anibal Sanchez to lead off the third inning.
Although there was little at stake, the Yankees' final dress rehearsal provided another benchmark for Tulowitzki. After ankle and heel injuries sidelined him for nearly 20 months, the 34-year-old took the field in a Major League ballpark for the first time since July 2017.
"I was in a good place today," said Tulowitzki, who started at shortstop and hit eighth. "I came into the locker room, saw some people in the clubhouse [attendants] I hadn't seen in a while, as far as some people who work for the Nationals, so that was good. Everything is going to be like that every time I go into a clubhouse. So it's going to be neat for me. Being in a big league stadium again, it was cool. ... I honestly felt calm. It felt like a place that I belong."
Tulowitzki hit .242 this spring with four home runs and eight RBIs. He will be the Yankees' starting shortstop on Opening Day against Baltimore on Thursday -- an accomplishment he can take pride in.
"No doubt," he said. "But I think that knowing myself that's not the ultimate goal -- it wasn't just to get back. It was to do much more than and to help the Yankees win games."
Boone: Wade can still have impact
A day after Tyler Wade said he felt "blindsided" when informed that he would open the season at Triple-A Scranton/Wilkes-Barre, manager Aaron Boone responded.
"As far as his reaction or comments, guys are allowed to be upset," Boone said. "Guys are allowed to be frustrated. If there's ever a point where I think it's unhealthy or a distraction, conversations happen. But Tyler Wade came in here and I think continued to make strides in his game every which way and he was probably set to make our roster. So I get the disappointment, I get the frustration, and that's OK."
Wade hit .320 with seven doubles, a homer and three RBIs in 19 Grapefruit League games. The Yankees were considering having Wade serve as an extra outfielder with Hicks sidelined to begin the season but ultimately optioned him to make room for Tauchman. Boone said he'll be keeping tabs on how Wade responds.
"Channeling that frustration in the right way becomes very important," Boone said. "We want him to go get after it knowing that he's going to be a part of this team at some point and knowing that he has a chance to impact our club in a big way -- a team that we think has a chance to be special. We put so much into Opening Day but things change in a hurry. I very much think he'll be part of things here."
On the mend
Boone received good news on several pitchers who continue to rehab and work out of the team's player-development complex in Tampa, Fla.
According to Boone, Luis Severino (right shoulder inflammation) successfully tossed from 120 feet, while Dellin Betances (right shoulder impingement) and CC Sabathia (recovering from right knee surgery) had successful throwing sessions. Sabathia is expected to throw three innings or 45 pitches Tuesday in a Minor League game. Aroldis Chapman, Jonathan Holder and Chad Green all threw problem-free in a Minor League game Monday.
Up next
The Yankees open the 117th season in franchise history Thursday at home against the Orioles at 1:05 p.m. ET. Masahiro Tanaka (12-6, 3.75 ERA in 2018) will be the Yankees' Opening Day starter for the fourth time in five years. Tanaka is 0-2 with a 9.49 ERA in his three prior Game 1 assignments. Baltimore will counter with righty Andrew Cashner (4-15, 5.29) in place of Alex Cobb, who is being pushed back after incurring a mild groin strain in his final Spring Training appearance.
Ben Raby is a contributor to MLB.com based in Washington.