Breakthrough Series revisits Compton origins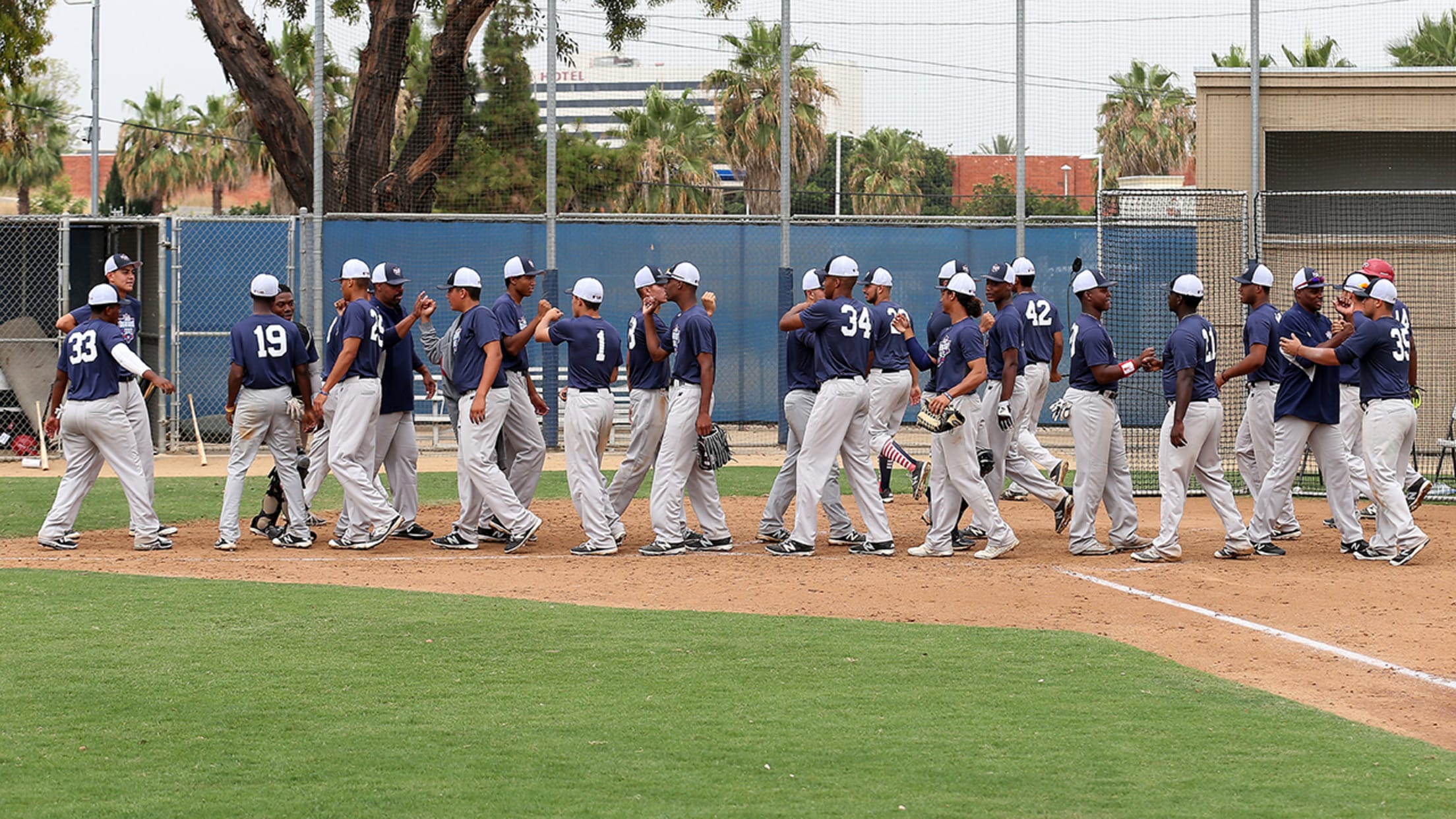 The Breakthrough Series youth baseball program returned to its roots in at the MLB Youth Academy in Compton, Calif. (Rob Leiter)
COMPTON, Calif. -- Major League Baseball celebrated the 10th anniversary of the Breakthrough Series at the place where it began.In 2008, MLB's Youth Academy in Compton hosted the first Breakthrough Series, a four-day event, blending elements of a showcase and an instructional league. Former MLB players and personnel serve as
COMPTON, Calif. -- Major League Baseball celebrated the 10th anniversary of the Breakthrough Series at the place where it began.
In 2008, MLB's Youth Academy in Compton hosted the first Breakthrough Series, a four-day event, blending elements of a showcase and an instructional league. Former MLB players and personnel serve as campers' teachers, with separate clinics held for both baseball and softball players.
"It's almost like taking a kid that's somewhat underserved -- some of them, not all are underserved -- but it's like sending them to Harvard and Yale," said Jerry Manuel, a former MLB manager who's served as a Breakthrough Series coach. "That's the type of instruction we have here."
Ten years later, seven other academies have since been erected in Arlington, Texas, Cincinnati, Houston, Kansas City, New Orleans, Philadelphia and Washington, D.C. And just like their Compton-based predecessor before them, they grant opportunities for exposure and high-caliber baseball lessons for free.
• Breakthrough Series personal for former All-Star Eric Davis
MLB had a vision to provide opportunities for inner-city youths who wanted to play baseball, yet found themselves at a disadvantage, lacking the chances to take part in the same showcases, travel ball teams and one-on-one training afforded to their peers. Darrell Miller, MLB's vice president of youth and facilities development, has been instrumental in making that vision a reality.
"Darrell has been a constant and steady enthusiast for these kids and for these issues in particular," said Kim Ng, MLB's senior vice president of baseball operations. "He's strong, he's steady, he's enthusiastic. He always has the best interest of the kids at heart."
Seventy kids from eight different states (Arizona, California, Georgia, Nevada, New Jersey, Ohio, Texas, Tennessee) participated at the Breakthrough Series in Compton.
The widespread outreach of the program is evident. Twenty-five Breakthrough Series alums were selected during the 2018 MLB Draft. Its demonstrated success is why MLB Commissioner Rob Manfred continues to emphasize the program.
"One of [Manfred's] top agendas is youth baseball and, in particular, diversity," Ng said. "The sooner that we can put our eyes on these players, identify them, keep them playing and give them good information and education, all the better for us and for them."
Those who've watched as the program spread note the improvement in its structure. Eric Davis, a former big leaguer who's watched the program develop since its inception, said he believes in its vision.
"We just have to keep the momentum going," Davis said, "and hope it gets better and better and better."
For Miller, how far the Breakthrough Series program has come since it started 10 years ago is what he described as a dream come true.
"It's all about influence," Miller said. "Honestly, the only reason we're here is to make the world better."
Kaelen Jones is a reporter for MLB.com based in Los Angeles.