Honorary Bat Girls ready to take the field
Pink bats to be used all of Mother's Day weekend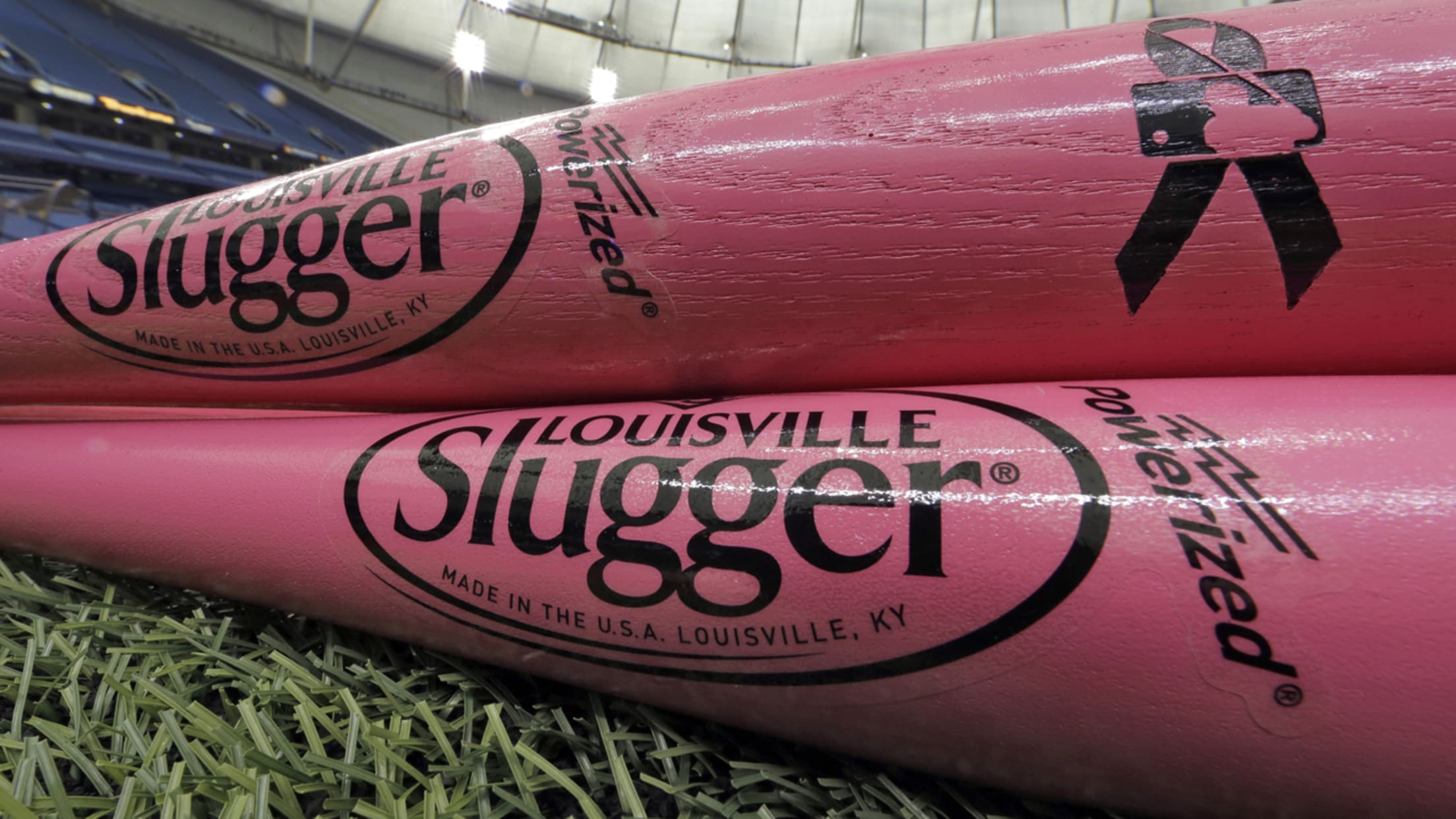 This season marks the first time pink bats will be used on Saturday and Sunday of Mother's Day Weekend. (AP) (AP)
Major League Baseball is doubling its efforts to fight breast cancer, as pink bats will be swung over a full Mother's Day weekend for the first time and winners have been named in the 2017 Honorary Bat Girl Contest.Players will have the opportunity to use pink bats on both Saturday
Major League Baseball is doubling its efforts to fight breast cancer, as pink bats will be swung over a full Mother's Day weekend for the first time and winners have been named in the 2017 Honorary Bat Girl Contest.
Players will have the opportunity to use pink bats on both Saturday and Sunday. Louisville Slugger will donate proceeds from the sale of their pink bats, which will be stamped with the MLB breast-cancer awareness logo, to Susan G. Komen and Stand Up To Cancer, as part of an overall fundraising effort that continues well beyond that weekend.
The Honorary Bat Girl Contest recognizes fans who have been affected by breast cancer and have demonstrated a commitment to battling the disease. Winners will represent their favorite teams, receive pink MLB merchandise and be recognized during their club's pregame ceremonies on Mother's Day. Clubs on the road will select another home game to recognize their Honorary Bat Girls. The full list of winners and their stories is at HonoraryBatGirl.com.
Tragically, Lauren Smoke, the Honorary Bat Girl for the Cubs from La Grange, Ill., lost her battle to breast cancer on April 28, just a few days after winners were notified. Her contest entry, submitted by a friend, told of being diagnosed for the first time while eight weeks pregnant, undergoing surgery and 12 rounds of chemo as her baby fought with her, delivering a "miracle baby" named Nico, fighting harder after the cancer returned as Stage 4, starting a charity called Mommy & Me Warrior Supply Packs as a beacon of hope for others, and seeing the Cubs win the World Series. The Cubs will honor her at Wrigley Field, with family present, during a homestand after Mother's Day.
For those we have lost and those who battle, this is a way to keep hope alive and fight.
"I want all of these people to know that they are loved and their efforts are appreciated by all of us, and their stories are heard," said guest judge and SU2C ambassador Uzo Aduba, a multiple Emmy winner from the Netflix series "Orange Is The New Black" and all too familiar with the ravages of breast cancer on dear people in her life. "Major League Baseball is taking the time to truly recognize these daily fighters, these huge players in the game of life."
Royals winner BrieAnne Epke is a pediatric nurse and mother of two who had a stroke at the age of 35 and was told she had brain and breast cancer on the same day. "Winning something like this would be an honor," she said in her own nomination entry, highlighting her family's passion for baseball and her tireless work to advocate for others with breast cancer.
Michelle Thompson Cortes found that "battling cancer is more than battling the disease itself." She learned how to handle the battle of waiting and the battle of sharing, and now that a mastectomy is behind her, the Marlins fan and mother of two is fundraising to run the Chicago Marathon in October. "I will be running for me, those still battling, those who have yet to be diagnosed and those who fought the battle and are no longer with us," she said.
They are just two of the 30 winners whose stories were chosen from among so many submissions that all truly deserve such an honor. SU2C ambassador Brenda Song, star of the CBS drama "Pure Genius" and a longtime Disney Channel favorite, joined Aduba as a guest judge, and she said the difficulty of choosing only 30 winners is exceeded by the ability to showcase the full power of all of these combined stories. Song's mother is fighting for a fourth time since first being diagnosed 13 years ago, so the stories are close to her heart.
"There's a lot of power and strength in being able to share, because sharing it makes it so real," Song said. "When someone shares their story, there is so much courage and strength behind that. That's something I really want to honor with this, everyone who has the strength to even submit a story."
In addition to Aduba and Song, special guest judges included Kevin Gausman of the Orioles, Marcus Semien of the Athletics, Alex Gordon of the Royals, Brock Holt of the Red Sox, Justin Bour of the Marlins, Jerad Eickhoff of the Phillies, Brandon Phillips of the Braves and Chase Anderson of the Brewers. In addition, breast cancer survivors Holly Rowe and Shelley Smith of ESPN joined Kelly Nash and Chris Rose of MLB Network and Lindsay Berra and Alyson Footer of MLB.com as guest judges.
During the Honorary Bat Girl contest entry timeline, fans from across the U.S. and Canada shared how they, or their loved ones, are supporting the cause to raise awareness and find a cure for breast cancer. Judges chose the winning submissions based on the following criteria: quality of writing and description of personal connection to breast cancer, demonstration of commitment to the battle against the disease and public appeal (as determined by online fan votes).
On Mother's Day weekend, players and on-field personnel also will wear the symbolic pink ribbon on their uniforms along with pink wristbands. Players will wear specially designed uniforms that incorporate pink into each club's regular logo as well as caps highlighted by a graphite crown and pink visor and options from two pairs of pink-infused socks. MLB will again donate its licensed uniform royalties to Susan G. Komen and SU2C.
Commemorative base jewels and dugout lineup cards also will be pink. Mother's Day games will feature a pink-stitched Rawlings baseball as the official game ball. In addition to the pink bats throughout Mother's Day weekend, the following game equipment can be used in the name of breast-cancer awareness: pink compression sleeves, pink batting gloves, pink footwear, pink wrist/elbow/leg guards and catcher's equipment.
Authenticated game-used Louisville Slugger pink bats and other pink items from Mother's Day weekend games will be auctioned exclusively at MLB.com/auction to benefit the fight against breast cancer.
The Honorary Bat Girl program was introduced in 2009 to raise additional awareness and support for the annual "Going to Bat Against Breast Cancer" initiative celebrated on Mother's Day. In nine years, thousands of unique testimonials have been submitted and millions of fan votes have been cast. This initiative raises awareness about the breast cancer cause, while also raising funds to support breast cancer research. For more information, please visit HonoraryBatGirl.com.
Mark Newman is enterprise editor of MLB.com and a baseball writer since 1990. Read and join other baseball fans on his MLB.com/blogs hub.