5 late-blooming pitchers primed for breakout '19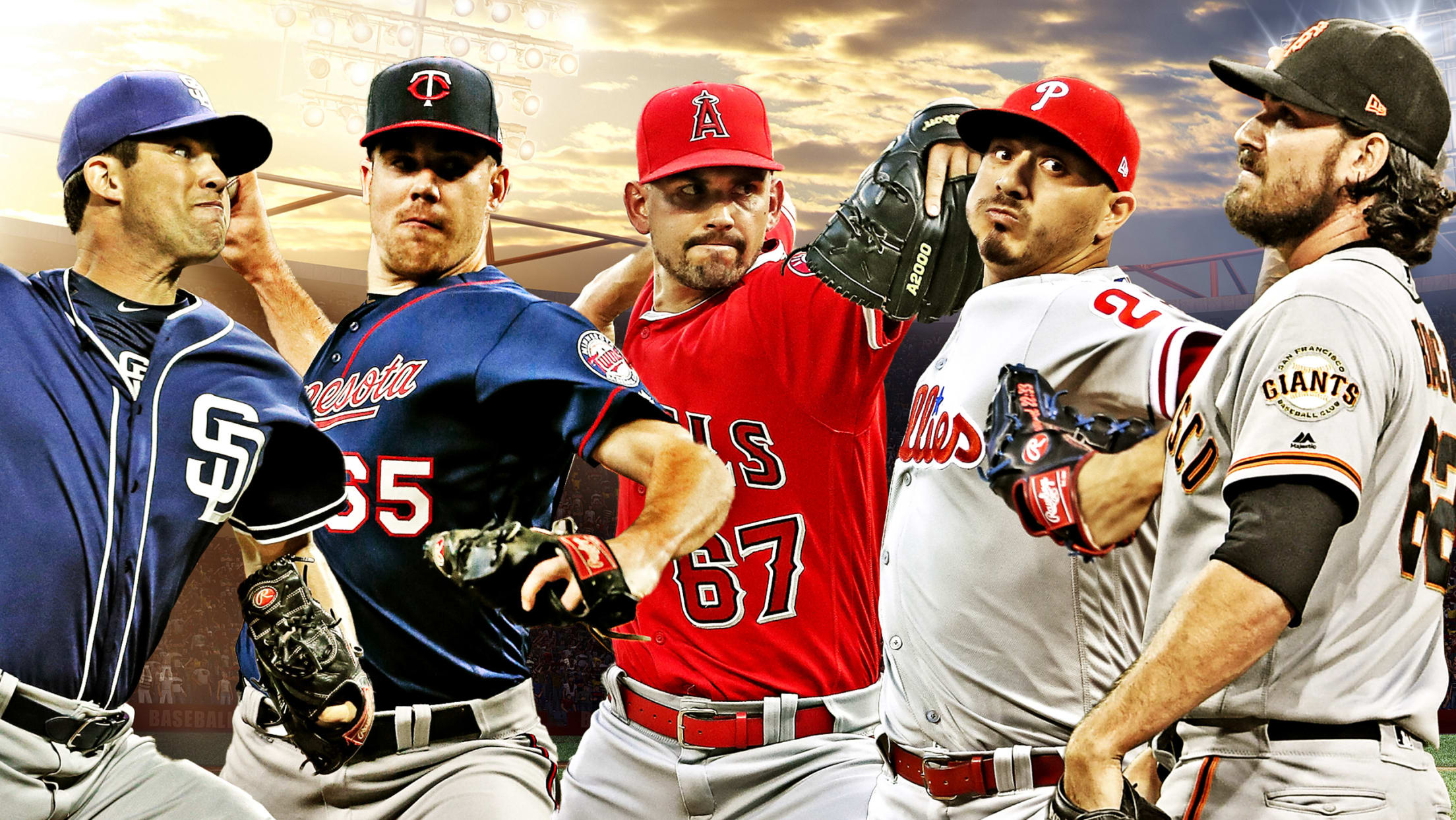 There's nothing less of a sure thing in baseball than a pitching prospect, and for every Gerrit Cole or Trevor Bauer, there are large handfuls of other hurlers who didn't pan out. But the right rehabilitation plan, change in pitch mix or simply just the right situation can still turn
There's nothing less of a sure thing in baseball than a pitching prospect, and for every Gerrit Cole or Trevor Bauer, there are large handfuls of other hurlers who didn't pan out. But the right rehabilitation plan, change in pitch mix or simply just the right situation can still turn a career around well after the hype has subsided.
Just as we did for hitters earlier this week, here are five pitchers who showed signs last year of being the next impact late-bloomers:
Vince Velasquez, RHP, Phillies
Velasquez's stuff has tempted fantasy owners for years, but his 4.85 ERA from last season doesn't inspire much confidence on the surface. There were encouraging gains under the hood, however, from a 3.75 FIP that was even better than his mini-breakout in 2016, to a nearly 6-percent raise in his strikeout minus walk ratio (K-BB%). Philly's poor defense might have also helped Velasquez rank among MLB's unluckiest starters in the eyes of the Statcast™ all-purpose metric expected weighted on-base average, which considers quality of contact, walks and strikeouts.
Highest "unlucky" gap between wOBA and xwOBA, 2018
Min. 500 batters faced
1) .043 -- Ross Stripling (.309 wOBA, .266 xwOBA)
2) .041 -- Dylan Bundy (.363 wOBA, .322 xwOBA)
3) .034 -- Nick Pivetta (.322 wOBA, .288 xwOBA)
4) (tie) .031 -- Velasquez (.325 wOBA, .294 xwOBA)
4) (tie) .031 -- Marco Estrada (.360 wOBA, .329 xwOBA)
Velasquez's .294 xwOBA was 17 points lower than the MLB average, and MLB.com's Mike Petriello found that Velasquez was perhaps most hurt by the Phillies' defense on ground balls. Philadelphia's offseason acquisitions should help improve that department, leaving Velasquez room to keep focusing on missing bats. His 109 strikeouts on four-seamers tied Jacob deGrom for the fifth-most in baseball, and his slider remains an effective wipeout pitch. Many might have given up on seeing Velasquez rise to a top-of-the-rotation star, but this might be the year the 26-year-old surprises some people.
Robert Stock, RHP, Padres
From a second-round Draft pick as a catcher to independent-league afterthought to a promising Major League talent once again, Stock's roundabout journey makes him an easy pitcher to root for. So does the 29-year-old's electric fastball, which averaged 97.5 mph and touched 100 mph a handful of times during his rookie season with San Diego. Stock, a former catching prospect who got his foot back into the big leagues thanks to a YouTube video that showed him throwing 98 mph, proved with his 2.50 ERA and 2.71 FIP over 39 2/3 innings last year that he could be more than just a feel-good story. Hitters just had a tough time squaring this guy up:
Lowest Expected SLG* allowed, 2018
Min. 150 batters faced
1) .195 -- Jose Leclerc
2) .211 -- Aroldis Chapman
3) (tie). .235 -- Edwin Diaz, Adam Ottavino
5) .246 -- Framber Valdez
…
17) (tie). .282 -- Ryan Pressly, Chris Sale
19) .283 -- Stock
*Based on quality of contact (exit velocity, launch angle), plus strikeouts
Stock's slider proved to be a wipeout pitch working off the heat, garnering strikeouts in exactly 50 percent of plate appearances that ended on that pitch. Stock is reportedly trying to develop a cutter this spring, so if that sticks, he could get more left-handed hitters (who hit .282 against him in 2018) off-balance.
Trevor May, RHP, Twins
Injuries have dogged May, a former top prospect for the Phillies, throughout his professional career, and he missed all of 2017 recovering from Tommy John surgery. But the 25 1/3 innings May threw last season signaled a potential second chance for the 29-year-old. Flashing some of the highest velocity of his Major League career along with a wipeout curve, May posted one of the best strikeout-to-walk rates across the game.
Best strikeout minus walk ratio (K-BB%), 2018
Min. 20 innings
1) 38.2 percent -- Diaz
2) 36.9 percent -- Josh Hader
3) 33.1 percent -- Sean Doolittle
4) 32.9 percent -- Sale
5) 32.7 percent -- Dellin Betances
...
8) 30.1 percent -- May
There's no guarantee May can stay healthy and effective for a full season. But he and Taylor Rogers, another low-key breakout pitcher from 2018, make the Twins' bullpen one of the more intriguing units entering this season.
Ray Black, RHP, Giants
Spin, spin and more spin. It's what gives Black's upper-90s fastball so much potential (it received a perfect 80 grade from MLB Pipeline) and a top-five whiff-per-swing rate in his limited debut last year. A high spin rate can help a fastball keep its plane and make it appear even faster than its measured velocity, and Black owns some of the best spin in the Majors.
Only 5 MLB pitchers had a 2,600+ rpm avg 4-seam spin rate last year, per @statcast (min. 150 thrown):

1. Carl Edwards Jr: 2658
2. Tyler Bashlor (!): 2651
3. Ray Black: 2640
4. Justin Verlander: 2618
5. Garrett Richards: 2602

(Also: Feels great to be looking up spin rates again) https://t.co/3PdIz4rkvk

— Matt Kelly (@mattkellyMLB) February 15, 2019
The next step for Black -- who is just now getting his chance after a whole litany of back, shoulder and elbow ailments in recent years -- is harnessing all that jumpy heat. He's overthrown his fastball at times and missed the zone (his 10.5 percent walk rate last year was two points above league average), so this 28-year-old might actually benefit from stepping off the gas pedal from time to time. Black also owned one of only 10 curveballs that averaged a 3,000-plus rpm spin rate, but he threw it just 19 times last year. His slider held hitters to a microscopic .103 average. In short, we're excited to see what happens if Black can put all this raw stuff together.
Taylor Cole, RHP, Angels
Cole had just one Major League inning to his name when the Angels signed the then-28-year-old to a Minor League deal last spring, and the righty turned out to be a small revelation for the Halos. Cole struck out nearly 29 percent of hitters, and that's not a rate you'd expect from a pitcher whose fastball averaged roughly 93 mph. But Cole's changeup -- his go-to pitch with two strikes -- did the heavy lifting, generating a 44.8 percent whiff rate that was elite among Major Leaguers and racking up strikeouts in 45.3 percent of plate appearances. All of Cole's pitches have downward action that helped him rack up a ton of soft contact.
Lowest hard-hit rate* allowed, 2018
Min. 50 batted balls
1) (tie). 20 percent -- Dakota Hudson, Leclerc
3) (tie). 20.7 percent -- Edubray Ramos, Valdez
5) 22.6 percent -- Tony Sipp
…
9) (tie). 23.5 percent -- Cole
9) (tie). 23.5 percent -- Oliver Perez
*Defined as any batted ball hit 95 mph or harder
Finding a pitcher who can get strikeouts and elicit as much soft contact as Cole -- particularly at his age -- qualifies as a diamond-in-the-rough find for the Angels, who FanGraphs projects to have a bottom-10 bullpen. A full breakout season from Cole could help the Halos bridge that gap.