MLB, MLBPA donate to support La. flood victims
$250,000 will be split between three charitable organizations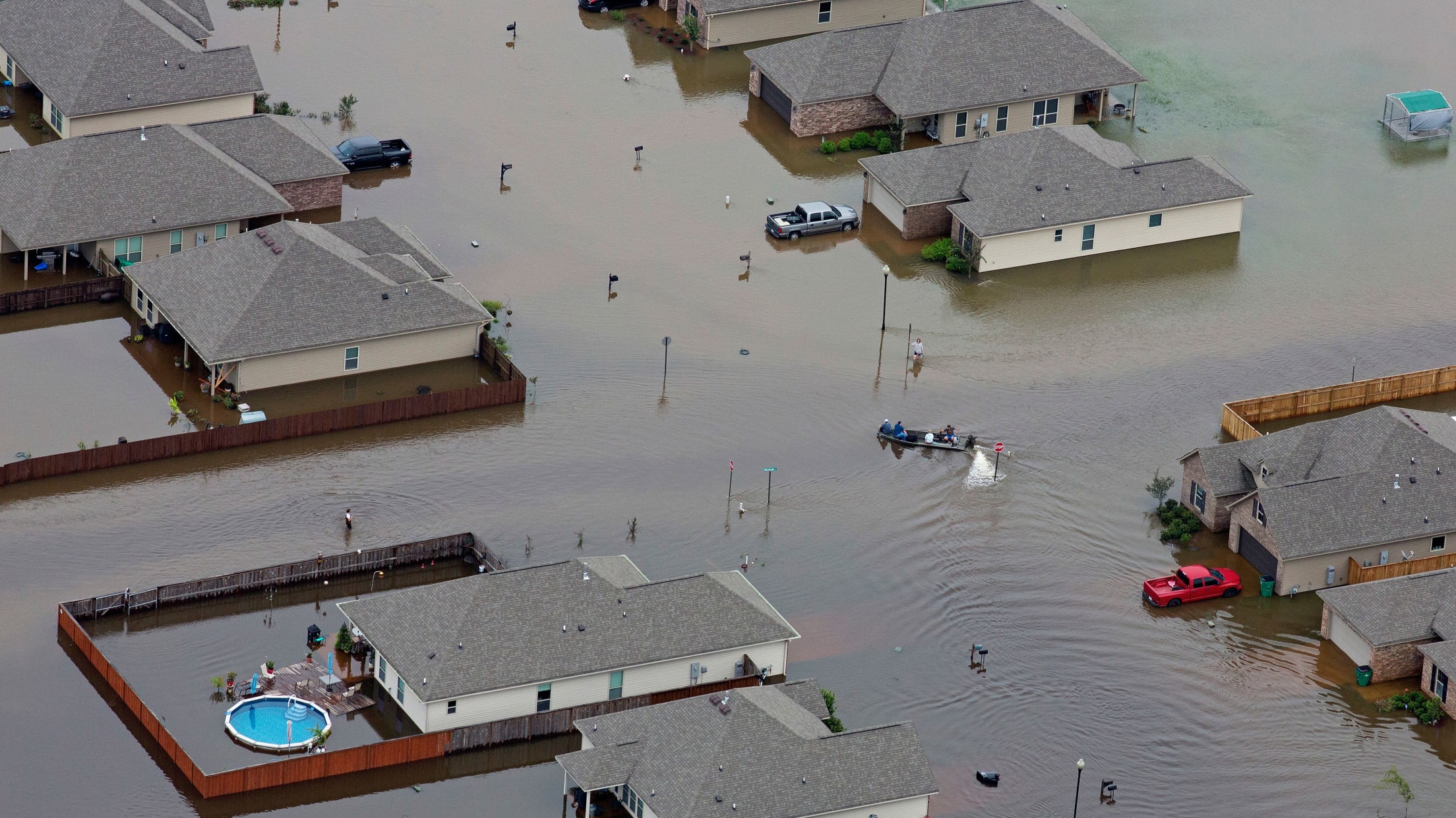 A boat motors between flooded homes in Hammond, La., after heavy rains inundated the region on Aug. 13. (AP)
As Louisiana residents struggle with the effects of the worst U.S. disaster since Hurricane Sandy four years ago, Major League Baseball and the MLB Players Association on Tuesday announced they are joining together to contribute $250,000 to assist victims of the devastating floods that have damaged more than 100,000 homes
As Louisiana residents struggle with the effects of the worst U.S. disaster since Hurricane Sandy four years ago, Major League Baseball and the MLB Players Association on Tuesday announced they are joining together to contribute $250,000 to assist victims of the devastating floods that have damaged more than 100,000 homes and displaced thousands.
The $250,000 contribution is being divided among three charitable organizations capable of lending assistance to those most in need. The American Red Cross will receive a $125,000 contribution, and two charities connected to Major League players -- the Baton Rouge Area Foundation and High Socks for Hope -- will each receive $62,500.
Since floods have ravaged the area, Major League players from the Louisiana region have been actively raising awareness and funds to aid in the recovery efforts. Several of these players -- including Reid Brignac of the Braves, Will Harris of the Astros, Wade LeBlanc of the Mariners, Mikie Mahtook of the Rays, Anthony Ranaudo of the White Sox and Ryan Schimpf of the Padres -- were consulted in determining which organizations would receive funding support.
The Baton Rouge Area Foundation is directing donations to the Louisiana Flood Relief Fund, which was established by players who went to Louisiana State University, including Alex Bregman of the Astros, Louis Coleman of the Dodgers, Kevin Gausman of the Orioles, Harris, DJ LeMahieu of the Rockies, Mahtook, Aaron Nola of the Phillies, Ranaudo and Schimpf.
High Socks for Hope is a nonprofit foundation created and operated by White Sox closer David Robertson and his wife, Erin. High Socks for Hope was initially started to assist individuals and families affected by tornados in Robertson's hometown of Tuscaloosa, Ala. in April 2011, but it has since helped victims of natural disasters all over the country.
"During this dire time of need in Louisiana, we hope that our joint contribution will help those impacted by this natural disaster to receive the emergency support they now require," Commissioner Rob Manfred said.
"Our thoughts and prayers go out to the people in Louisiana living in areas affected by the flooding, and we offer our sincerest gratitude to everyone who has stepped up to help in this time of need," said MLBPA executive director Tony Clark. "Players care deeply about the places they call home, and we're grateful to be in a position to help players from Louisiana provide much-needed financial assistance, so that the area can recover as quickly as possible from the damage caused by the flooding."
These contributions represent an ongoing commitment of MLB and the Players Association to provide joint support for victims of natural disasters. The parties encourage others to join them in assisting with the area's flood relief efforts, and the American Red Cross has set up a special Louisiana Flood donations page to direct funds toward this cause.