The Sweet 16 of MLB
A bracket of teams remaining in the NCAA tournament, based on alumni WAR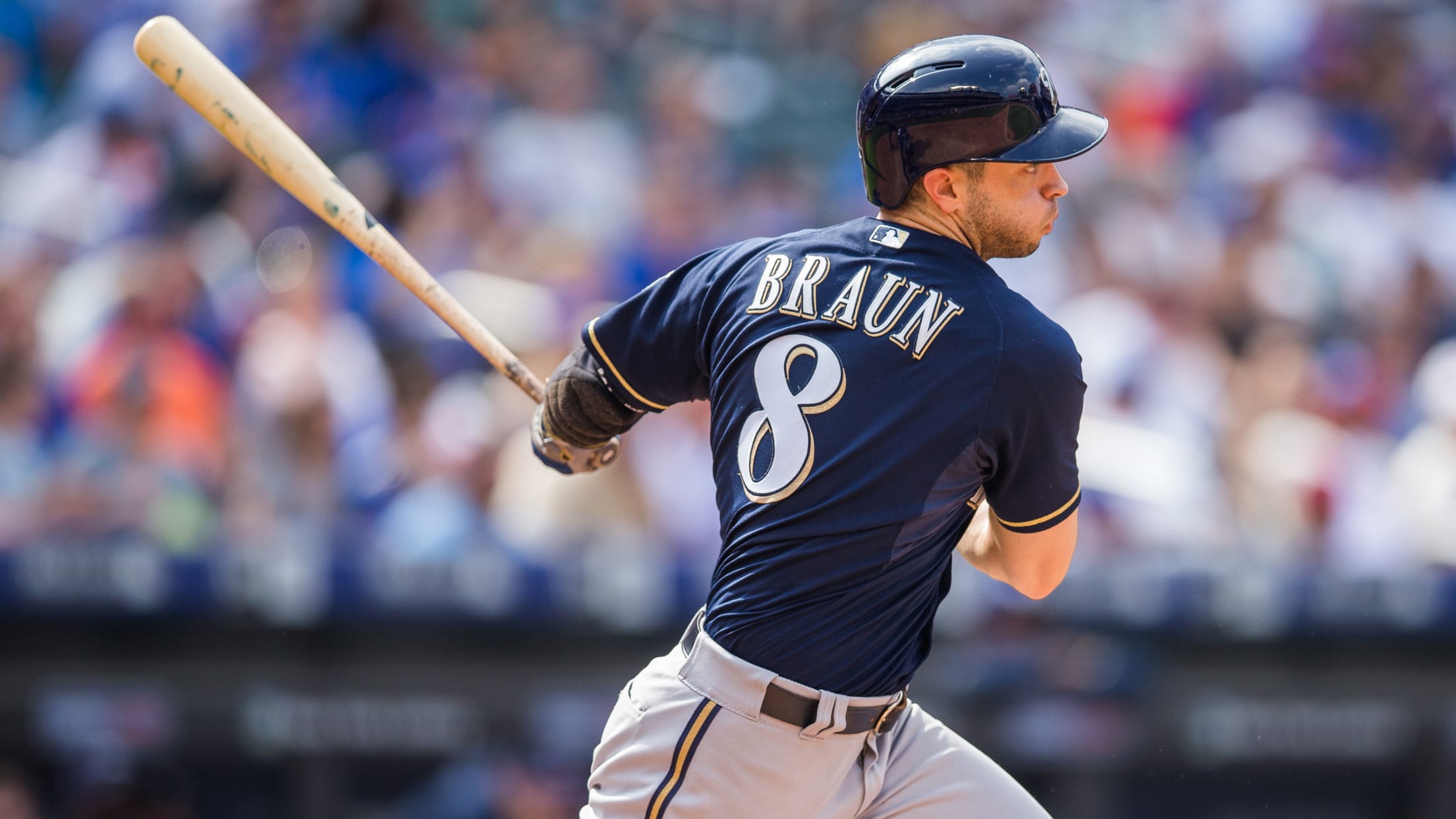 Braun, a University of Miami alumnus, is the favorite in this MLB bracket. (Rob Tringali/MLB Photos)
Heading into the second weekend of the 2016 NCAA Tournament, talk of upsets and busted brackets has dominated daily discussion. And since the last perfect bracket succumbed to the odds before the Round of 32, we've put together a new one for the Sweet 16, featuring an MLB spin.After combing
Heading into the second weekend of the 2016 NCAA Tournament, talk of upsets and busted brackets has dominated daily discussion. And since the last perfect bracket succumbed to the odds before the Round of 32, we've put together a new one for the Sweet 16, featuring an MLB spin.
After combing through lists of notable alumni and digging up their statistics, we aligned a current or former Major Leaguer with every remaining school. In order to be selected, a player not only had to be drafted out of his affiliated university, but he also had to top all other alumni in career Wins Above Replacement. We then highlight three schools -- The Favorite, The Dark Horse and Lucky to be Here -- based on each team's representative. Each team is shown alongside its seed in the NCAA Tournament.
SOUTH
1. Kansas: Steve Renko (24.0); Honorable Mention: Tom Gorzelanny (6.4)
2. Villanova: Mike Neill (0.0)
3. Miami: Ryan Braun (40.0); Honorable Mention: Greg Vaughn (30.7)
5. Maryland: Eric Milton (16.6); Honorable Mention: Tom Bradley (10.1)
WEST
1. Oregon: Dave Roberts (0.4); Honorable Mention: Keith Lampard(0.3)
2. Oklahoma: Jason Bartlett (18.4); Honorable Mention: Bobby Witt (15.1)
3. Texas A&M: Chuck Knoblauch (44.6); Honorable Mention: Doug Rau (12.7)
4. Duke: Mike Trombley (9.2); Honorable Mention: Chris Capuano (8.3)
EAST
1. North Carolina: B.J. Surhoff (34.3); Honorable Mention: Kyle Seager (17.5)
5. Indiana: Mickey Morandini (9.7); Honorable Mention: Chris Peters (3.2)
6. Notre Dame: Craig Counsell (22.3); Honorable Mention: A.J. Pollock (14.8)
7. Wisconsin: Paul Quantrill (18.1); Honorable Mention: Lance Painter (2.0)
MIDWEST
1. Virginia: Ryan Zimmerman (34.9); Honorable Mention: Javier Lopez (8.5)
4. Iowa St.: Mike Myers (8.5)
10. Syracuse: Mike Barlow (-0.7)
11. Gonzaga: Jason Bay (24.3); Honorable Mention: Lenn Sakata (4.1)
The Favorite: Miami
Although Texas A&M might have the slight edge in top WAR now that the University of Texas and powerhouse Roger Clemens (140 WAR) are out of the picture, Miami is a much deeper squad. Braun, the most dominant alumnus to date, is still active and has posted a single-season WAR of at least 1.0 in each of the last three seasons, proving that he's capable of adding to his career total even in a sub-par campaign. Behind him, three players -- Vaughn, Charles Johnson and Aubrey Huff -- all boast career WAR values better than 20.0.
The Dark Horse: Notre Dame
Counsell's value rests mainly in his superior fielding, and a large percentage of the infielder's career WAR came on defense (18.5 dWAR). But the 28-year-old Pollock balances Notre Dame's game. Waiting in the wings to close out a potential dark horse victory is Brad Lidge, who has plenty of experience on a grand stage and a ring to show for it.
Lucky to be Here: Syracuse
Although he owns a negative WAR, Barlow, who pitched for four teams over the course of his seven-year career, remains the only player from the upstate New York school to have reached the Major Leagues.
Allison Duffy-Davis is an associate editor for MLB.com.