MMA's Alvarez takes BP with Phillies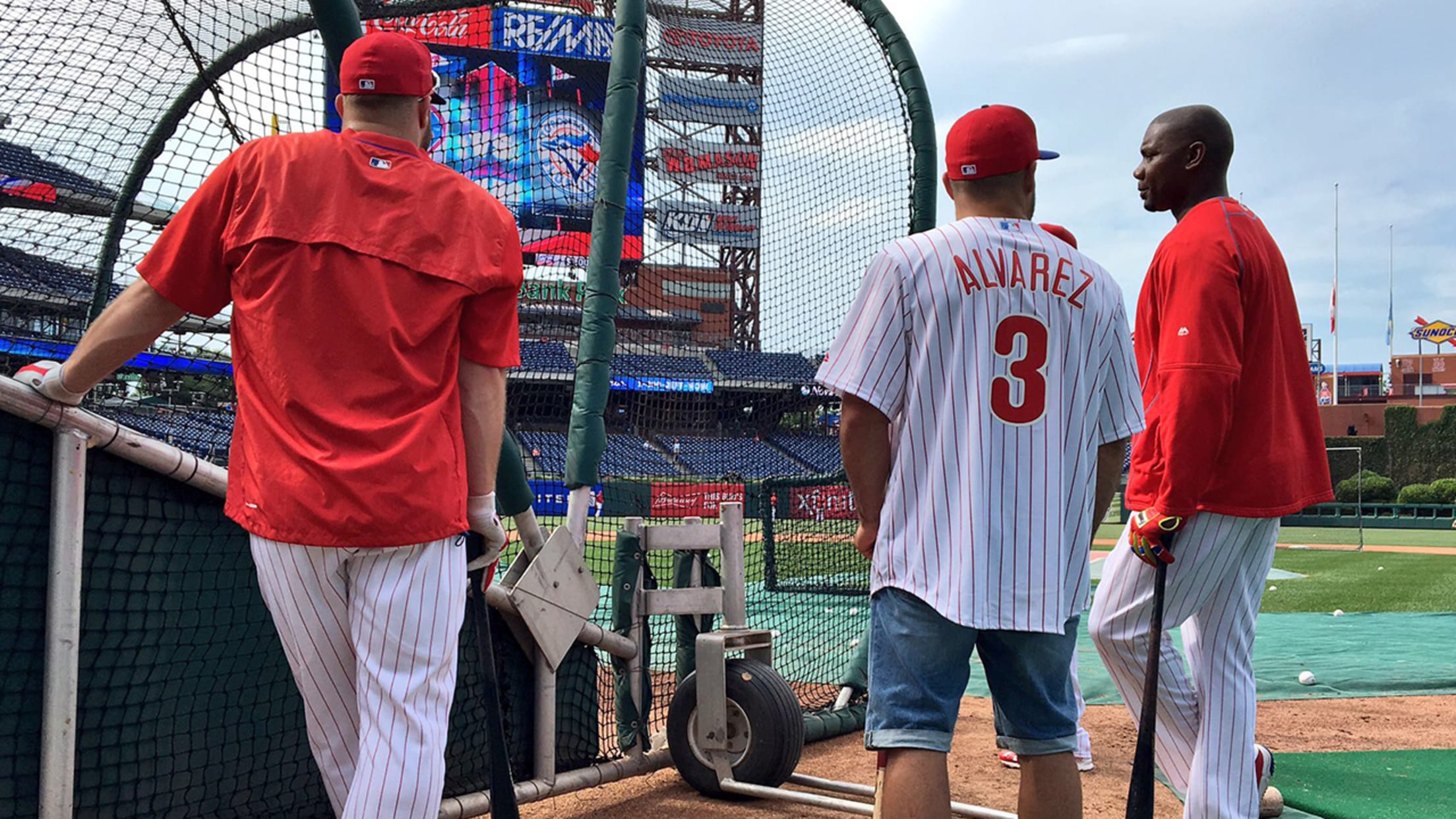 Eddie Alvarez toured the Phillies' clubhouse and met the team before taking BP. (MLB.com)
PHILADELPHIA -- Eddie Alvarez traded in the comfort of the octagon for the batting cage at Citizens Bank Park before the Phillies faced the Blue Jays on Wednesday night.Alvarez, who will fight for the UFC lightweight belt on July 7, grew up playing stickball in Northeast Philadelphia. He and his
PHILADELPHIA -- Eddie Alvarez traded in the comfort of the octagon for the batting cage at Citizens Bank Park before the Phillies faced the Blue Jays on Wednesday night.
Alvarez, who will fight for the UFC lightweight belt on July 7, grew up playing stickball in Northeast Philadelphia. He and his friends would use a zone painted on a wall or fence to call balls and strikes. Alvarez even made a 16-and-under select team. But the sport didn't stick with him.
"I played the outfield, but after three games, I waved the white flag," Alvarez said. "It wasn't fast enough for me."
Alvarez fashioned himself more of a soccer fan -- he attended Team USA's Copa America match against Paraguay across the street at Lincoln Financial Field -- but doesn't watch much sports on television.
For the two-time Bellator champion, though, just being on a Major League field was enough to enthrall him. Alvarez was on hand Wednesday to take batting practice with the Phillies and throw out the ceremonial first pitch.
Alvarez toured the Phillies' clubhouse and met the team before heading out onto the field. He bantered back and forth with players while going through the team's whole stretching routine.
Then, he stepped in the cage.
"I hit a couple good balls," Alvarez said. "I didn't have too high of expectations."
While players such as Tommy Joseph, Cody Asche and Ryan Howard -- whom he'd previously met at Dan Uggla's wedding -- gave Alvarez some hitting tips, they were more interested in getting diet and exercise advice from Alvarez.
"It's no different than anything they were already successful at," Alvarez said. "You need to seek out the best resources, and they have that as well. It's the same formula to any success: Just being consistent, having the knowledge behind you, and just doing it."
There wasn't much the Phillies could offer in exchange that could translate to the UFC ring. The best Alvarez got was to drive with his hips in his swing, similar to attacking his opponent in an MMA fight -- like he'll try to do July 7 to Rafael dos Anjos for the UFC lightweight belt.
Evan Webeck is a reporter for MLB.com based in Philadelphia.