Moncada, Torres lead top prospect performers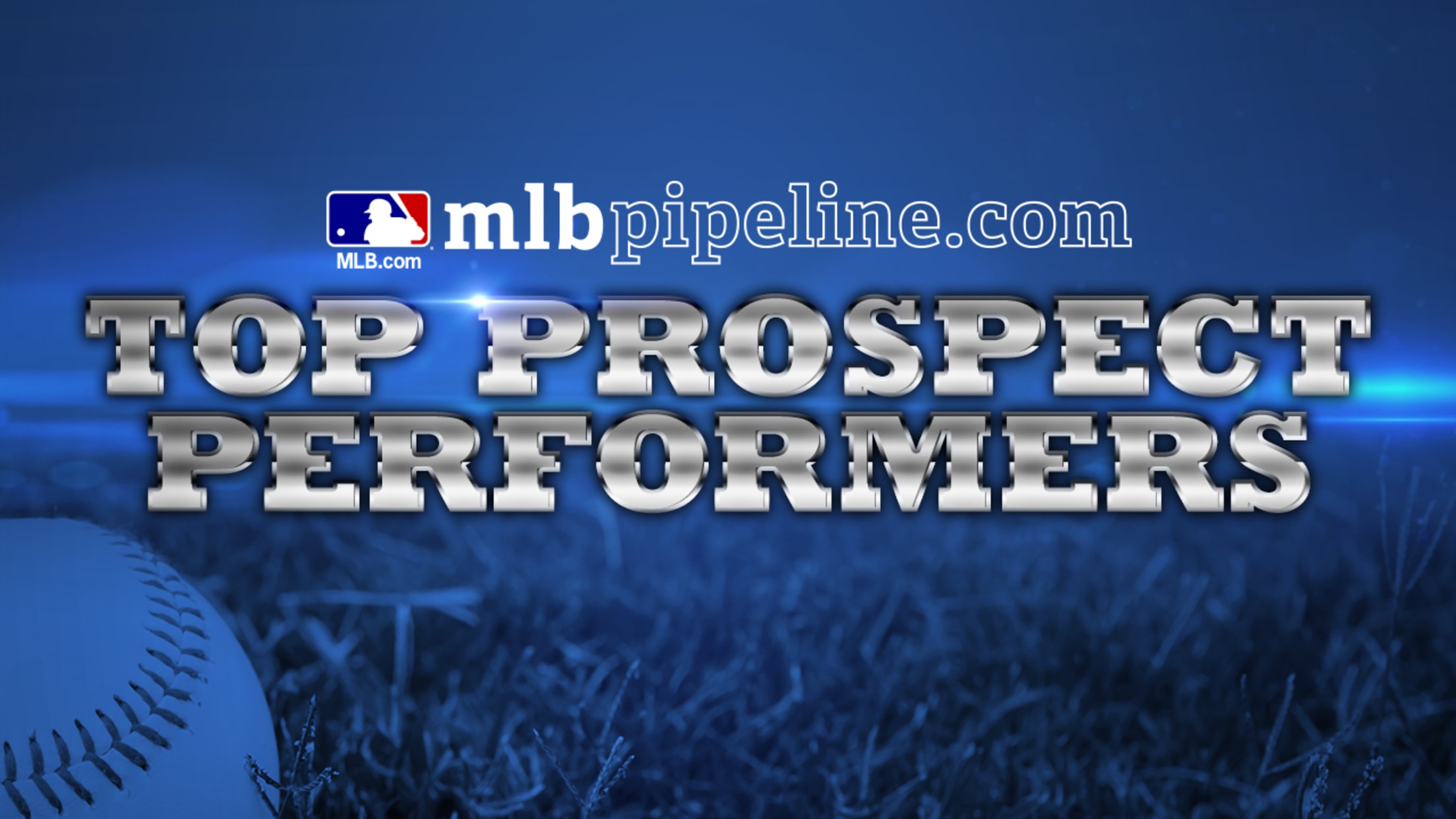 Two of the better middle-infield prospects in the Minor Leagues were at the center of a slugfest on Friday in Class A Advanced Salem's 11-10 win over Myrtle Beach.After going 4-for-7 with four doubles in a doubleheader on Thursday, No. 5 overall prospect Yoan Moncada paced Salem's offense once again
Two of the better middle-infield prospects in the Minor Leagues were at the center of a slugfest on Friday in Class A Advanced Salem's 11-10 win over Myrtle Beach.
After going 4-for-7 with four doubles in a doubleheader on Thursday, No. 5 overall prospect Yoan Moncada paced Salem's offense once again by going 3-for-3 with three more doubles and four runs scored out of the leadoff spot. He reached base in each of his five plate appearances thanks to a pair of walks and also stole a base in the contest. Overall, the Red Sox's top-ranked prospect is hitting .309/.434/.495 with a Carolina League-leading 20 doubles, 32 steals, 49 runs scored and 39 walks.
Also hitting three doubles in the game was No. 24 overall prospect Gleyber Torres (Cubs' No. 1), who went 3-for-4 with two runs scored and an RBI for Myrtle Beach. The 19-year-old shortstop struggled during the first month of the season -- .179 average in 21 games -- but has settled in to hit .322 with 15 extra-base hits including five home runs in his last 30 games. The hot streak has helped Torres raise his season slash line to .265/.339/.449 through 51 games for the Pelicans.
The rest of the best performances from top prospects Friday
• No. 16 overall prospect Austin Meadows tripled for a third straight day to extend his hitting streak to 12 games for Double-A Altoona in their win against Binghamton. The Pirates' No. 2 prospect actually hit a pair of triples in the contest, finishing 2-for-4 at the plate, and he also scored two runs and plated another two out of the three-hole for the Curve. Meadows has turned in seven multi-hit performances in his last eight games and is raking at a .467 clip (21-for-45) during his current hitting streak.
• No. 59 overall prospect Nick Williams hit a home run and doubled as part of a 3-for-6 showing in Triple-A Lehigh Valley's win over Charlotte. The long ball, a solo shot in the sixth inning, was the sixth of the season for the Phillies' No. 3 prospect, who is hitting .282 with 16 extra-base hits in 47 games this season in his first Triple-A exposure.
• No. 74 overall prospect Jack Flaherty was dominant in his second straight scoreless start but once again received a no-decision as Class A Advanced Palm Beach fell to Dunedin, 3-0. The 20-year-old right-hander, No. 2 on the Cardinals' Top 30, fired a season-high seven innings of two-hit ball, striking out seven and walking a pair. Between his last two starts, Flaherty has fanned 16 hitters and yielded six hits in 13 scoreless innings.
• Tigers No. 2 prospect Beau Burrows kept the opposing team off the board for a third straight start Friday in Class A West Michigan's win against South Bend. The 2015 first-rounder allowed one hit and one walk, hit a batter and notched one strikeout over six scoreless innings in what was the longest outing of his young career. Burrows, 19, has not allowed an earned over his last 16 1/3 innings (three starts) and owns a 2.01 ERA in 44 2/3 frames on the season.
• In what was nearly the greatest start of his four-year career, Angels No. 3 prospect Nate Smith came within two outs of throwing a shutout for Triple-A Salt Lake against Tacoma. The 24-year-old southpaw ultimately received a no-decision, allowing two earned runs -- both of which scored after he was relieved -- on three hits in 8 1/3 innings, striking out seven.
• Mariners No. 4 prospect Tyler O'Neill powered Double-A Jackson to a 2-1 win over Tennessee, going 3-for-4 with a solo home run and two runs scored. The 20-year-old outfielder has been outstanding in his first taste of the Double-A level and paces the Southern League in hits (67), home runs (tied-10), RBIs (42) and total bases (117). He's also hitting .335 with a .981 OPS, both of which rank second on the circuit.
MILB Video - Title: More information - Url: http://www.milb.com/r/video?content_id=773280583
• D-backs No. 7 prospect Peter O'Brien showcased his prodigious power by hitting a pair of home runs in Triple-A Reno's rout of Las Vegas. The 25-year-old outfielder owns a share of the Minor League lead and is pacing the Pacific Coast League with his 15 home runs through 46 games this season for the Aces.
• Blue Jays No. 8 prospect Rowdy Tellez hit his ninth home run of the season to extend his hitting streak to 10 games, but it wasn't enough to keep Double-A New Hampshire from falling to Reading. The 21-year-old first baseman is hitting .417 (15-for-36) during his streak, with two home runs, 12 runs scored and nine RBIs.
• Marlins No. 14 prospect Jordon Holloway tossed a season-high five innings of one-run ball to lead Class A Greensboro past Delmarva. It was the best start of 2016 for the 19-year-old right-hander, who allowed two hits and struck a season-best six hitters in the outing.
• Blue Jays No. 23 prospect Angel Perdomo and Rays' No. 25 Jose Mujica provided the duel of the day as they each fired six scoreless innings in Class A Lansing's loss to Bowling Green. Perdomo, 22, allowed one hit and two walks while fanning eight, giving him a 1.45 ERA and a 0.95 WHIP with 54 strikeouts in 43 1/3 innings on the season. Mujica, meanwhile, scattered four hits and struck out five in his second straight six-inning outing for Bowling Green.
• Making his 2016 debut, Pirates No. 23 prospect Gage Hinsz hurled five scoreless innings of three-hit ball for Class A West Virginia in a loss to Augusta. The 20-year-old righty surrendered three hits, walked two and struck out six in the outing, with 47 of his 84 pitches going for strikes.
• Brewers No. 27 prospect Miguel Diaz was dominant in his best outing of the season for Class A Wisconsin as he fired a career-high 6 1/3 scoreless innings in a win against Kane County. The flame-throwing 21-year-old matched his career high with eight strikeouts, gave up two knocks and walked one in the outing.
• Braves No. 30 prospect Patrick Weigel recorded his first career shutout in Class A Rome's win over Lexington in game one of a double dip. The 2015 seventh-rounder struck out two, scattered four hits and walked one over seven innings, and he needed only 76 pitches (48 strikes) to go the distance.