Young Red Sox prep for postseason stage
Betts, Bradley and Benintendi among Boston players making playoff debuts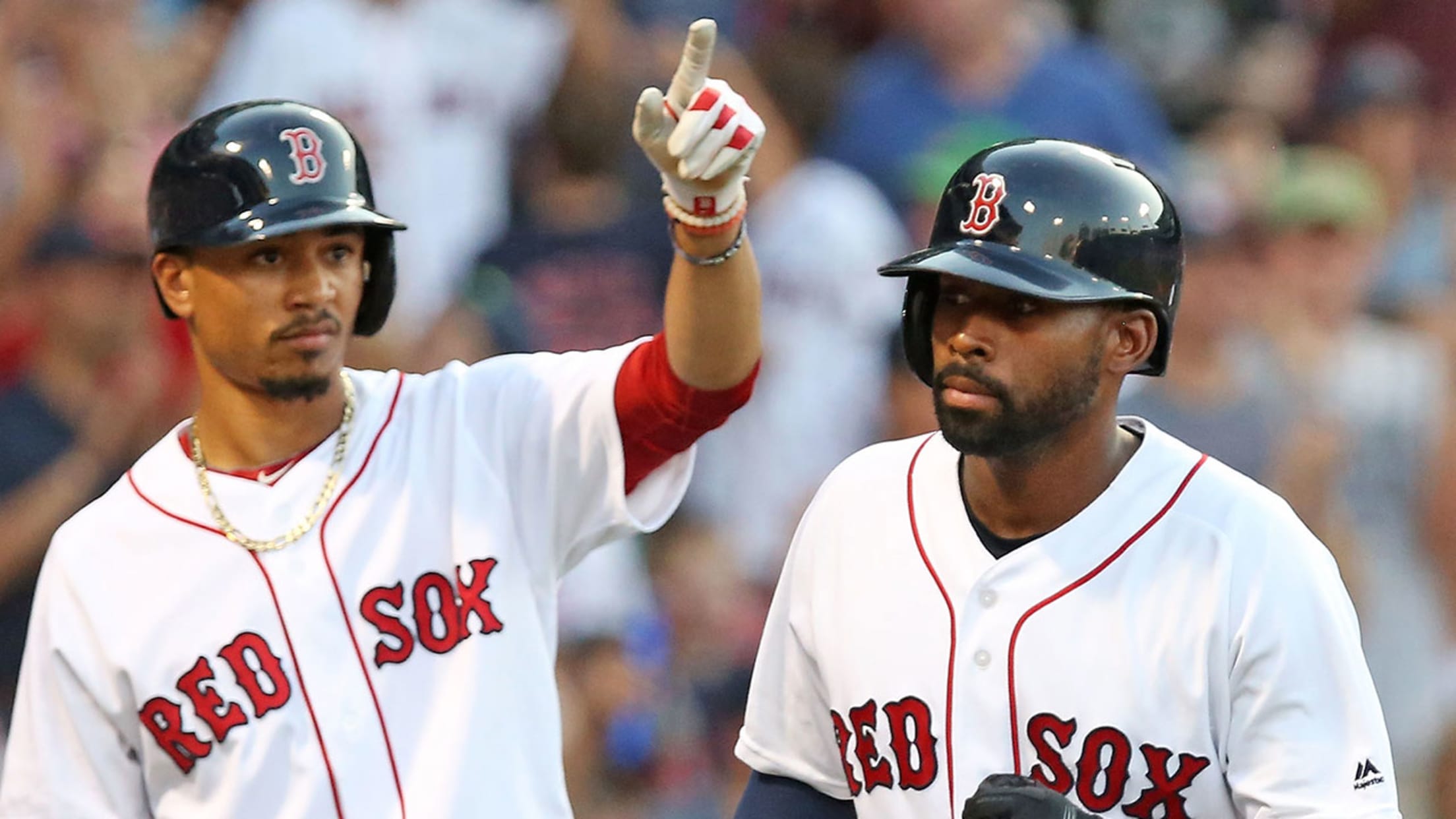 "It's the same game, so just continue to be the same guy," Mookie Betts (left) said. (Getty)
CLEVELAND -- A group of young talent helped the Red Sox celebrate their third division title in 10 years, and as those fresh faces prepare for their postseason debuts on the eve of the American League Division Series (Thursday, 8 p.m. ET, TBS), they are being reminded that there are
CLEVELAND -- A group of young talent helped the Red Sox celebrate their third division title in 10 years, and as those fresh faces prepare for their postseason debuts on the eve of the American League Division Series (Thursday, 8 p.m. ET, TBS), they are being reminded that there are still the same 90 feet between the bases.
Mookie Betts, Jackie Bradley Jr. and Andrew Benintendi are among the promising Red Sox who are trying to keep things routine as they prepare to face the Indians. To do so, they have bounced a few questions off teammates like Dustin Pedroia and David Ortiz, who have been here many times before.
:: ALDS: Red Sox vs. Indians coverage ::
"It would be dumb not to ask," Betts said. "There's only so much they can say. I feel like it's something you have to experience. Different people take things different ways. [They say] keep playing. It's the same game, so just continue to be the same guy."
Beyond Pedroia and Big Papi. there is a good amount of postseason experience in Boston's clubhouse, with Hanley Ramirez, Aaron Hill, Chris Young and Xander Bogaerts among the grizzled vets. Bogaerts picked up a World Series ring in 2013 at the young age of 21.
But October will be a new experience for the rest of the position players, including Brock Holt, Sandy Leon and Travis Shaw. Benintendi was finishing his first pro season at this time a year ago, and he said the biggest difference so far seems to be the additional media attention.
"I just think more media, more publicized. Everybody's watching," Benintendi said. "This is something I grew up watching and got excited to watch. To be a part of it is awesome. It's the same game. Just more at stake."
Bradley said the opening of the postseason represents a "reset button," and with that, he believes the Red Sox are on the verge of reaching a special opportunity.
"All that stuff that you did in the regular season really doesn't matter anymore. It's all about playing here and now," Bradley said. "I think it all just comes down to preparation before the game, and just go out there and play. Embrace it. It's here, so you might as well enjoy it."