Nats coach Henley's number choice personal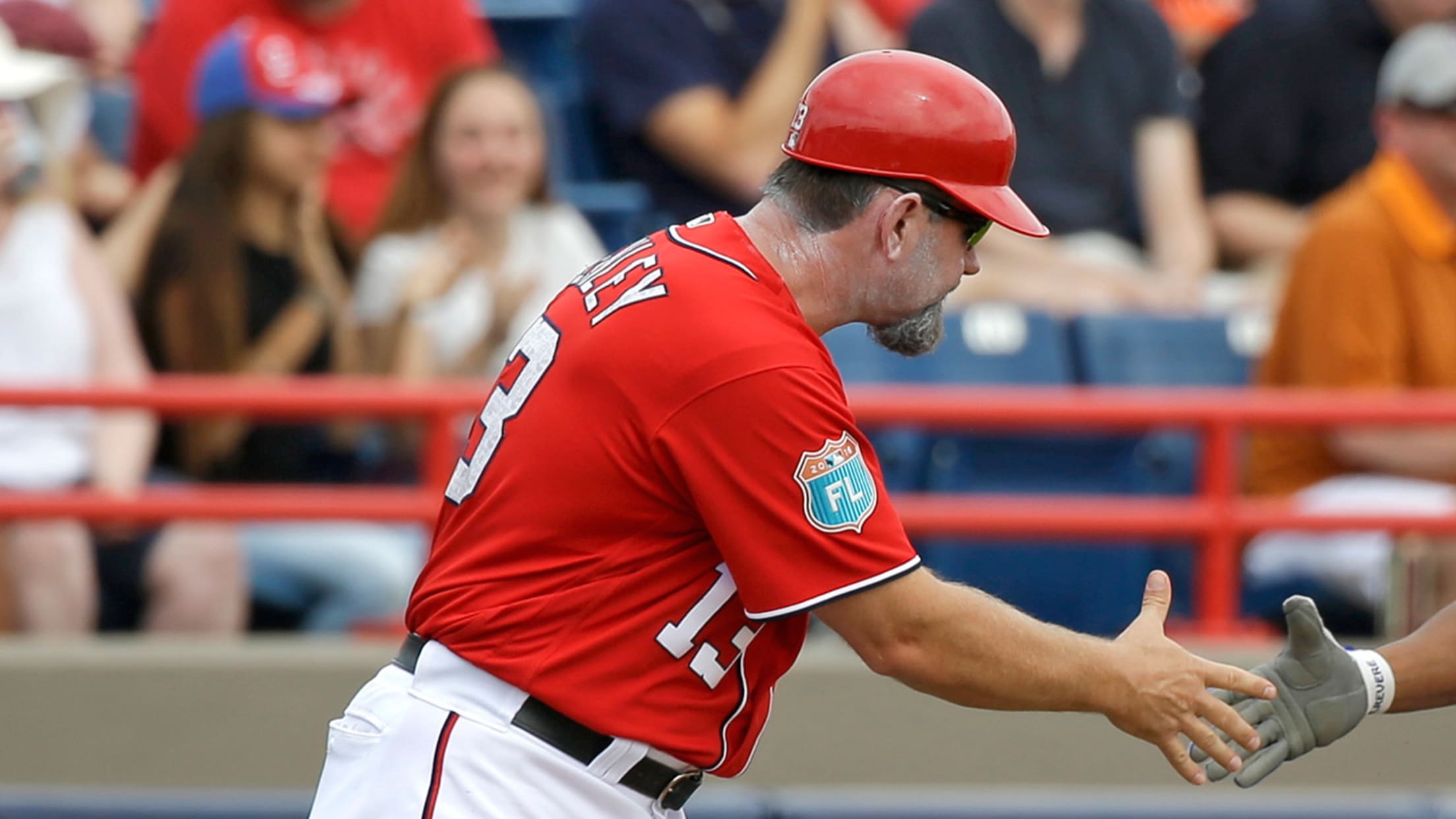 Nationals third-base coach Bobby Henley returned to wearing No. 13 this season. (AP)
LAKE BUENA VISTA, Fla -- To Nationals third-base coach Bobby Henley, the No. 13 isn't an unlucky number. Before this season started, Henley decided to switch his uniform number from 14 to 13 in dedication to his father, Bobby Sr., and his good friend, Rangers third-base coach Tony Beasley, both
LAKE BUENA VISTA, Fla -- To Nationals third-base coach Bobby Henley, the No. 13 isn't an unlucky number. Before this season started, Henley decided to switch his uniform number from 14 to 13 in dedication to his father, Bobby Sr., and his good friend, Rangers third-base coach Tony Beasley, both of whom have dealt with cancer.
Bobby Sr. wore 13 while playing amateur baseball in Alabama, and Beasley wore No. 13 when he managed Triple-A Syracuse and Double-A Harrisburg, the Nationals' Minor League affiliates.
Henley gets emotional when talking about his father and Beasley. Bobby Sr. passed away from brain cancer two years ago, and Beasley is going through chemotherapy due to rectal cancer. Bobby Sr. was the one who taught his son the game of baseball.
• Spring:Tickets | Ballpark | 40-man roster | NRIs
"The No. 13 was his first uniform," Henley said about his father. "He grew to love the number. I don't know if it was everyone's dislike for the number or it was just his first uniform. Me and my brother had no choice when we were kids. When we played baseball, we had no say as far as the number we were going to wear. He said you are wearing this number. He was 6-6, 300 pounds. No one was going to argue with him."
When Bobby Jr. started working in professional baseball, he wore No. 13 in honor of his father until 2014, when the Nationals traded for left-hander Jerry Blevins. Henley felt that because Blevins was a player, he deserved to have the number. Even though Blevins was traded to the Mets in March of last year, Henley decided to stick with No. 14.
But then, this offseason, Henley decided to go back to No. 13 after learning that Beasley was dealing with cancer. Henley called Beasley a dear friend. They worked together in the Nationals' Minor League system for more than five years. Henley spoke to Beasley as recently as Saturday, and Henley was happy to report that Beasley was in great spirits.
"Whenever the No. 13 became available, I'm going to wear it again to honor my father and also Tony Beasley, who is battling cancer right now. He is a dear friend of mine," Henley said. "I pray daily for Tony and his family. I send him messages daily, just to let him know I'm thinking about him."