10 NL players who look better in a DH world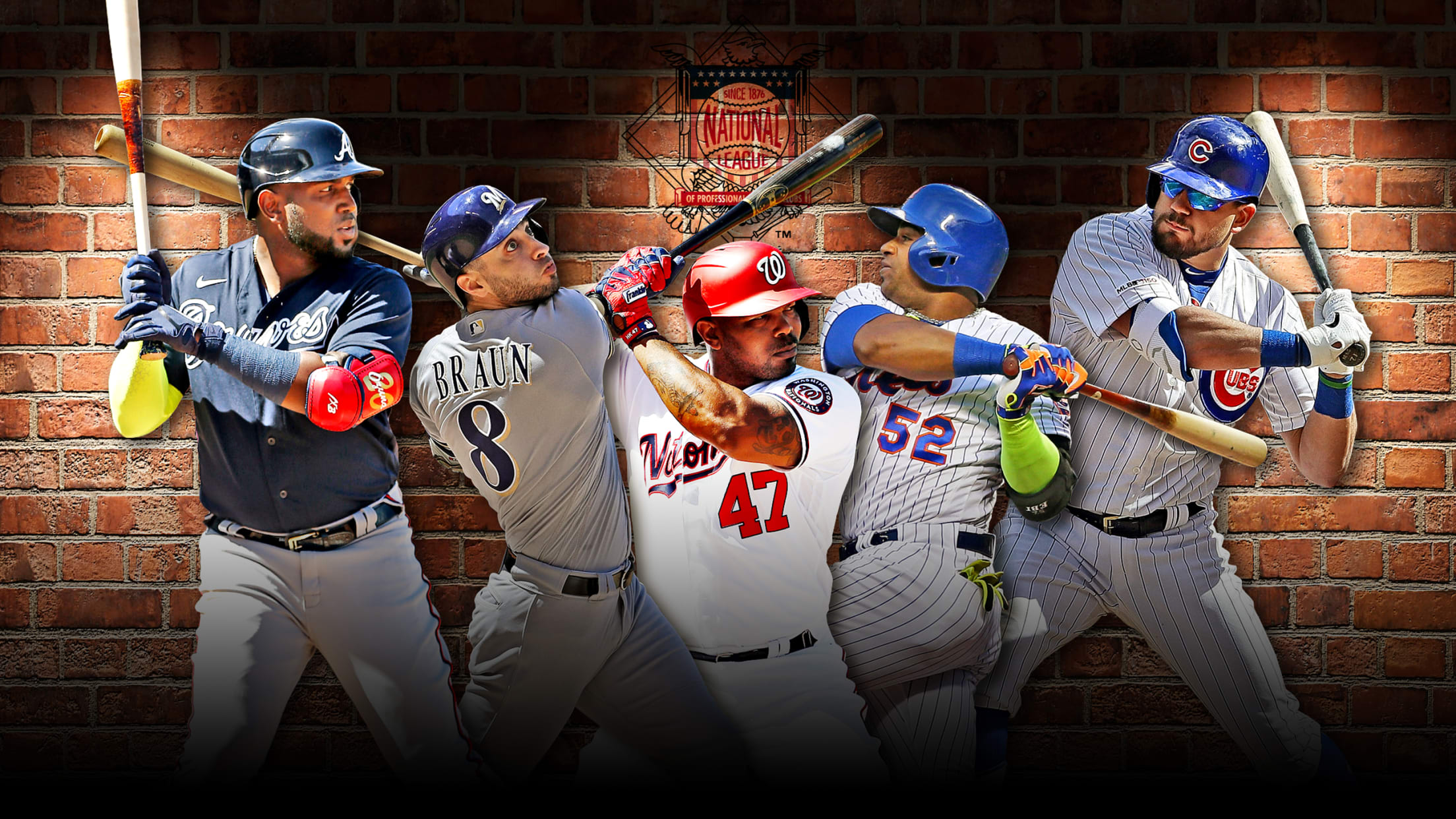 With all apologies to those who enjoyed watching Aníbal Sánchez strike out on a foul bunt with a runner on third in last year's World Series, the designated hitter in the National League is long overdue. • FAQ: All you need to know about 2020 season This is not the
With all apologies to those who enjoyed watching Aníbal Sánchez strike out on a foul bunt with a runner on third in last year's World Series, the designated hitter in the National League is long overdue.
• FAQ: All you need to know about 2020 season
This is not the way me and my fellow universal DH advocates wanted it to happen, and perhaps it won't even be permanent. For the time being, having the DH in the NL certainly breathes new life and new possibilities into the Senior Circuit rosters.
• Assessing every NL club's DH situation for 2020
With that in mind, here are 10 guys who suddenly became a lot more interesting with the advent of the NL DH in 2020 -- either because they can DH directly or because the spot opens opportunity for them elsewhere on the field.
1) Yoenis Céspedes, OF, Mets
He's played just 119 games since the start of 2017. He didn't play any last year. Céspedes' fall from superstar standing has been rapid and remarkable. And even though he had recovered enough from his major ankle injury to face live pitching prior to the spring shutdown, one would have to engage in quite a bit of blind faith to assume he can handle outfield duties without suffering a setback -- and the Mets have a set outfield, anyway.
Now, with the DH, Céspedes' role could not be more clear, and his impact could be larger than any of us imagined a few months ago. He's one of the game's ultimate "ifs," and it might not work out. But it's fun to dream on right now.
2) Nick Senzel, OF, Reds
Reds president of baseball operations Dick Williams said the other day, "We built this team to have a DH." What did this man know and when did he know it?!
The offseason signings of Nick Castellanos and Shogo Akiyama clouded the playing-time path for Senzel, a former top prospect who has already changed positions multiple times. Senzel took his lumps in his first big league exposure in 2019 (.256/.315/.427 slash line in 414 plate appearances) and became the subject of offseason trade rumors, but he was having a strong spring following labrum surgery, and his hit tool will translate eventually. Now, Reds manager David Bell can use him as a super utilityman in the infield and outfield while utilizing the DH spot for others.
3) Dylan Carlson, OF, Cardinals
This switch-hitter was tearing up the Grapefruit League before the shutdown, drawing comparisons to -- gulp -- Albert Pujols in terms of the way he was asserting himself ahead of schedule. Still, one can never simply assume a win-now team will extend a regular job to an unproven rookie, and Carlson might still be on the reserve squad when St. Louis breaks summer camp.
But there's a trickle-down effect here if Matt Carpenter becomes the regular DH, thereby opening up third base to Tommy Edman, thereby opening up outfield at-bats for Carlson, the organization's No. 1 prospect (and No. 17 overall). He's a clear source of upside on a team with offensive questions.
4) Alec Bohm, 3B/1B, Phillies
The industry consensus is that MLB Pipeline's No. 30 overall prospect is ready to hit in the big leagues, but it was not as clear that he was ready to handle the hot corner, where Jean Segura is the slated starter.
Now, depending on if or when the Phillies include Bohm on their roster, he can apply his pop and potential to the DH duties. Across three levels last year, he hit .305/.378/.518 with 21 homers and 30 doubles in 540 plate appearances.
5) Francisco Mejía, C, Padres
The defensive questions that accompanied Mejía in his arrival in a mid-2018 trade still remain, giving rookie Padres manager Jayce Tingler the difficult decision between Mejía's promising bat and Austin Hedges' defensive prowess.
The availability of the DH slot makes that decision a heck of a lot easier. While Tingler has other bats to consider here, Mejia's offensive potential (he had a 50-game hitting streak in the Minors) might more readily present itself if the demands of the catching role are reduced for him. To regularly have both Hedges and Mejia in the starting lineup would require the Padres to roster a third catcher, but that's less of a concern with active rosters expanded the first four weeks of the season.
6) Howie Kendrick, INF, Nationals
He's still in possession of the most recent Major League home run, and it was a big one. He's hoping for many more, of course. But when you have your best offensive season (.344/.395/.572, 41 extra-base hits) at age 35, you are a clear regression candidate the following year.
The DH spot changes things, though. Whereas Kendrick once profiled to be in a fight for every at-bat at first, second and third, now there's a job available to him where he can build off last season's offensive successes while resting those (relatively) old bones. Serving as the Nats' DH in the World Series seemed to work out pretty well…
7) Yasiel Puig, OF, free agent
Puig's continued availability was bound to be a hot topic whenever MLB opened back up for business. But now, with more at-bats to go around industry-wide, a wider swath of NL clubs who might not have otherwise had room for "The Wild Horse" have expanded their stable.
The Cubs, Rockies and D-backs come to mind here, and the chatter linking the Giants to Puig only increased as the DH news came to light.
Baseball is back and God knows I'm ready #letthewildhorseloose pic.twitter.com/ajfsX6Xd9z

— Yasiel Puig (@YasielPuig) June 24, 2020
8) Marcell Ozuna, OF, Braves
We all remember the, um, unfortunate catch attempt from early last season (but we should watch it again anyway). And while that was an especially egregious example, the hard truth is that, among outfielders with at least 200 attempts last year, Ozuna ranked 58th of 66 qualified players in Outs Above Average (minus-8).
At the plate, though, Ozuna's arrow is very much pointed upward. His two seasons in St. Louis weren't special (106 OPS+, or just 6% better than league average), but his exit velocity, hard-hit percentage and expected slugging percentage were all in the 91st percentile or higher last year, per Statcast. Sticking Ozuna at DH would allow him to focus on what he does (and can do) best.
9) Kyle Schwarber, OF, Cubs
We've heard him described as an "American League player" pretty much since his arrival. That's an unfair characterization, because Schwarber has made himself into an average defender in left field, not a liability. One would assume rookie Cubs manager David Ross will generally rotate his outfielders in and out of the DH spot rather than prescribing Schwarber or anybody else to the job full-time.
But Schwarber is coming off a career-best offensive campaign (.871 OPS, 120 OPS+, 38 homers, 29 doubles, 92 RBIs), and it might not be a stretch to assume he can reach yet another level at the plate if the defensive demands are reduced.
10) Ryan Braun, OF/1B, Brewers
Back in the Before Times (i.e. the original Spring Training), Braun was openly acknowledging that the 2020 season might be his last.
• Braun done after 2020 season? Not so fast ...
But the 36-year-old is still a viable offensive contributor (.285/.343/.505, 22 homers, 31 doubles last season). And if he takes to the DH role and has a strong offensive showing, he could become a more enticing free-agent option for teams going into 2021.