Nationals playing it safe with Glover's return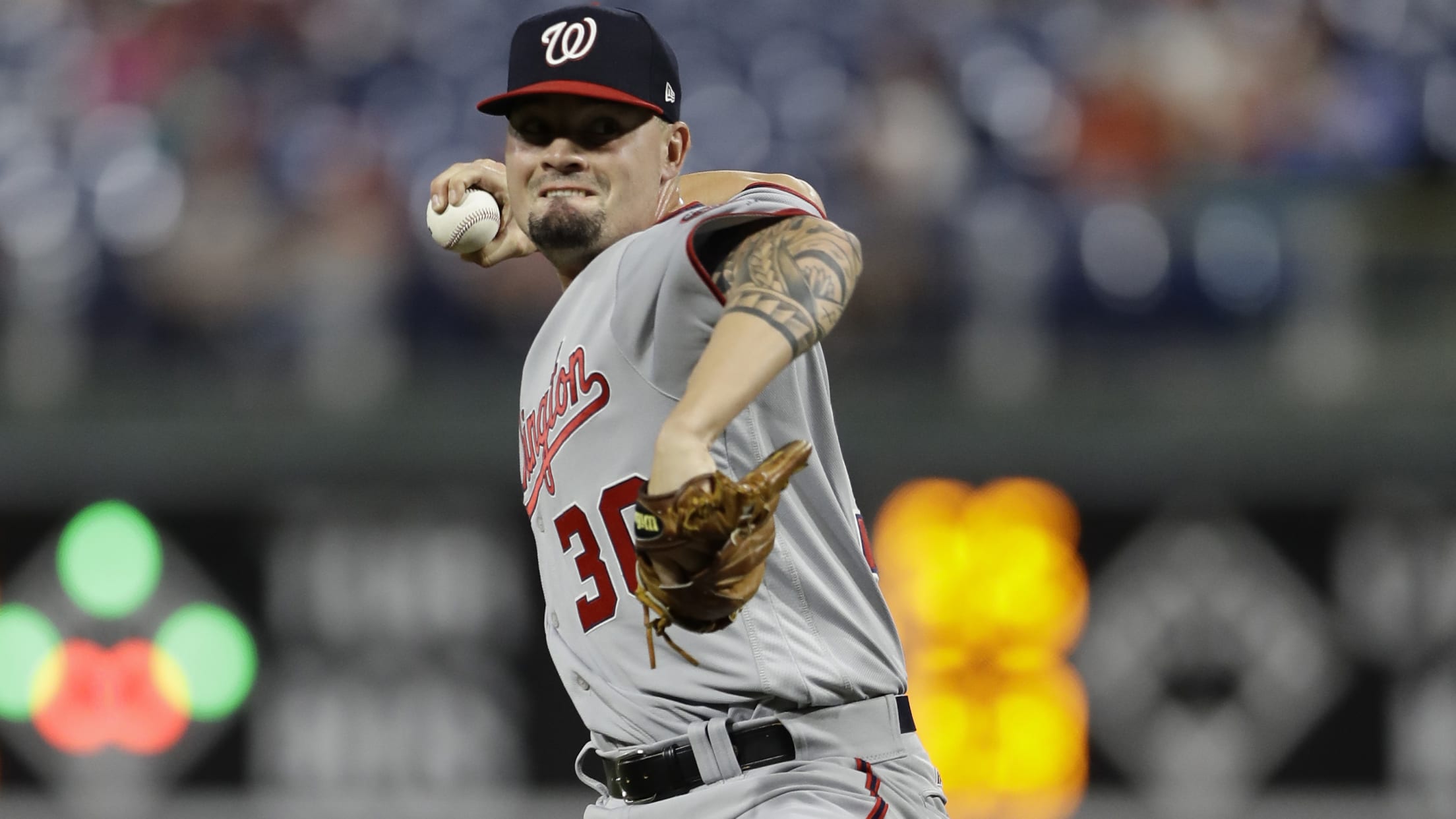 Washington Nationals' Koda Glover in action during a baseball game against the Philadelphia Phillies, Wednesday, Sept. 12, 2018, in Philadelphia. (AP Photo/Matt Slocum) (Matt Slocum/AP)
MIAMI -- The Nationals have big plans for right-handed reliever Koda Glover, but manager Dave Martinez remains cautious with their 6-foot-5-inch power pitcher.Shoulder problems kept him out of action for most of this season, and Martinez is keeping a close eye on the blossoming reliever, who has been extremely efficient
MIAMI -- The Nationals have big plans for right-handed reliever Koda Glover, but manager Dave Martinez remains cautious with their 6-foot-5-inch power pitcher.
Shoulder problems kept him out of action for most of this season, and Martinez is keeping a close eye on the blossoming reliever, who has been extremely efficient in 17 appearances since being called up on Aug. 8 from Triple-A Syracuse.
"He's been really good," Martinez said. "I make sure he comes and talks to me every day about how he's feeling. And he comes to me every day and says, 'Hey, I'm good.' If he needs a day off, [I want him to] take a day. He's just coming back."
After leading all rookies last season with eight Major League saves, Glover didn't throw a pitch this season until July, making 11 Minor League appearances out of the bullpen before being called up.
Glover has picked up where he left off with the Nationals, compiling a 2.70 ERA in 17 games and converting a save in his only opportunity of 2018. Glover has been especially effective in his last 12 outings, posting a 0.93 ERA and allowing just one run in 9 2/3 innings pitched. Opposing batters have hit .097 against him during that stretch.
"He's been really good, and I want to keep it that way, especially going into the winter knowing that he can pitch the back end of the bullpen," Martinez said. "He's just got to stay confident and stay healthy."
Roark remains at home
With his wife expecting a baby, Tanner Roark remained at home in Atlanta after starting Sunday's series finale against the Braves. He did not travel with the team to Miami.
"Obviously, his wife is just about to have a baby. They don't know when," Martinez said. "I just told him, 'Stay home with her.' Having babies is pretty cool, but the wife needs him around."
Glenn Sattell is a contributor to MLB.com based in Miami.