Espinosa not discouraged, working on timing
Nationals shortstop now 0-for-17 in Grapefruit League play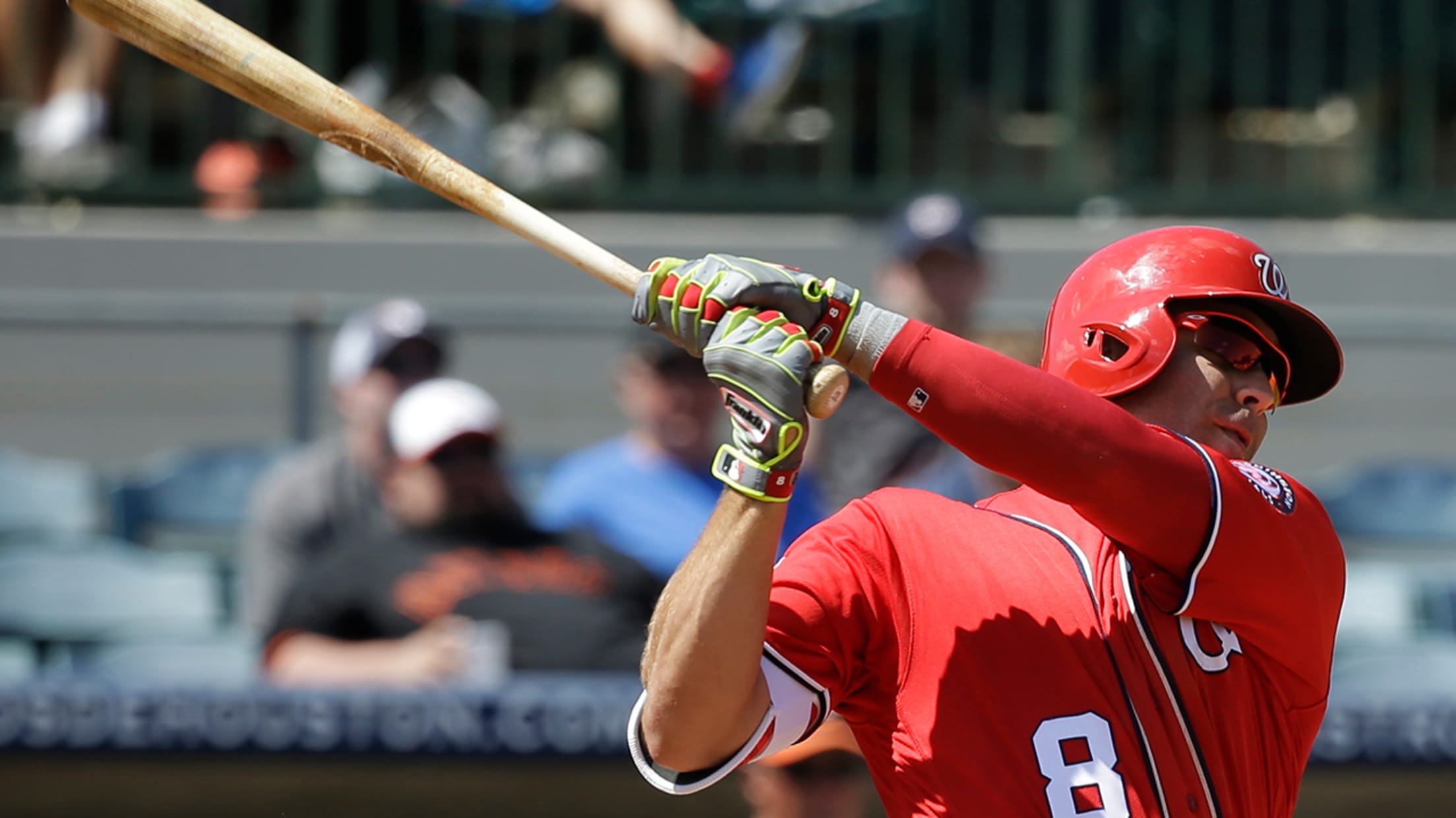 "Yeah, I feel great. It's just fastball timing," Danny Espinosa said. (John Raoux/AP) (John Raoux/AP)
KISSIMMEE, Fla. -- Three hitless at-bats during the Nationals' 6-4 victory over the Astros on Tuesday left shortstop Danny Espinosa still searching for his first hit of the spring.But Espinosa has an idea what might get him out of this funk."It's rhythm and timing," Espinosa said. "… We worked on
KISSIMMEE, Fla. -- Three hitless at-bats during the Nationals' 6-4 victory over the Astros on Tuesday left shortstop Danny Espinosa still searching for his first hit of the spring.
But Espinosa has an idea what might get him out of this funk.
"It's rhythm and timing," Espinosa said. "… We worked on a couple things, trying to clear your head and go up there and get on time to take some good swings."
A switch-hitter, Espinosa is now hitless in 17 at-bats in Grapefruit League play. He has struck out eight times with most of his at-bats coming from the left side.
Spring Training:Tickets | Schedule | Ballpark
Washington manager Dusty Baker acknowledged that Espinosa has that long and loopy swing that leaves him vulnerable in the batter's box. The skipper said the team is trying its best to help him figure things out at the plate.
"I've talked to him, [hitting coach Rick] Schu has talked to him. We are trying to help him figure it out," Baker said. "It's not easy to do an overhaul. It's a slow process. You take it one step at a time. We are going to help him figure it out."
On Tuesday, Espinosa started the game by trying to bunt for a hit, but grounded out to Astros first baseman Matt Duffy. Two innings later, with runners on first and second and the bunt sign off, Espinosa bunted the ball anyway and the Astros were able to force Tony Campana out at second base.
One inning later, Espinosa struck out with the bases loaded and one out.
"It's up to him and it's up to us to try to help him as much as we can," Baker said. "When you are at the plate, you are there by yourself. You are the only one in the box. We wish we could stay in the box with him, but you can't."
Espinosa is expected to start against the Marlins on Wednesday and hit sixth in the lineup.
"Yeah, I feel great. It's just fastball timing," Espinosa said. "Get some more reps and get back to back games and get my timing going. I'll be just fine."