Inbox: Changes coming to coaching approach?
Beat reporter Jamal Collier answers questions from fans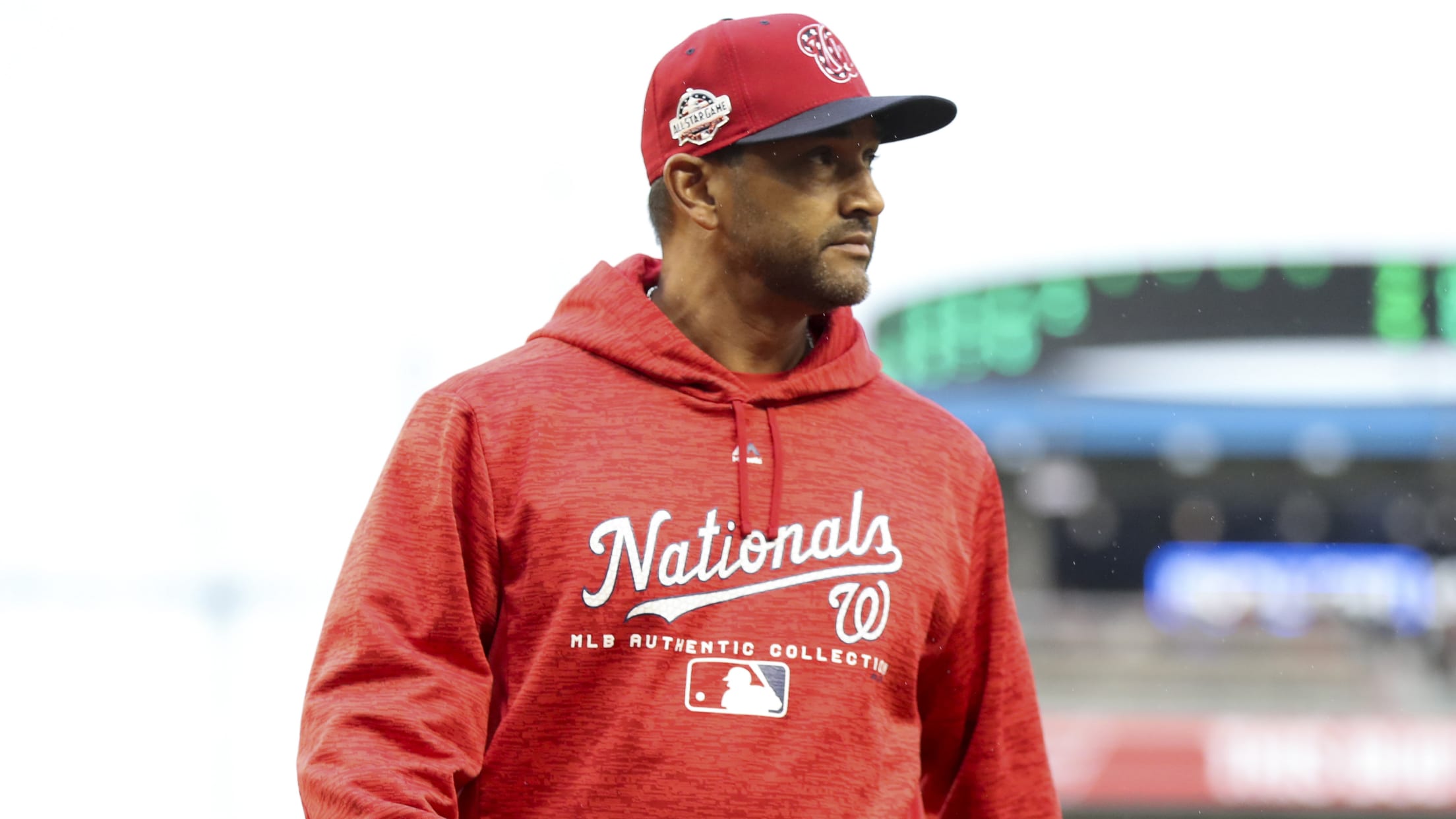 Washington Nationals manager Dave Martinez walks to the dugout after a pitching charge in the fifth inning of a baseball game against the New York Mets at Nationals Park, Sunday, Sept. 23, 2018, in Washington. The Mets won 8-6. (AP Photo/Andrew Harnik) (Andrew Harnik/AP)
WASHINGTON -- The Nationals begin this offseason filled with question marks, from Bryce Harper's looming free agency to holes at second base and catcher, in the rotation and in the bullpen. The team that takes the field in 2019 will likely look a lot different than the team that did so
WASHINGTON -- The Nationals begin this offseason filled with question marks, from Bryce Harper's looming free agency to holes at second base and catcher, in the rotation and in the bullpen. The team that takes the field in 2019 will likely look a lot different than the team that did so in 2018, but will the faces in the dugout remain the same? Today's Nationals' inbox begins there, wondering whether change is on the horizon for Dave Martinez's coaching staff:
Do you see any changes Dave Martinez might make in his staff for 2019 season?
-- Andy C. via email from Lexington, Ky.
During the final weekend of the regular season, Martinez said he wanted his entire coaching staff back for next season, and on Tuesday sources confirmed to me that the group would remain intact.
"They worked their butts off all year long, and they're really good," Martinez said in Denver. "They've been very positive. They're a big part of keeping this aloft. They really are."
But while the personnel might look the same, Martinez did hint at some potential changes in their approach.
"I'll have meetings this winter with the coaches, and we'll have a different approach to Spring Training as far as doing fundamentals and what I want to see," he said. "We're just going to work on defense, hitting the cutoff man, turning double plays, turning double plays from shifts positions, pickoff plays ... We're going to do those little things and make sure when the season starts next year, we're not going to second guess."
Watching the 2nd half & the playoffs & noticing so many 'starters' being used from the bullpen - not even full "bullpenning". w/ Fedde & Rodriguez - maybe some other names who step forward (Voth, McGowin), are the Nats are inclined to look at them as multi inning bullpen pieces?

— Jimmy G (@LeonTrout) October 17, 2018
This is something I wondered near the end of the season while watching a few of the Nats young starters -- Erick Fedde, Jefry Rodriguez and Joe Ross -- make starts down the stretch. So many great relievers are just converted starting pitchers, and recently, it seems more teams have someone to fill the multi-inning reliever role as well. I think the history of elbow injuries for Ross and Fedde could make them a bit tricker to convert to relievers when they have never done it before, plus Rodriguez's arsenal fits much better. Down the stretch, Rodriguez even made a few short and long stints in the bullpen, in part to limit his innings, but Martinez also admitted he was curious to see what it looked like.
For now, the organization values starters much more heavily, and starting pitching depth is already an issue they will need to address this offseason. The Nats seem committed to let these players prove themselves as starting pitchers first before they discuss converting them into relievers, but it's an intriguing thought.
Could the Nationals possibly trade Tanner Roark?
-- Avi S. via email from Alexandria, Va.
Probably not. First off, Roark's trade value is probably not very high considering he just turned 32 this month and posted a 4.67 ERA in 2017 and a 4.34 ERA in '18 without great peripherals to back him up. Secondly, the Nationals need more starting pitching this offseason, not less. I'm not sure how trading Roark would solve that issue. For the right deal, of course the team could be open to it, but it seems unlikely.
What do you think the Nats will do at catcher? With Matt Wieters contract being up and his health and bat being inconsistent, do you see them bringing in a new catcher or has Spencer Kieboom done enough?
-- Charley Hays via email from Springfield, Va.
I think the Nationals will almost certainly have a new starting catcher from outside the organization come Opening Day in 2019. Wieters was well-liked and had strong stretches, but during his two seasons in Washington, the Nats received the worst production in the Majors from their catchers (-0.7 WAR). Pedro Severino was once the catcher of the future, but took a step back in 2018. And while Spencer Kieboom might have exceeded expectations, he still only posted a 71 OPS+ (100 is league average). So the truth is, the Nationals will likely need multiple catchers to fill out their depth chart next year.
Who exactly they will target remains unclear, but there are some options at catcher available. I expect the Nats to re-engage the Marlins on J.T. Realmuto, but notable free agents include Yasmani Grandal, Wilson Ramos, Jonathan Lucroy and Robinson Chirinos.
Do you not think the money we could save on not signing Harper could be used to create an awesome bullpen? We have no stable pitchers besides Scherzer and how many years does he have [left]? Shouldn't the bullpen and some stable starters be Washington's [priorities]?
-- Steven Boomer via email from Garner, N.C.
The reality is the Nationals need to address each of these areas if they believe they will compete again in 2019. They need a starter or two and to rebuild their bullpen, and they will not let a potential superstar talent in Harper walk away without trying to re-sign him. And while Rizzo will point out he has never been restricted or under any sort of payroll mandate, he also does not operate without any sort of budget. That's why the Nationals may only be willing to bid to a certain price for Harper, because of a hesitation to commit too much of their future payroll to just one player. Of course, this is a wise move to make sure they can field a competitive team around him in the future.
The Nats have also not had a great track record of signing free agent relievers and have been hesitant to hand out too many multi-year deals considering the volatile nature of bullpen arms, which are difficult to predict the success of from year to year. As we saw with their trade for reliever Kyle Barraclough, the Nats are likely going to explore some creative measures to fill their needs, because not all of them will come via free agency.