Nationals honor Minor League award winners
Reliever Lopez tabbed as organization's Pitcher of Year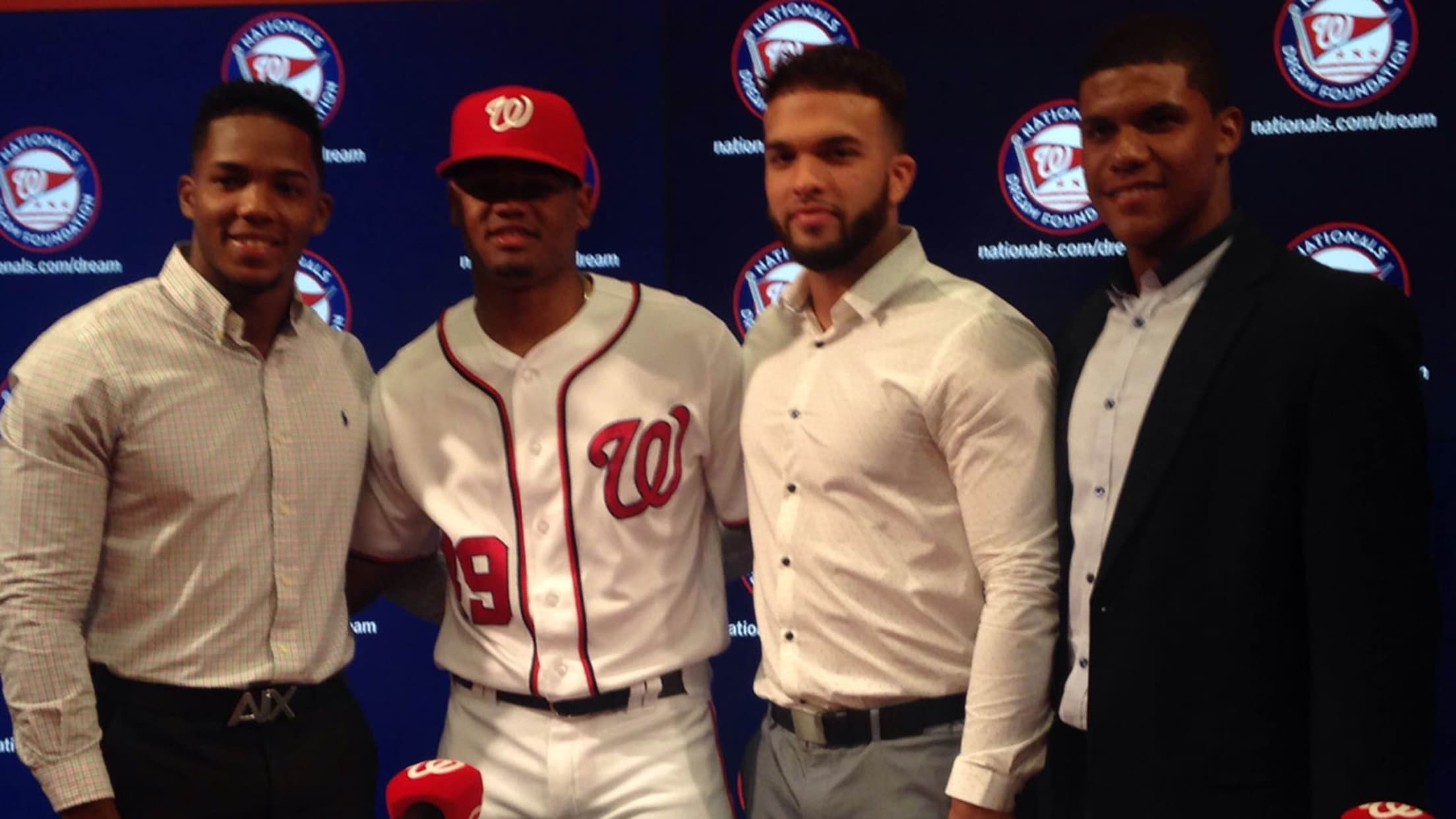 Nationals prospects Rafael Bautista, Reynaldo Lopez, Jose Marmolejos and Juan Soto were honored on Saturday. (MLB.com)
WASHINGTON -- After years of building up their Latin-American scouting operation, the Nationals are seeing promising results at all levels of the organization.On Saturday, Washington honored four players, all Dominican, who distinguished themselves in the Minor Leagues this season.• Jose Marmolejos, 23, was named the Nationals' Minor League Player of
WASHINGTON -- After years of building up their Latin-American scouting operation, the Nationals are seeing promising results at all levels of the organization.
On Saturday, Washington honored four players, all Dominican, who distinguished themselves in the Minor Leagues this season.
• Jose Marmolejos, 23, was named the Nationals' Minor League Player of the Year after hitting .289/.370/.475 at Class A Advanced Potomac and Double-A Harrisburg.
• Reynaldo López, 22, earned Pitcher of the Year honors after posting a 3.21 ERA at Harrisburg and Triple-A Syracuse. He has made 10 appearances in the Majors.
• Harrisburg outfielder Rafael Bautista, 23, received the Bob Boone Award for representing the organization's on- and off-field values, while hitting .282 with 20 extra-base hits.
• Juan Soto, 17, was recognized for winning the Gulf Coast MVP Award with a .361 batting average.
Lopez in particular has been a success story. A converted catcher, Lopez went from Double-A to Triple-A to the Majors this summer, making six starts for the Nationals. In September, Lopez has been working out of the Nats' bullpen, where the right-hander has proven effective in long relief.
Lopez said on Saturday that the year has been a learning process.
"There are going to be a lot of highs and lows," he said. "I was able to learn from my mistakes and keep working hard like I have been, and keep working toward improving and getting better."
Nationals manager Dusty Baker has suggested in recent days that Lopez could have a spot on the postseason roster, likely as an insurance policy in case one of the team's starters is knocked out early. Lopez also may be a short-relief option.
"If God blesses me with that opportunity [to pitch in the playoffs], I feel like I'm ready and willing to help out the team any way I can, and hopefully win," Lopez said.
Here's ReyLo accepting his #Nats @MiLB Pitcher of the Year Award prior to today's game. pic.twitter.com/P0EYYr0QRm

— Washington Nationals (@Nationals) October 1, 2016
For the other three players honored on Saturday, the trip to Nationals Park represented a glimpse of big league life and a little extra motivation as they attempt to climb through the organization.
Marmolejos said he remembered dreaming about the big leagues with his friend Wilmer Difo, who was called up this summer and helped out the injury-plagued Nationals in September.
"We've talked about this, five years ago when we were just in the Dominican Summer League. We'd see the team and we're like, one day we'll be there," Marmolejos said. "Now to see [Difo] there, see that he accomplished it, it's a blessing. You can see that you can get there too. So it's like dreams coming true."
For the Nationals, the success of this quartet of Dominicans -- plus MLB rookies Difo and Pedro Severino -- represents how far the organization has come in developing Latin-American prospects.
Director of player development Mark Scialabba praised the players, scouts and front office for their roles in producing so much young talent.
"It's a testament to the plan," Scialabba said. "[VP of international operations] Johnny Dipuglia and the staff do a tremendous job of acquiring talent. Early on, we didn't have the resources, necessarily, to sign some top players in the market, but Johnny and their staff did their best job to find the best players we could pay for."
Alex Putterman is a reporter for MLB.com based in Washington.