Nationals host Pitch, Hit & Run competition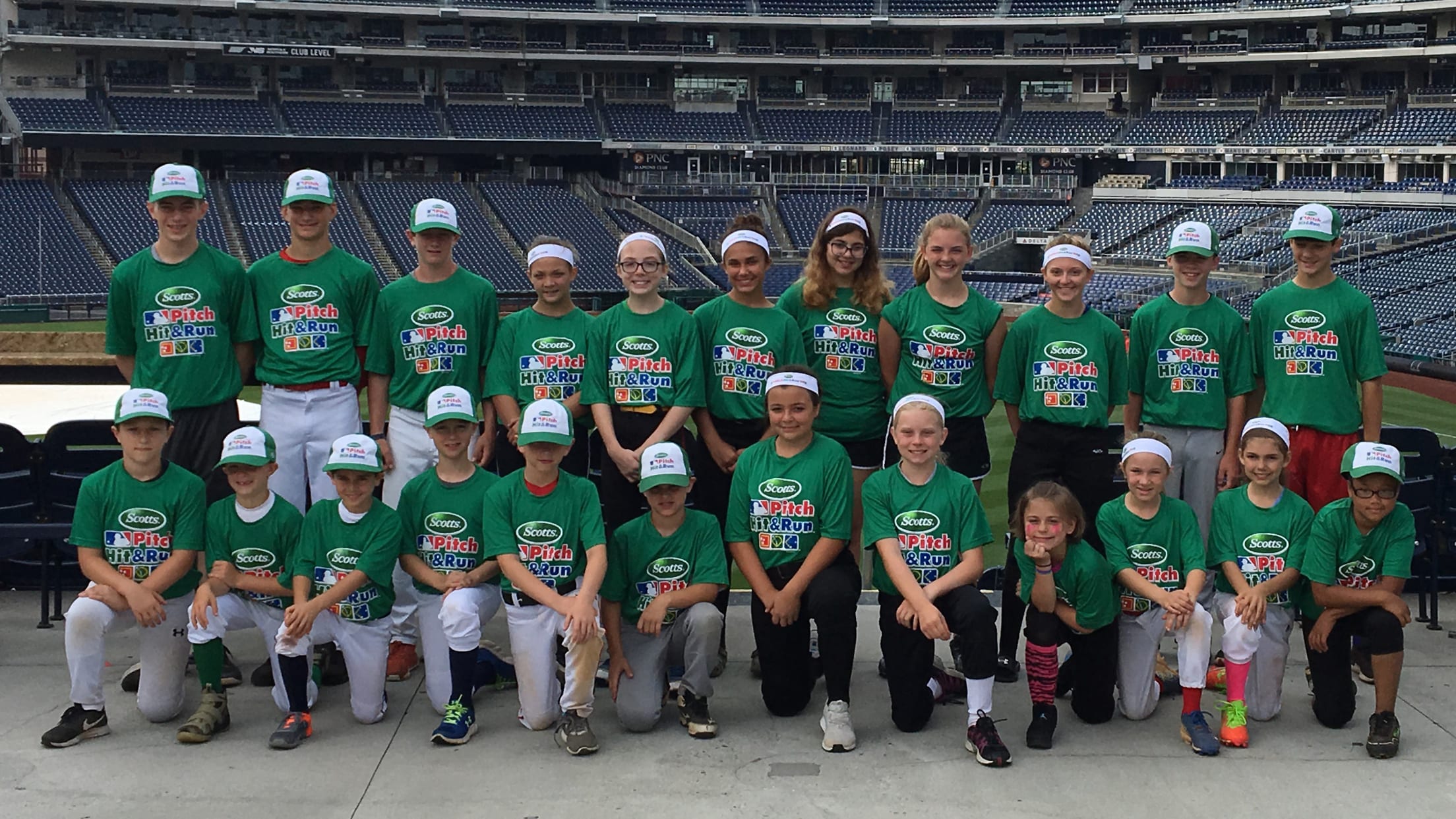 WASHINGTON -- Amber Hunte has played travel and recreational softball, but she's wanted to differentiate herself from her peers and experience the game on a bigger level.So Hunte was ecstatic when she qualified for the Scotts Pitch, Hit & Run regional finals at Nationals Park, a year after she fell
WASHINGTON -- Amber Hunte has played travel and recreational softball, but she's wanted to differentiate herself from her peers and experience the game on a bigger level.
So Hunte was ecstatic when she qualified for the Scotts Pitch, Hit & Run regional finals at Nationals Park, a year after she fell short of the round. Hunte shined even brighter around her peers when she arrived at the ballpark Sunday morning, winning the 13-14 softball division.
Pitch, Hit & Run, the "Official Youth Skills Competition of Major League Baseball," invites kids to demonstrate their pitching, hitting and running abilities in baseball and softball. The competition is part of the Play Ball initiative between Major League Baseball and USA Baseball, which encourages widespread participation in baseball activities among all age groups, especially youth.
Hunte was just one of 24 baseball and softball players ranging from age 7 to 14 to participate Sunday.
"It was kind of like a great opportunity, because it's a first-in-a-lifetime type thing," Hunte said. "I'm 14 years old, and I got to be on a Major League baseball field, where all my other friends are still playing on like rec teams, travel teams and things like that."
The participants qualified for Sunday's event after winning their local and sectional competitions in Washington, Virginia and Maryland.
Of the champions in the 30 Major League ballparks, the contestants with the three best scores in each age group will compete in the Pitch, Hit & Run National Finals at Nationals Park during MLB All-Star Week. Every MLB club is hosting team championships at their ballparks on weekends from May 26 through July 1.
Sunday's winners will be honored before the Nationals' game against the Giants at 4:05 p.m. ET.
Most of the youngsters were anxious entering the event, but Hunte said the nerves faded when she began the first activity.
The contest featured hitting a ball off a tee three times, throwing a ball at a target six times and racing to home plate from second base.
The winners, in addition to Hunte, were Hailey Metacarpa (age 7-8 softball), John Rossi (7-8 baseball), Ava Chadwick (9-10 softball), Tate Meier (9-10 baseball), Taylor Langston (11-12 softball), Breyden Ruiz-Weiss (11-12 baseball) and Eli Foutz (13-14 baseball).
About 650,000 children competed in Pitch, Hit & Run across North America this year alone, event coordinator Bennett Mayfield said. This is the 22nd year of Pitch, Hit & Run's program.
"It's a cool opportunity obviously for the kids because they're on the field and playing where their idols play," Mayfield said. "But the parents and families, spectators, they all seem to enjoy it as well. Not many kids have this opportunity."
Hunte has family from Illinois, so she's a Cubs fan. She hopes in July she can make the hour-long drive from her home in Stafford, Va., to be around some of her favorite players, such as Anthony Rizzo and Kristopher Bryant, at Nationals Park during MLB All-Star Week.
"Obviously attending an MLB All-Star game is a once-in-a-lifetime experience," Mayfield said. "Some of these kids might not realize it at the time, but they'll look back and obviously realize it was a really cool opportunity that not many people get. Even if they don't make it to that final step, it's still a really cool ride."
Kyle Melnick is a reporter for MLB.com based in Washington.