DC-area youth compete in Pitch, Hit & Run at Nationals Park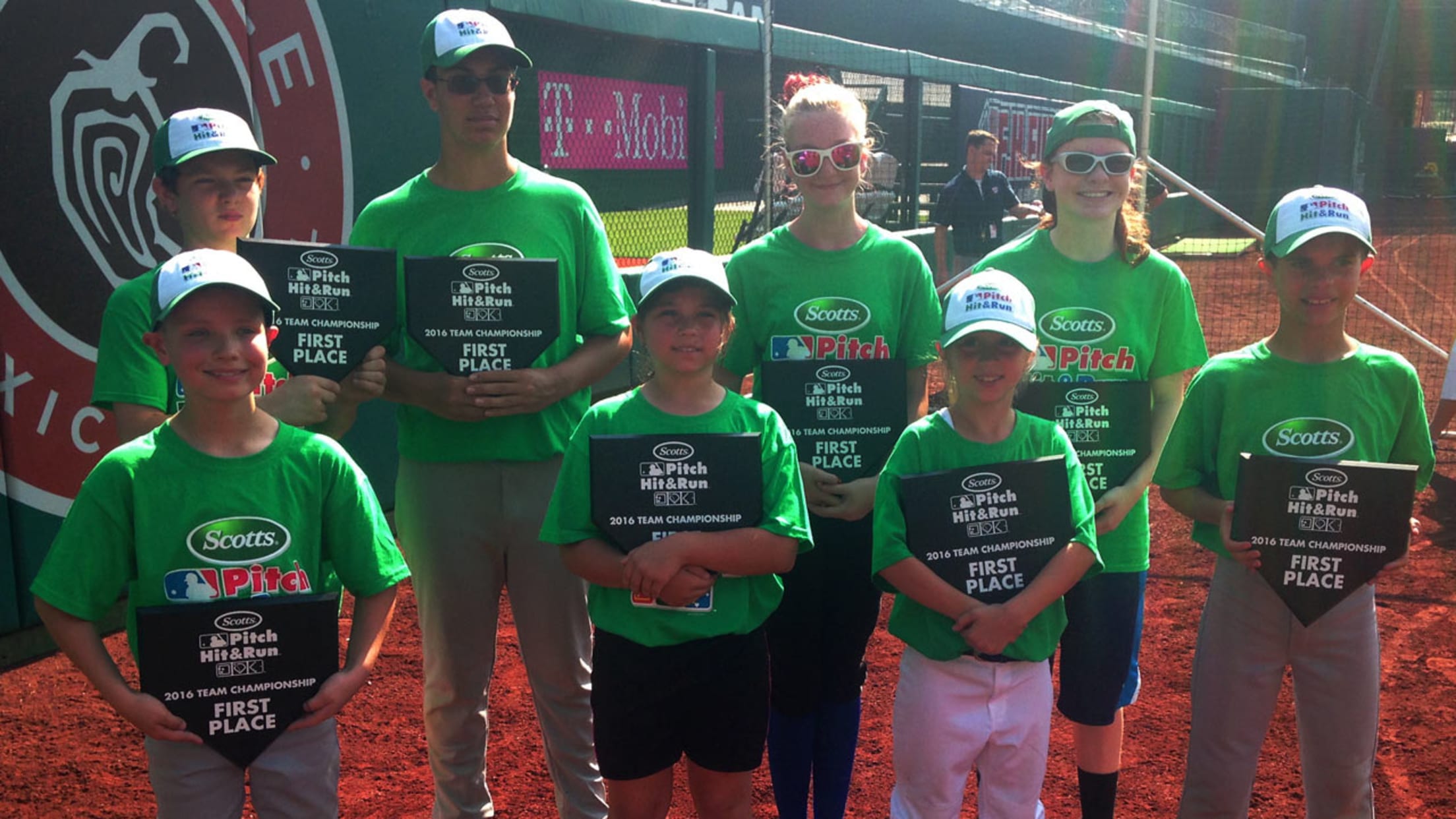 Winners of Sunday's Pitch, Hit & Run competition at Nationals Park pose with their awards. (MLB.com)
WASHINGTON -- Twenty-three kids from the D.C. area converged on Nationals Park to compete in the annual Scotts Pitch, Hit & Run program on Sunday.The players ranged from ages 7-14, spanning four age groups in baseball and softball. They sprinted through the outfield, whacked the ball as far as they
WASHINGTON -- Twenty-three kids from the D.C. area converged on Nationals Park to compete in the annual Scotts Pitch, Hit & Run program on Sunday.
The players ranged from ages 7-14, spanning four age groups in baseball and softball. They sprinted through the outfield, whacked the ball as far as they could off a tee and threw strikes at a target.
Bridget O'Brien, a Nationals fan from Christiansburg, Va., placed first in the 13-14-year-old softball division -- thanks, in part, to her underhanded, softball-style pitching delivery. While all the other kids threw overhand, O'Brien's pitches darted at the target from a lower arm angle.
"I'm a pitcher," said O'Brien afterward, "and I thought [throwing underhand] would be a better strategy than overhand because I practice it so much."
In addition to O'Brien, winners included Samantha Mitchell (7-8-year-old softball), Joseph Eves (7-8-year-old baseball), Kayla Stephens (9-10-year-old softball), Tanner Lam (9-10-year-old baseball), Payton Monahan (11-12-year-old softball), Bannon Brazell (11-12-year-old baseball) and Matthew Maldonado (13-14-year-old baseball).

The winners will be celebrated on the field before Sunday's game between the Nationals and Phillies. They are now also eligible to move on to the Scotts MLB Pitch, Hit & Run National Finals during MLB All-Star Week in San Diego, which will feature players from team competitions who recorded the top three scores in each age group.
To reach Sunday's competition at Nationals Park, players had to excel at the local and sectional levels, with the highest scorers from around the area advancing.
Pitch, Hit & Run is part of MLB's "PLAY BALL" initiative, which encourages participation in baseball at all ages.
For the participants at Nationals Park on Sunday, the event offered a rare opportunity to compete on a Major League field. It also gave them a chance to have a good time playing baseball on a nice summer morning.
When asked about the secret to his success, 7-8-year-old baseball champion Eaves summed it up best: "[I'm] just having fun."
Alex Putterman is a reporter for MLB.com based in Washington.