Murphy continues to haunt Mets
Second baseman has pounded former team since signing with Nationals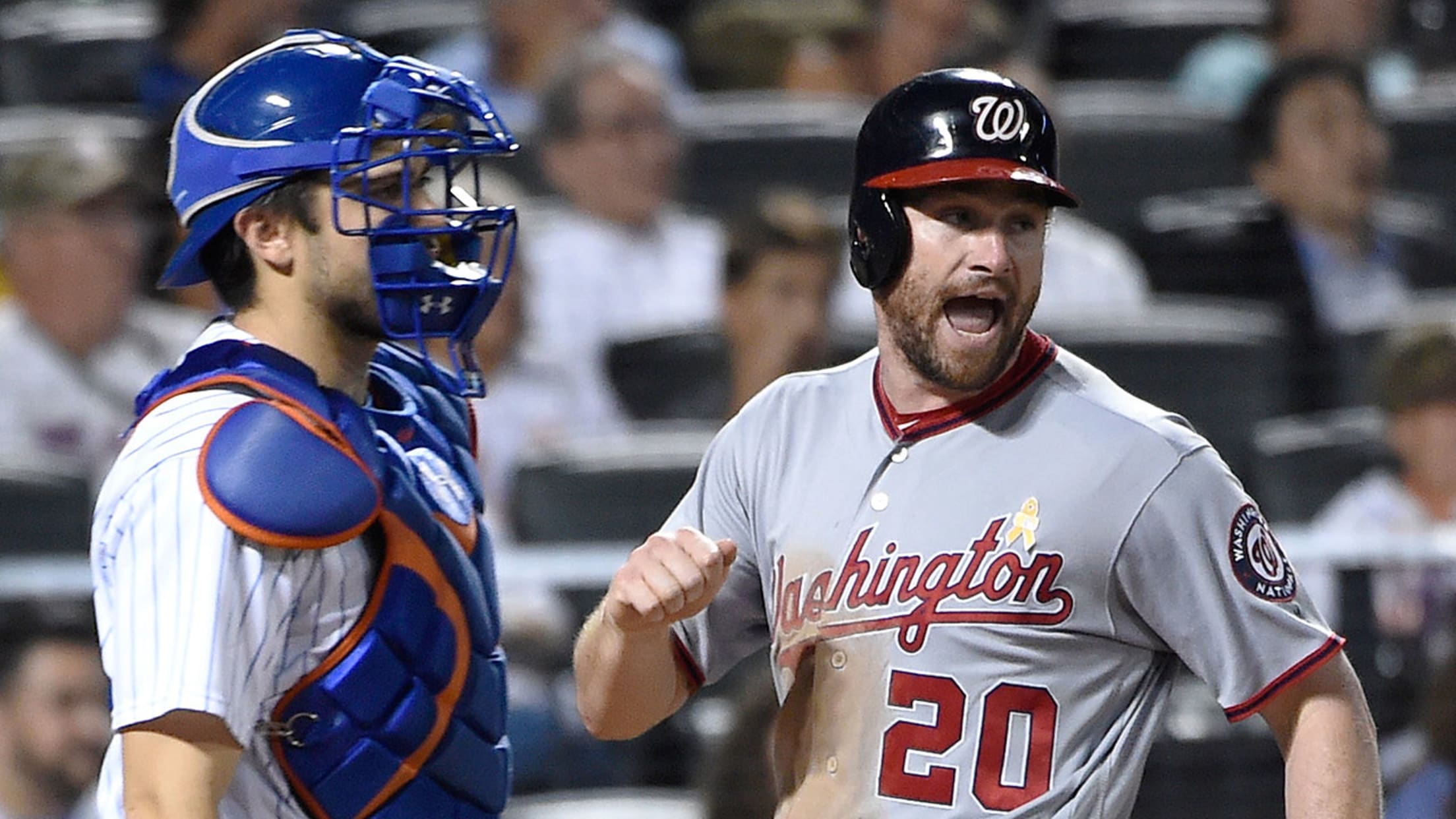 Daniel Murphy scores on Anthony Rendon's two-run single in the ninth on Friday night. (AP)
NEW YORK -- Daniel Murphy returned again to Citi Field as a member of the Nationals on Friday night, and when he came to bat in the first inning, he received the greeting he expected from Mets fans: a lot of boos."They treat me like a division rival who comes
NEW YORK -- Daniel Murphy returned again to Citi Field as a member of the Nationals on Friday night, and when he came to bat in the first inning, he received the greeting he expected from Mets fans: a lot of boos.
"They treat me like a division rival who comes to town hitting in the middle of the lineup," Murphy said about the same reception the locals gave Bryce Harper.
Murphy walked in that first plate appearance, and with his ninth-inning single in a 4-1 Nationals win, he has now hit safely in all 14 games played this year between the two teams. The Nats are 10-4 in the series.
Hall of Famer Tony Gwynn holds the record against the Mets by hitting in his first 15 games against them. That's pretty good company.
Last fall, Murphy was the guy who set a record by hitting homers in six consecutive postseason games, and he was named MVP of the Mets' sweep of the Cubs in the National League Championship Series.
The Mets went on to lose the World Series to the Royals in five games, but Murphy had a 1.115 OPS for the postseason, with seven homers and 11 RBIs.
Murphy signed a three-year, $37.5 million free-agent deal last December with Washington. And when he returned for the first time on May 17, he was treated like a conquering hero. The Mets made Murphy a qualifying offer of $15.8 million to protect Draft-pick compensation and no more.
"And I appreciated that, definitely, the cheers and the fact that the organization was willing to play a [video] montage, that spoke volumes about New York," Murphy said. "But after that, I'm wearing a different uniform, so I think they treat me poorly."
Particularly after he started hammering the Mets.
Murphy is hitting .418 (23-for-55) against his old mates, with eight homers, 22 RBIs and 12 runs scored. At Citi Field, he's wreaked havoc, with four homers, 12 hits and 14 RBIs. Murphy's OPS in eight games here this season is 1.348. The Nationals have won six of those eight games.
"I was shocked that it took so long for him to sign," Mets manager Terry Collins said. "Not only against us, but against everybody, Dan Murphy said, 'Hey, I'm a good player, and I'm going to prove it' and got himself in tremendous shape. I thought he was in great shape during Spring Training.
"It's carried over in the year he's had. We've just to make better pitches against him."
To Collins' point, Murphy came in on Friday with an incredible slash line of .341/.384/.600 with 25 homers, 98 RBIs and a .984 OPS. He's tied for the NL lead with 38 doubles. Murphy has been everything the Nats banked on, and now his name is being bandied about as an NL MVP Award candidate.
Murphy said personal accolades are just the offshoot of his team playing so well. But Mike Rizzo, the man who signed him, knows Murphy is a big part of all that success.
"He's having a terrific season. We thought he was a terrific player when we signed him," said Rizzo, the Nationals' president of baseball operations and general manager. "He fit us perfectly and has played extremely well offensively and defensively for us."
The fact is the Mets, as constituted last year with Murphy, won the NL East by seven games over the Nats.
With 27 games to go in the season, the Mets trail the Nationals by 10 1/2 games and are battling for the NL's second Wild Card spot. That's a 17 1/2-game turnaround since the end of last season.
It all can't be ascribed to Murphy, but he's certainly a big part of it.
"We were worried about ourselves improving, not taking someone away from a division rival," Rizzo said. "If that's a byproduct of it, then so be it. We needed him. His skill set fit perfectly for us. His attitude was a perfect fit for us. He's been everything advertised and better."
The Mets, for their part, made an organizational decision not to re-sign Murphy, who was their 13th-round pick in the 2006 Draft and was nurtured every step of the way through their own system.
Murphy said that after the qualifying offer there was some contact between his representatives and the Mets during the Winter Meetings in Nashville, Tenn., but that was it.
"And then Christmas Eve, we signed with the Nationals," said Murphy, who added that accepting the qualifying offer was not really an option. "We thought about it. With the information we had at the time, we felt that it was a better option for us to decline and test the free-agent market."
Murphy doesn't like to talk about himself very much, but he was well aware that he had done so much work on his swing, his play the last two months of the 2015 season portended his performance in the postseason. He batted .296 with eight homers and 37 RBIs from Aug. 1 on.
The Nats received a polished player, now 31 with almost eight seasons of big league experience.
"What I'm most impressed with is his knowledge of pitchers and his knowledge of himself," Nationals manager Dusty Baker said. "That's what most guys struggle with -- knowledge of their strengths and weaknesses. But Murphy has a heck of an idea. He comes to play every day. He's a serious player."