Q&A: Yost on World Series experiences
Royals' manager has been to eight World Series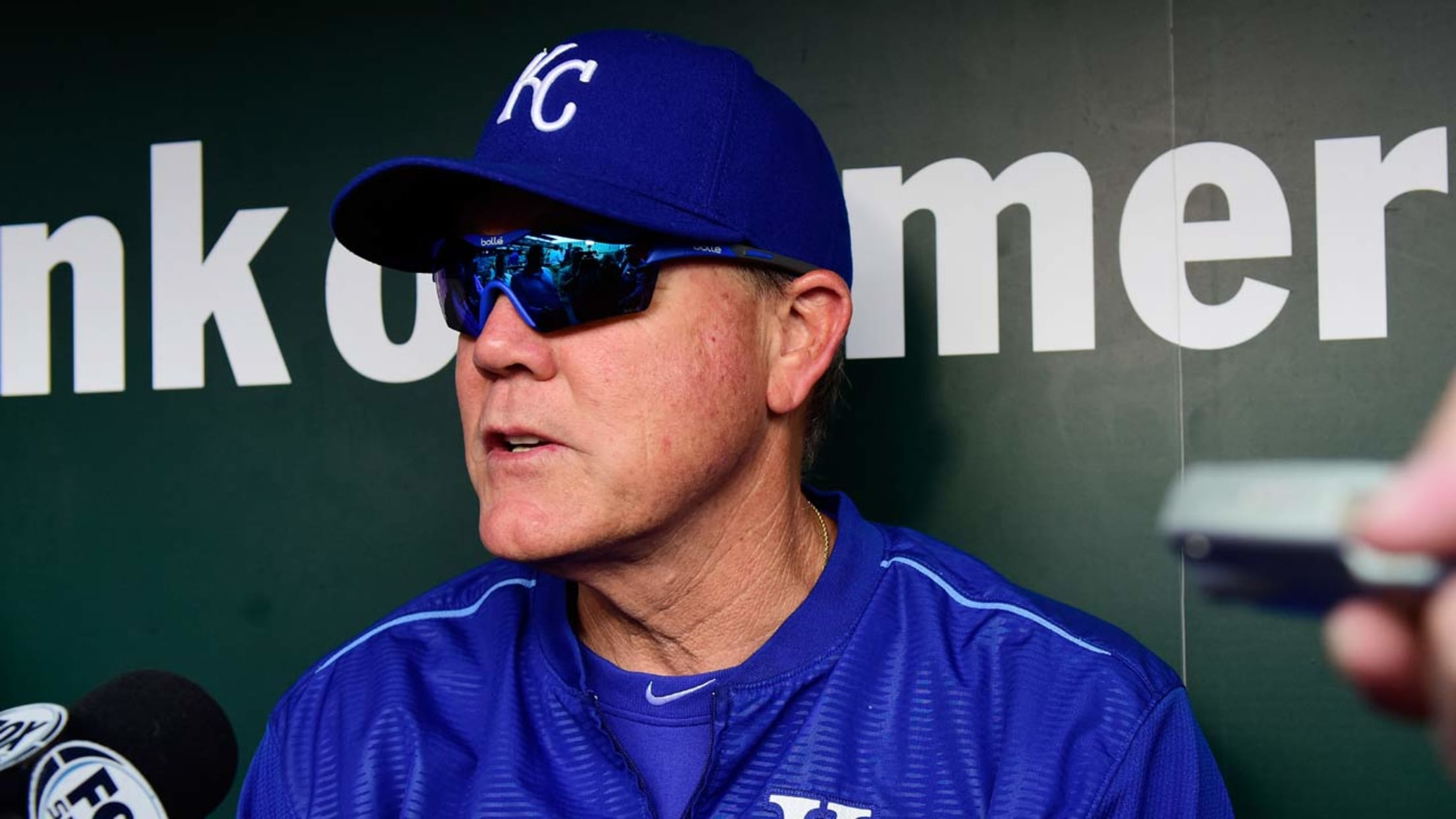 Ned Yost says he doesn't pay attention to the standings. (Getty)
Ned Yost wasn't a natural. He struggled to make his high school baseball team, and he had to walk on to get a chance to play in junior college.Look at him now.Yost played six seasons (1980-85) in the big leagues with the Brewers, Rangers and Expos. He managed in the
Ned Yost wasn't a natural. He struggled to make his high school baseball team, and he had to walk on to get a chance to play in junior college.
Look at him now.
Yost played six seasons (1980-85) in the big leagues with the Brewers, Rangers and Expos. He managed in the Minor Leagues with the Braves, and then served as the Braves' bullpen coach ('91-98) and third-base coach ('99-2002) during the first 12 years of their record-setting 14 consecutive division titles.
Since then, he has managed both the Brewers and the Royals, guiding the Royals to the postseason in 2014, their first playoff appearance since 1985, and then last October he managed the Royals to the franchise's first World Championship since '85.
Yost discusses his career in this week's Q&A:
MLB.com: Does what the Royals have been through the past three seasons give you an appreciation of Atlanta winning 14 consecutive division titles?
Yost: I never realized how tough it was in Atlanta. I just never did. We just went to Spring Training and got to work. I was there 12 years. We won the first 12 division titles in that time. We expected it Day One. And we did it with new players every year. [General manager John] Schuerholz said you have to manage change and [manager] Bobby [Cox] did it wonderfully.
MLB.com: There is a grind involved in the postseason that carries over?
Yost: After going to the World Series in 14 and now15, I don't know why back then it didn't take more of a toll on that team. Think about it: we've lost almost three months of recovery time in the winter the last two years, and that's not including running here, running there. I told my wife at the end of last winter I could hardly wait to get to Spring Training so I could get some rest.
MLB.com: The physical aspect becomes an issue?
Yost: That's a lot of time to miss, and it takes a toll. You look where we are injury-wise and the guys we have lost. [Luke] Hochevar. We lost Wade [Davis] for six weeks. We lost Moose [Mike Moustakas]. We have lost [Lorenzo] Cain. Does that play into it, that they don't have the time to recover and do their normal strength and conditioning? I think it has taken a toll.
MLB.com: The thing that stood out about the Braves was the constant insertion of young players into the lineup, rotation or bullpen.
Yost: Every year a new player. A Rafael Furcal, Chipper Jones, Javy Lopez, Andruw Jones. They were All-Star players. Their farm system was really good. Boom. Always got an impact player the next year to fill in for somebody. Ryan Klesko. You can name them on and on and on.
MLB.com: Pretty impressive.
Yost: It blows my mind that I was part of that. You get so focused on what you are doing here, but 14 consecutive division titles. It's unbelievable.
MLB.com: It seems that team doesn't get respect at times because it won 14 division titles, but one World Series, in 1995.
Yost: People ask me about that, I tell them, "I was able to go to a World Series as a player with the Brewers in '82, a coach with the Braves in '91, '92, '95, '96 and '99, and manager with the Royals in 2014 and '15." Last year was my eighth World Series. There is no other experience like going to the World Series. Nothing. We won one in Atlanta and won one here in Kansas City. I think in Atlanta we lost in `91 to the Twins in the final two games at the Metrodome. Game 6 went 11 innings. Game 7 went 10, and we lost 1-0. Jack Morris wouldn't come out of Game 7. We had opportunities. It didn't work out. Three losses in that World Series were by one run.
MLB.com: Play so well and suffer losses like that, but what people remember is who won, not how you lost.
Yost: I know the difference. When we went to the World Series [in Kansas City] and lost Game 7 in 2014. They had a rally the next day at the ballpark, and they probably had 10,000-12,000 people there. Last year, we won the World Series and they had 800,000 people there for the parade. I know the difference between winning and losing and what it means to people, but it is still a phenomenal accomplishment to get there.
Tracy Ringolsby is a national columnist for MLB.com.