Cruz leading AL DHs in All-Star balloting
Cano, Segura also rank among top vote-getters in latest update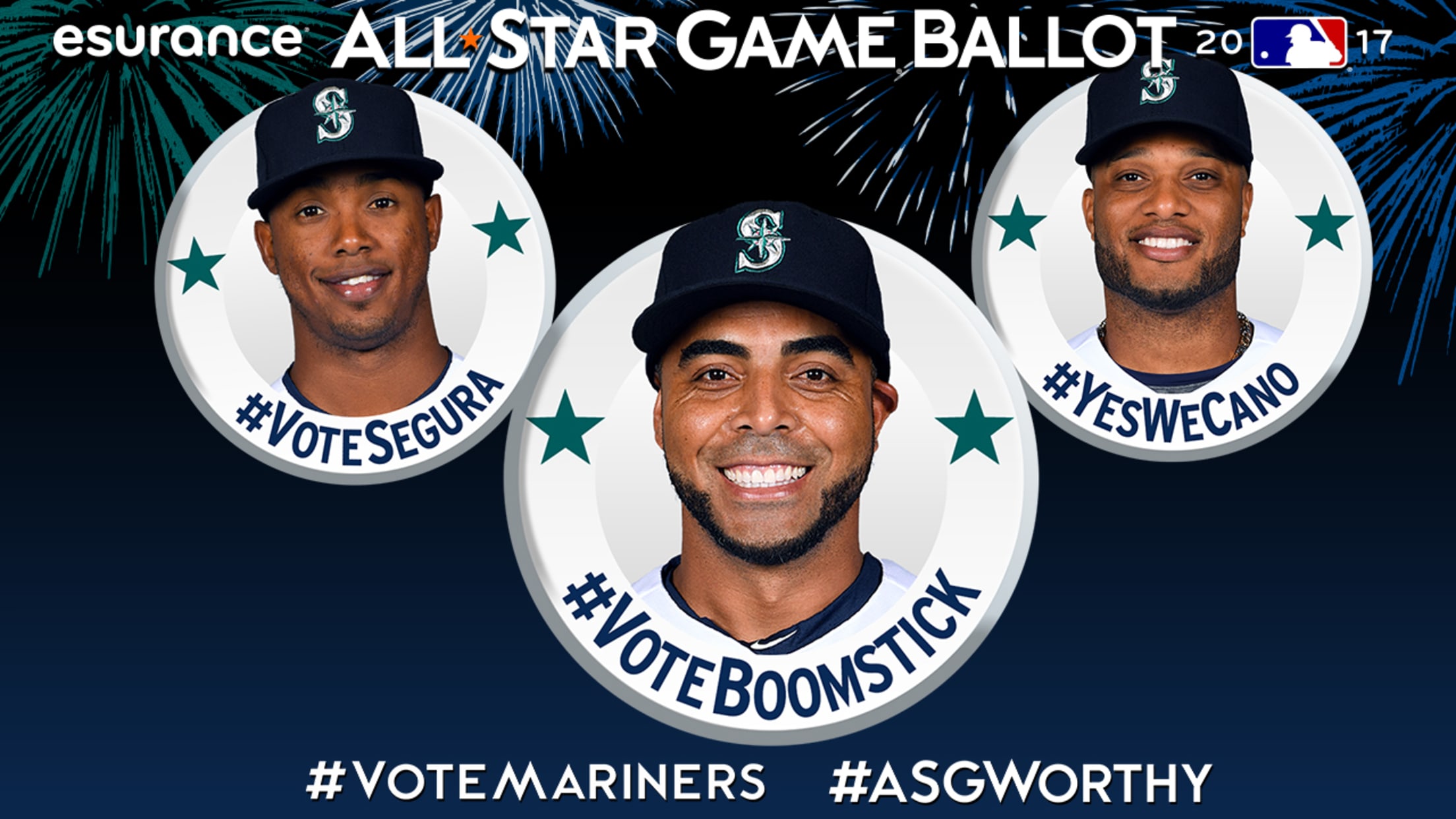 SEATTLE -- Mariners slugger Nelson Cruz, who leads the American League in RBIs and is tops on his team with 12 home runs, is the leading vote-getter at the designated-hitter position in the first round of AL results for the Esurance MLB All-Star Game Ballot released Wednesday.Cruz is one of
SEATTLE -- Mariners slugger Nelson Cruz, who leads the American League in RBIs and is tops on his team with 12 home runs, is the leading vote-getter at the designated-hitter position in the first round of AL results for the Esurance MLB All-Star Game Ballot released Wednesday.
Cruz is one of three Mariners position players among the top five in the early voting. Second baseman Robinson Cano stands fourth at second base, while Jean Segura is fifth among the shortstops.
Cruz, a four-time All-Star, has posted a .279/.364/.525 slash line with 42 RBIs in 51 games going into Wednesday night's game against the Rockies. The 36-year-old last made the All-Star team in 2015 in his first season in Seattle. He also was selected to the AL team in 2009 and '13 while with the Rangers and in '14 in his lone season with the Orioles.
"He should be [leading]," manager Scott Servais said. "He's well respected throughout the league. Obviously, fans notice. Players, teammates, the guys around him every day appreciate him. I certainly do. I love writing his name in the lineup."
• VOTE NOW for #ASGWorthy players
Cruz has 457,050 votes in the initial results, a healthy lead over runner-up Edwin Encarnacion of the Indians at 282,837.
Cano was Seattle's lone All-Star last year and has been selected for the AL team seven times -- twice while with the Mariners and five times with the Yankees. He's again putting up All-Star quality numbers with a .294/.348/.529 line with 10 homers and 34 RBIs, despite missing 11 games earlier this month with a strained quadriceps muscle in his right leg.
But Starlin Castro of the Yankees (516,268) and Jose Altuve of the Astros (515,732) are well ahead in the second-base chase, with Jason Kipnis of the Indians (253,409) and Cano (159,557) running third and fourth.
Segura is having an outstanding start to his first year in Seattle. He was an NL All-Star in 2013 with the Brewers and is putting up All-Star quality numbers again this season, as he ranks second in the AL in batting average at .345.
Indians standout Francisco Lindor (602,238) is the clear leader at shortstop, followed by Carlos Correa of the Astros, Xander Bogaerts of the Red Sox, Didi Gregorius of the Yankees and Segura.
Other position leaders at this point are Jose Cabrera of the Tigers at first base, Manny Machado of the Orioles at third, Salvador Perez of the Royals at catcher and Michael Trout of the Angels, Aaron Judge of the Yankees and Mookie Betts of the Red Sox in the outfield.
Fans may cast votes for starters at MLB.com and all 30 club sites -- on computers, tablets and smartphones -- exclusively online using the 2017 Esurance MLB All-Star Game Ballot until Thursday, June 29, at 8:59 p.m. PT. On smartphones and tablets, fans can also access the ballot via the MLB.com At Bat and MLB.com Ballpark mobile apps. Vote up to five times in any 24-hour period for a maximum of 35 ballots cast.
Following the announcement of the 2017 All-Star starters, reserves and pitchers, fans should return to MLB.com and cast their 2017 Esurance MLB All-Star Game Final Vote for the final player on each league's All-Star roster. Then on Tuesday, July 11, while watching the 2017 All-Star Game presented by MasterCard live on FOX, fans may visit MLB.com to submit their choices for the Ted Williams Most Valuable Player Award presented by Chevrolet with the 2017 MLB All-Star Game MVP Vote.
The 88th Midsummer Classic, at Marlins Park in Miami, will be televised nationally by FOX Sports; in Canada by Rogers Sportsnet and RDS; and worldwide by partners in more than 160 countries. ESPN Radio and ESPN Radio Deportes will provide exclusive national radio coverage, while MLB Network, MLB.com and SiriusXM will have comprehensive All-Star Week coverage. For more information about MLB All-Star Week and to purchase tickets, please visit AllStarGame.com and follow @AllStarGame on social media.
Greg Johns has covered the Mariners since 1997, and for MLB.com since 2011. Follow him on Twitter [
---
@GregJohnsMLB]().