Cruz plays defense for first time in 2018
'Boomstick' starts in right, batting cleanup; Paxton throws bullpen session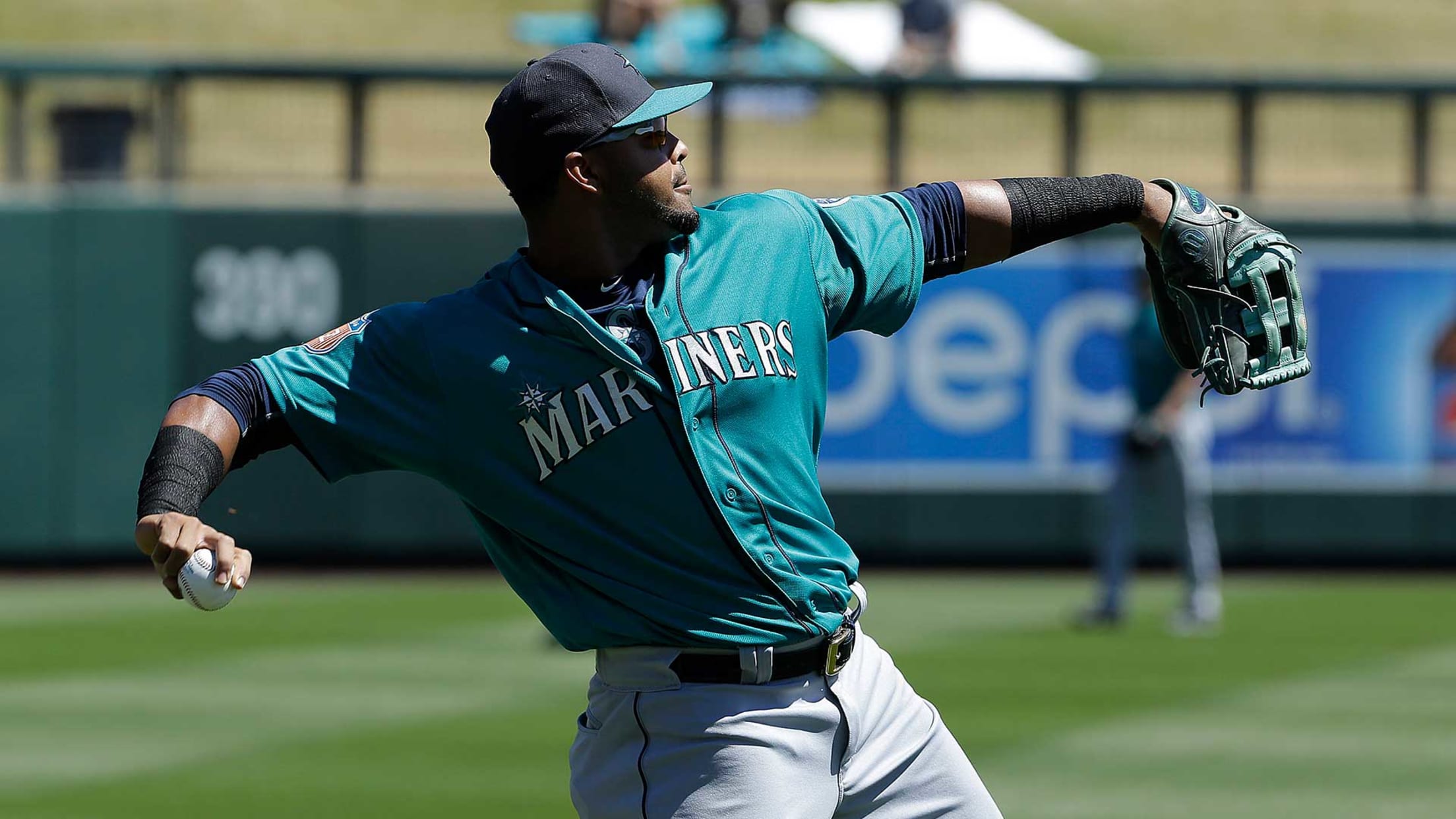 PHOENIX -- With a stretch of five consecutive games at National League ballparks, it was expected that the powerful bat of Nelson Cruz (Boomstick) would be out of the Mariners' lineup during that span.However, manager Scott Servais didn't want Cruz to not start for more than a week. So, Cruz
PHOENIX -- With a stretch of five consecutive games at National League ballparks, it was expected that the powerful bat of Nelson Cruz (Boomstick) would be out of the Mariners' lineup during that span.
However, manager Scott Servais didn't want Cruz to not start for more than a week. So, Cruz made his 2018 fielding debut when he started in right field and batted cleanup against the D-backs on Saturday at Chase Field.
Cruz hadn't previously played in the field this season, making 109 starts at designated hitter and appearing in three games as a pinch-hitter. If Cruz had not started during this stretch of Interleague road games, he would have gone eight days between starts.
• Shop for Players' Weekend gear
Cruz made five starts in right field in 2017, all of which came at NL ballparks.
"It's just so different when you're out in the field because you can't really control your actions, you have to react to the ball vs. on the bases and stuff like that, it's a little bit different," Servais said. "Where we're at in the season, we've got an Interleague game, our lineup is much different when he's in it, they've got a good lefty [Robbie Ray (Bob)] on the mound, so we'll give it a shot."
Cruz is familiar with right field. Entering Saturday, he had played 877 career games there, making 829 starts. He made 80 starts in right for the Mariners in 2014, but hasn't primarily played the outfield since 2013 with the Rangers.
Servais indicated that Cruz would likely not start the series finale against the D-backs on Sunday, but could return to the outfield during the two-game set against the Padres beginning on Tuesday.
Seattle's lineup is much more potent with Cruz, who entered Saturday batting .265/.350/.537 with 31 home runs and 79 RBIs this season.
:: Players' Weekend presented by Valspar Stain ::
Updated timeline for Paxton
On Friday, James Paxton (Big Maple) threw his first bullpen session since sustaining a left forearm contusion and going on the disabled list on Aug. 15. Servais said Paxton "felt good" after throwing and that the left-hander will throw one more bullpen session before returning.
Paxton is slated to start likely either Friday or Saturday in Oakland. Servais didn't want Paxton to start at an NL ballpark, where he would have to hit.
Rotation update
Servais announced that Felix Hernandez (King Felix) and Marco Gonzales (Gonzo) will start the two games at San Diego on Tuesday and Wednesday.
This will be Hernandez's second start since he was briefly moved to the bullpen after he struggled for most of the season. He allowed four runs in six innings vs. the Astros on Monday.
With Mike Leake scheduled to return from an illness on Sunday and Paxton soon to follow, the Mariners will have six starters. In addition to those two, there will be Hernandez, Gonzales, Erasmo Ramirez (Mito) and Wade LeBlanc (Frenchy). It is unknown how they'll handle the rotation when that occurs, although Hernandez could return to the bullpen if his struggles continue.
Jake Rill is an editorial producer for MLB.com based in Phoenix.