New food, souvenirs featured at PNC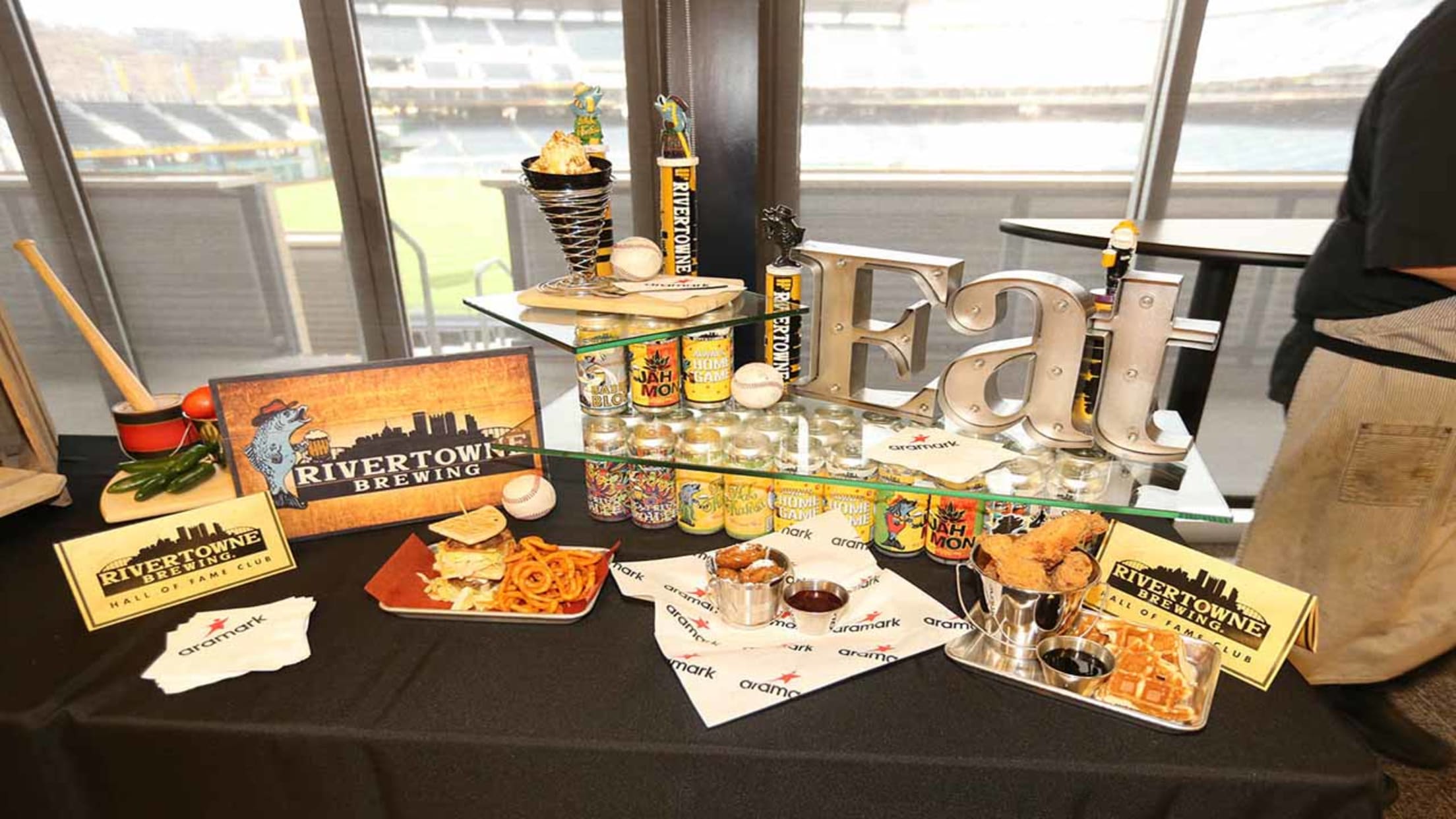 New concession items -- ranging from the Cracker Jack & Mac Dog to turkey gyro burgers, fried Oreos and fried chicken and waffles -- will be available for fans at PNC Park this season. (PGH PIRATES/D.ARRIGO)
Covering the annual "What's New at PNC Park" event has become a plum assignment for members of the Pittsburgh media. Friday morning and early afternoon offered further proof of that as a group of approximately 40 reporters and photographers took the ballpark tour that was led by Pirates President Frank
Covering the annual "What's New at PNC Park" event has become a plum assignment for members of the Pittsburgh media. Friday morning and early afternoon offered further proof of that as a group of approximately 40 reporters and photographers took the ballpark tour that was led by Pirates President Frank Coonelly.
Along the way, the team and its concessions partners unveiled a multitude of new and creative food, beverage and merchandise items that have been added to enhance the experience of attending Pirates games on the North Shore.
"All of the changes and upgrades you see here today are designed to make sure that PNC Park continues to be the absolute benchmark in Major League Baseball," Coonelly said. "There are a lot more choices and a lot more innovative choices this year, and I think our fans will notice that."
The media types dutifully asked questioned, jotted down notes and shot plenty photos and video. However, what they enjoyed the most was the opportunity to sample the new food items.
The one that created the most buzz was the Cracker Jack & Mac Dog that Aramark will make available at PNC Park's Riverwalk Grill this season. It's a foot-long, all-beef hot dog topped with macaroni and cheese, salted caramel sauce and fried jalapenos on naan bread served with Cracker Jack.
"Most of you are going, 'Really?' But you're going to enjoy it," said Steve Musciano, general manager for Aramark at PNC Park. "It's sweet. It's savory. It's got a little spice to it. And then it's toned down with a little bit of caramel sauce. It is absolutely a fantastic creation."
Other Aramark items making their debut in 2016 include turkey gyro burgers, fried Oreos, fried chicken and waffles, and Andrew Zimmern Canteen hot dogs and sausage sandwiches -- all of which will be available in the Rivertowne Brewing Hall of Fame Club located in left field.
Levy Restaurants, the Pirates' official restaurant partner for the premium seating areas of PNC Park, is also going the new and innovative route in 2016.
Their roving dessert cart on the suite level has always been extremely popular. Now Levy has added a roving cocktail cart that will bring the craft cocktail experience to suite holders. A Pittsburgh Mule, made with Tito's handmade vodka, ginger beer and fresh lime, and a Pirates Paloma, made with small batch tequila, fresh grapefruit juice and agave syrup, will be among the offerings.
"We've taken some of the classic cocktails that you've known forever and added a little twist," said Adam Holt, executive chef for Levy Restaurants at PNC Park.
On Friday, Levy also unveiled two new concessions areas on the Pittsburgh Baseball Club Level. One is Tres Rios Taqueria, which will feature made-to-order tacos, nachos and hand-crafted tequila cocktails. The other is Il Forno, a pizzeria that boasts a 5,000-pound brick oven that will produce margherita and pepperoni pizzas as well as an Italian deli sandwich called the Autostrada and even s'mores pizza that features Nutella, marshmallows and strawberry drizzle.
"We're elevating the fan experience when it comes to what people expect from food at the ballpark," Holt said. "We're going to have a ton of variety. It's not boiled hot dogs anymore. Those days are long gone."
Also new to PNC Park this year are Slice on Broadway, Steel Cactus Restaurante and Cantina and Block House Corner.
Slice on Broadway is a Pittsburgh-based pizzeria, with locations in Beechview and Carnegie, that offers excellent pizza, hoagies and salads. At PNC Park, it will occupy the space formerly held by Diamond Pizza, next to Atria's at the foot of the Clemente Bridge.
Steel Cactus also has two other locations in Pittsburgh (South Side and Shadyside). It features a variety of Mexican dishes -- including chipotle brisket tacos and Mexican street corn -- in a cantina-style party atmosphere. It can be found on Federal Street in the spot formerly operated by Dominic's Famous Deli and Bottle Shop.
Block House Corner, operated by Pittsburgh Brewing Company, is inside the ballpark at the base of the left field rotunda that will provide fans with a wide array of craft brews and local staples such as Iron City and I.C. Light. It also features a 40-foot long bar and 60 linear feet of drink rails, plus a nine-television display integrated into a steel wall.
Also new for the 2016 season, the Pirates have turned over the operation of in-park, retail merchandise to Fanatics. Fanatics is a huge player in college and professional sports nationally, but PNC Park is its first Major League Baseball venue. Renovation of the ballpark's retail space during the off-season was designed to create better access and the opportunity to browse in a larger storefront environment. Fanatics, with five locations at PNC Park, will also offer a wider selection of Pirates items.
"We want this to be a touch-and-feel shopping experience, a full walk-in experience," said Brendan McQuillan, vice president of in-venue commerce for the Fanatics Retail Group. "We bring a broader selection of Pirates products to the ballpark, and we also offer more fan-friendly pricing because of our buying power."