Yanks unveil new Stadium food, drink options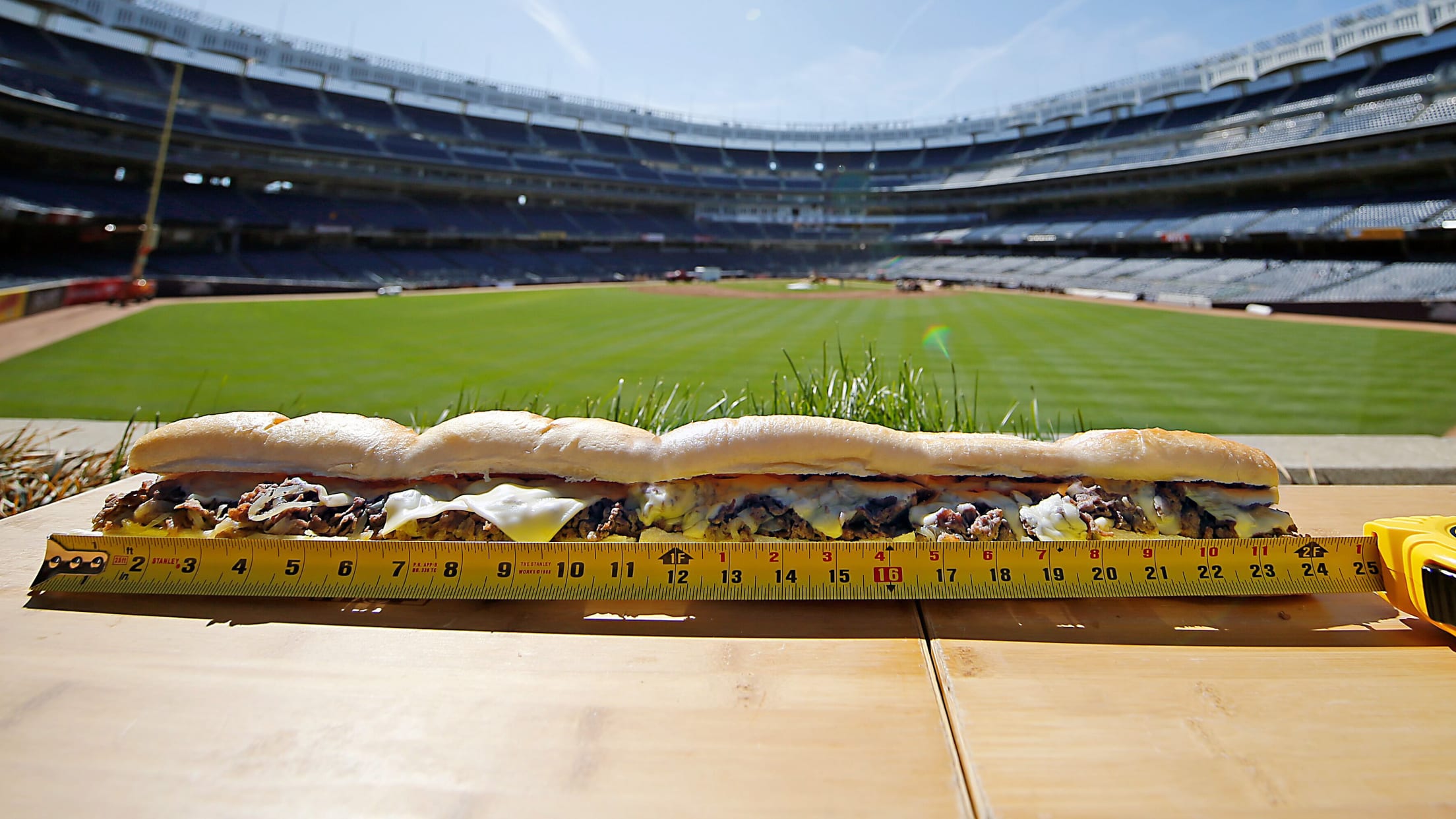 The "Tape Measure Cheesesteak," a two-foot cheesesteak, is among the new items. (Yankees)
TAMPA, Fla. -- This year, the best dining experiences in the Bronx just might be at Yankee Stadium. The Yankees on Thursday unveiled several new mouth-watering food and drink offerings available to fans beginning on Opening Day.The tempting items include the "Tape Measure Cheesesteak," a two-foot cheesesteak topped with white
TAMPA, Fla. -- This year, the best dining experiences in the Bronx just might be at Yankee Stadium. The Yankees on Thursday unveiled several new mouth-watering food and drink offerings available to fans beginning on Opening Day.
The tempting items include the "Tape Measure Cheesesteak," a two-foot cheesesteak topped with white American cheese or Cheez Whiz and served on a classic hoagie roll, baked fresh daily. Available in Section 107 at Carl's Steaks, it is intended for sharing, with peppers and/or onions added upon request.
The "Triple Play" Stand in Section 115 will offer three new burgers, including the "G.O.A.T. [Greatest of All Time] Burger," which features custom blended-beef, crispy bacon, pastrami, American cheese and "G.O.A.T." sauce.
Also available is the "Barnyard Wedding" burger, which has custom-blend beef, a crispy fried chicken cutlet, shredded potato hash browns, BBQ sauce and aged cheddar cheese on a toasted bun.
The "Double-Double" is a double grilled cheese/double burger melt sized for two, featuring two custom-blend beef burgers, onion rings, American cheese and buns made from a pair of grilled cheese sandwiches featuring Boar's Head cheese.
At the N.Y. Grill Stand in Section 121, fans can sample the "Classy Pig," a shaved roasted pork sandwich, featuring Italian-Style marinated pork, stuffed with broccoli rabe and topped with cherry pepper mayo and provolone cheese.
A visit to Sections 107 and 227 may include a stop at "The Big Cheese" Grilled Cheese Stand, where a variety of grilled cheese sandwiches made with premium, artisan and local cheeses from Boar's Head are available.
Other new food options at Yankee Stadium this season include Buffalo Chicken Quesadillas, the Jim Beam Chicken Sandwich and Thai Chicken Fingers. They'll join concessions favorites like Bacon on a Stick, Chicken & Waffles, Chicken Sliders & Fries Bucket, Lobel's Steak Sandwich and Red Stag Glazed BBQ Wings.
New craft beer offerings include 10 Barrel Apocalypse IPA, Bronx Brewery, Catskill Brewery, Checker Cab Blonde Ale (Craft Beer Stand at Sect. 110 and at the Premio Sausage Stands in Sect. 217 and 320) and Blue Point Toasted Lager (Craft Beer Stand at Sect. 110).
There are also new merchandise stands opening. The Golf Cart (in the Great Hall) will sell Yankees branded headwear, golf apparel, outerwear and accessories, including head covers, markers, tees and golf balls.
The Comic Cart (in the Great Hall) features Star Wars and Marvel brand products, including headwear, apparel and novelty items.
The Yankees open the regular season Monday, hosting the Astros at 1:05 p.m. ET.
Bryan Hoch is a reporter for MLB.com.