Gwynn's influence reached beyond San Diego
With new memorial planned, players remember the late Padres great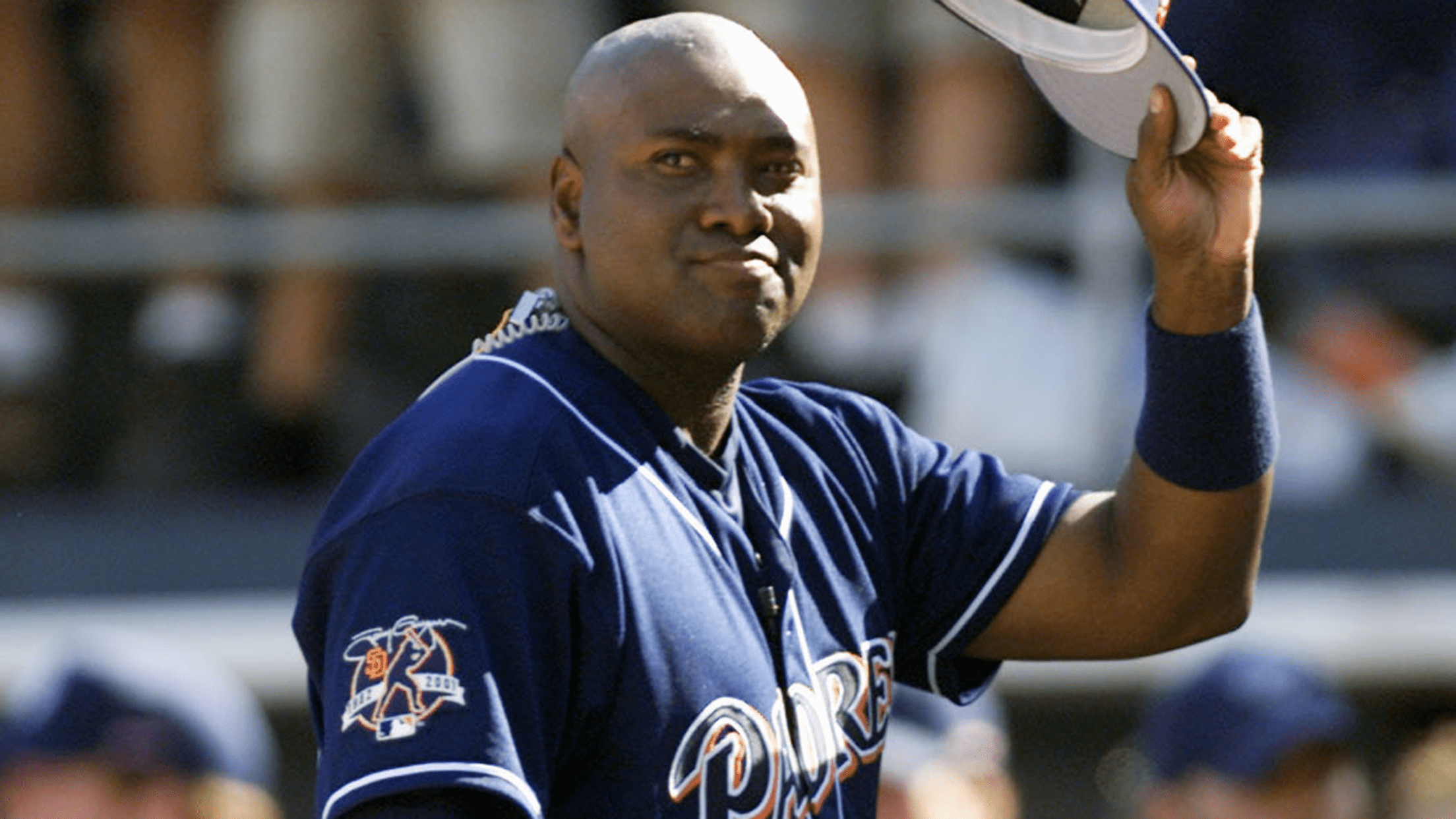 A new memorial was unveiled in April for the late Tony Gwynn in Poway, Calif. (Getty Images) (Getty Images)
PEORIA, Ariz. -- There are only a handful of players in the history of baseball who have been more connected to their city than Padres legend Tony Gwynn was to San Diego.The Los Angeles native adopted San Diego as his home from the first day he stepped onto the campus
PEORIA, Ariz. -- There are only a handful of players in the history of baseball who have been more connected to their city than Padres legend Tony Gwynn was to San Diego.
The Los Angeles native adopted San Diego as his home from the first day he stepped onto the campus at San Diego State and was drafted by the Padres in 1981. His Hall of Fame career has left an impact on the organization that will likely last forever.
Next month, his adopted home of Poway, Calif., will unveil a new memorial for the Hall of Fame right fielder as the two-year anniversary of Gwynn's passing approaches in June. The city will also host a benefit concert event in honor of Gwynn in April to help fund the memorial.
To fans of the team, he was known as "Mr. Padre," but Poway natives preferred the name "Mr. Poway" for their adopted son.
The legacy of Gwynn is impossible to measure in San Diego, but his impact was felt by baseball players growing up across the country.
Current Padres second baseman Cory Spangenberg grew up in Clarks Summit, Pa., but Gwynn was still a role model on the other side of the country.
"Actually, he was my older brother's favorite player," he said. "That's why I always wore 19. So he's been a major influence in my life."
Aside from his All-Star appearances, batting titles and Silver Slugger awards, Gwynn was well-known for his work in the community. Gwynn won the Roberto Clemente Award in 1999.
Gwynn's work ethic has also become an inspiration to current Padres.
"That's No. 1. That guy showed up every single day," pitcher Brandon Morrow said. "Obviously, very naturally talented, but also put in all the work necessary to realize all that talent."
Despite his Hall of Fame numbers, there is still a work ethic for which Morrow feels Gwynn doesn't get the credit he deserves.
"Obviously, he had an unbelievable Hall of Fame career, but the general public, the fans, don't realize what happens between 1 o'clock and 7 o'clock before the games start," he said. "It's always encouraging to hear players that have had such great careers, how much hard work went into it."
Morrow is more impressed when someone like Gwynn puts in that much extra work when he may have not needed to.
"Some guys just roll out of bed and do it, and I'm sure he could've done that," he said. "But to put in all that extra work that he probably didn't have to do to take probably a great career to one of the best is admirable."
Both Morrow and Spangenberg pointed to Derek Jeter in New York and Ken Griffey Jr., in Seattle as comparable players in terms of connection to their cities.
"Another transcendent talent like that, someone I've played with, would probably be Ichiro [Suzuki]," Morrow said.
But Ichiro hasn't had the impact on a city that Gwynn did.
"Tony has been a huge influence in San Diego," Spangenberg said. "All he did for the team, all he did for the city. He was there through his whole career and after his career coaching at San Diego State. So he just meant so much to that city."
Bill Slane is a senior majoring in journalism at Arizona State University. This story is part of a Cactus League partnership between MLB.com and ASU's Walter Cronkite School of Journalism and Mass Communication. This story was not subject to the approval of Major League Baseball or its clubs.