Ahmed aiming to improve water in Dominican
D-backs infielder, wife partner to bring valuable necessities to day-laborer community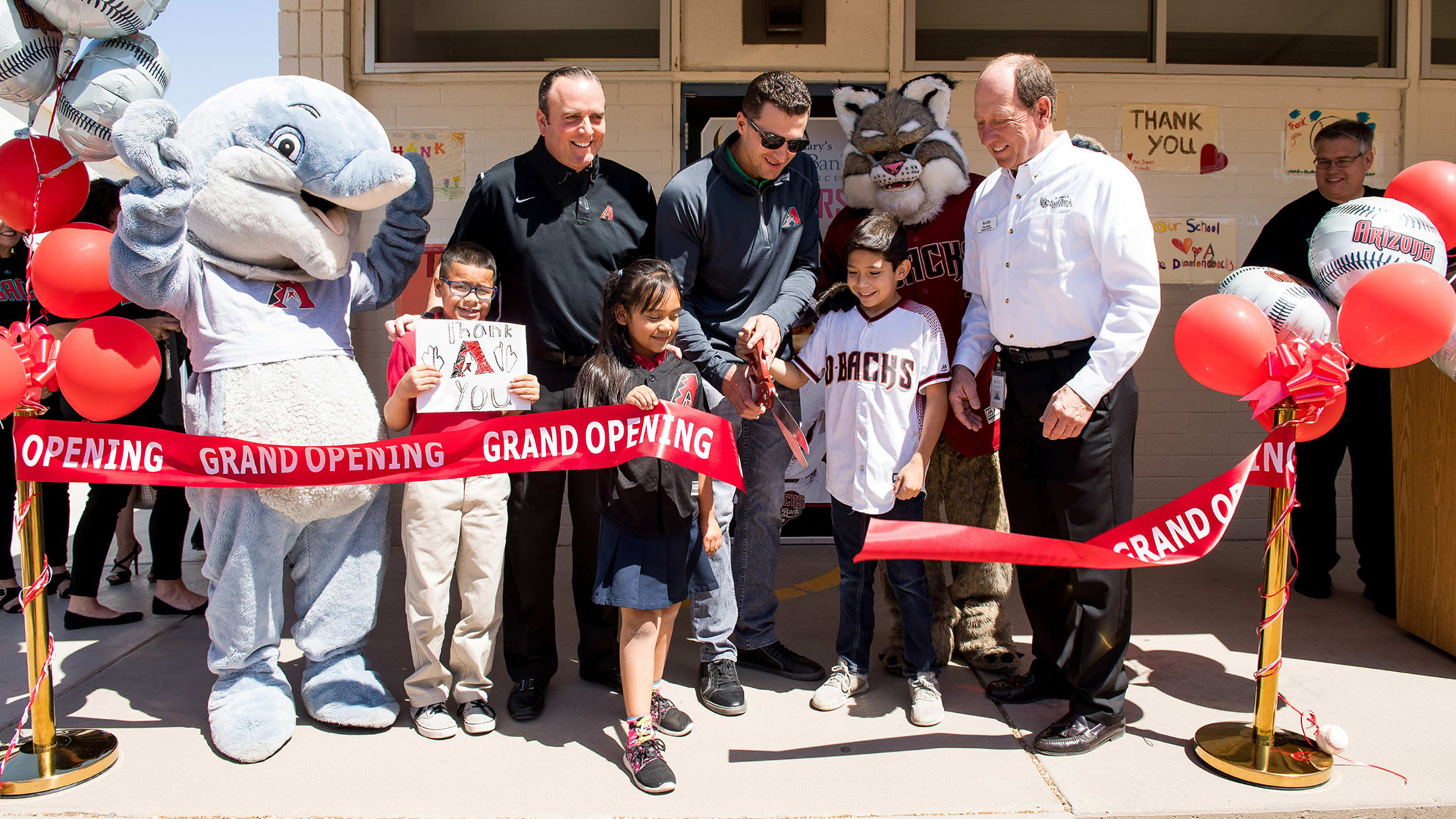 The daily trek on foot by the women and children of El Mogote, Dominican Republic, takes 5 to 6 hours. Carrying pails as they navigate snaking dirt roads to the nearest water source, members of the 800-person day-laborer community fill those containers and head home in a cyclic mission built
The daily trek on foot by the women and children of El Mogote, Dominican Republic, takes 5 to 6 hours. Carrying pails as they navigate snaking dirt roads to the nearest water source, members of the 800-person day-laborer community fill those containers and head home in a cyclic mission built out of necessity but negated by the known contaminants in the very liquid intended to bring life to their shared agricultural village.
Located roughly 60 kilometers northwest of the D-backs' Baseball Academy in Boca Chica -- where the big league ballclub provides its prospects with the opportunity to earn a high school diploma regardless of how far they advance with their baseball careers -- the D-backs are making yet another impact for the better in the Dominican thanks to infielder Nick Ahmed, his wife Amanda and the Ahmed Family Double Play Fund's bid to benefit hunger and provide basic living necessities for the impoverished in the United States and Dominican Republic -- including the 230 families in El Mogote.
Partnering with Striking Out Poverty, an initiative of the Phoenix-based international non-profit Food for the Hungry, the Ahmeds look to raise awareness and funds for a dual project in the Monte Plata province's community. Their aim is to make water more readily accessible and improve its quality -- something most people in the world can easily take for granted with a simple spin of a faucet.
"The people in El Mogote don't have running water in the community," the Arizona infielder said, "so the first project is creating a water infrastructure to bring the water closer to the residents' homes so they don't have to spend hours and hours each day fetching water that's not even drinkable. The second project is a water filtration system. So we'll have a spot centrally located in the community where they can all go and get clean drinking water, which will eliminate the kind of waterborne diseases that these people are unfortunately encountering."

The number of MLB players looking to make a personal difference through Food for the Hungry's Striking Out Poverty initiative is on the rise. Former D-backs pitcher Chase Anderson, who initially helped tune Ahmed into the international non-profit, joined the Cardinals' Adam Wainwright and the Athletics' Liam Hendriks to raise funds based on the number of strikeouts they throw this season. Mariners outfielder Dee Gordon is pledging for every one of his stolen bases, while Pirates outfielder Gregory Polanco has a campaign related to his hit tallies -- just like Ahmed for the 2018 season.
"Their campaign entices baseball players like myself to raise money for communities in the Dominican to specifically help out with different projects that they're doing," said Ahmed, who set career highs in hits, runs, doubles, home runs and RBIs in 2018. "The D-backs obviously have a connection to that country, and I've had so many teammates from that country here, it just made sense to help out. It's about improving their quality of life and getting them out of that cycle of poverty.
"Striking Out Poverty has identified a bunch of different communities that were in need through the connections they have down there. So we felt clean, running water was the No. 1 basic necessity to start. And after that, hopefully we can adopt that community next year and build some sort of agricultural system for them to improve their quality of food and have an opportunity to bring in some money for their families."
Added Milam Byers, Director of Sports Partnerships at Food for the Hungry, "Nick and his wife Amanda joined the Food for the Hungry family last year and have truly jumped in with both feet. They are both passionate about changing lives in the Dominican Republic, and about teaming up with Diamondbacks fans to make it happen. We are continually thankful for their commitment to Striking Out Poverty, and we can't wait to see the life-changing difference that this campaign will bring to some of the hardest places in the Dominican Republic."
Planning a first trip to the Dominican this upcoming offseason through Food for the Hungry, the Ahmeds' Double Play Fund's roots began a year ago in July, after the birth of their son, Jackson. Also wanting to be proactive while weathering two stints on the disabled list last year, the infielder set up a pledge program dependent upon D-backs win tallies. With the team's success on the field en route to its first postseason appearance since 2011, the Ahmeds were able to build a worthy campaign in limited time during the second half of the season. This year, pledges center around Ahmed's hits.
"Baseball is Nick's passion," said Amanda Ahmed, "but for him to want to help others, mentor and just be able to give back … God's given us an amazing opportunity for him to play the game professionally, but we want to be able to do more than just play. That's where giving back comes in. It's been awesome watching him grow both on and off the field."
"Having kids puts things in perspective," Nick Ahmed said. "Everyone in the world doesn't necessarily have the same blessings and opportunities we do, so just looking at our son and thinking about not being able to give him clean water to drink, or him getting diseases or not having enough food to give him to eat so he can grow and develop really hurt us. Our son is amazing, and knowing that there's people in the world that work extremely hard and for whatever reason -- whether it's bad luck or some kind of injury or the area of the world they're born into -- it made our hearts pretty heavy for the people going through something like that."
At this year's Evening on the Diamond -- the Arizona Diamondbacks Foundation's signature fundraiser to start the season -- more than $750,000 was raised to help build food pantries in the most at-risk Arizona schools as part of the launch of the Pitch In to End Hunger program, in conjunction with St. Mary's Food Bank, to alleviate food insecurity for thousands of Arizona families.
For the Ahmeds, what started out as helping the local Kitchen on the Street provide food to needy Valley residents blossomed into a partnership along with the D-backs, the Arizona Diamondbacks Foundation and St. Mary's to unveil the first Pitch In to End Hunger food pantry at William Jack Elementary in Glendale earlier this season.
"We basically adopted a school with underprivileged kids and their families that don't have enough food, and built them a food pantry at the school so the kids can go in and grab food they need for themselves and their families at home," said Ahmed, about the storeroom that houses 10,000 tons of canned food and nonperishable items. "It's a huge program that's going to do amazing things. The D-backs are as passionate as we are about it, and we are to going to help out in any way we can."
With 3,000 miles separating El Mogote from the Ahmeds' home in Nick's hometown of East Longmeadow, Mass., the infielder credits his parents and his faith as catalysts for his philanthropic efforts, regardless of where and who those funds will ultimately benefit.
"When Amanda and I had decided that food and hunger was one of our causes that we really wanted to get involved with, we understood we had a real opportunity to help others with our fund as well as with the Arizona Diamondbacks Foundation and Food for the Hungry," he said. "These are phenomenal organizations that do great work, and we're just happy to be able to support them domestically or internationally. We hope this all just continues to bud and grow."
Josh Greene is the director of publications for the Arizona Diamondbacks.