Goodrum donates water to Detroit schools
Vergiels to retire; Tigers may have chance to play spoiler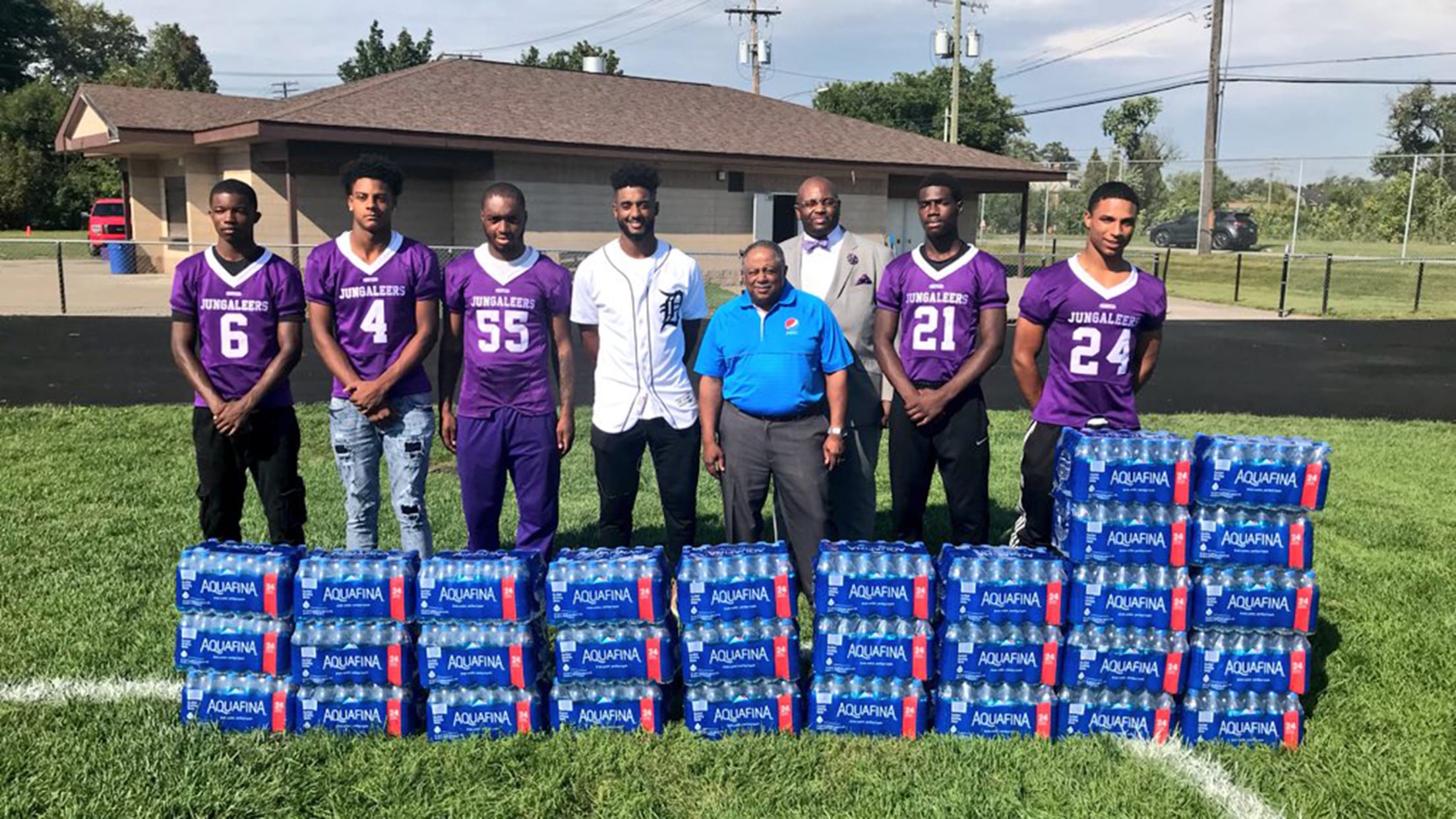 DETROIT -- Niko Goodrum knew about Flint's water crisis before he joined the Tigers, thanks to local and national coverage. The recent news about the lack of drinking water in Detroit's public schools caught him by surprise."My brother sent me a link, because he saw it," Goodrum said. "I just
DETROIT -- Niko Goodrum knew about Flint's water crisis before he joined the Tigers, thanks to local and national coverage. The recent news about the lack of drinking water in Detroit's public schools caught him by surprise.
"My brother sent me a link, because he saw it," Goodrum said. "I just felt like I needed to do something."
The Tigers' rookie infielder can't solve the issue himself, but he wanted to do his small part to help. So just as he did in Flint earlier this season, he not only donated bottled water, he delivered it.
Goodrum made visits Friday morning to Martin Luther King High School and Southeastern High School, delivering two pallets of water to each. Goodrum bought two, while Pepsi matched his donation.
The bottled water will be used by Detroit Public Schools for after-school programs, including athletics.
"Not just football, but any activity in schools, everybody needs water," Goodrum said. "It's essential, so I just felt there's a need there and wanted to help."
Niko Goodrum continues to give back.#BiggerThanBaseball pic.twitter.com/yVY5VyYhm0

— Detroit Tigers (@tigers) September 21, 2018
Goodrum's motivation to step up and act on that need has been unique for a rookie player just making it in the big leagues. With the need for clean water amid aging infrastructure in parts of Michigan, Goodrum has found his cause.
"Any way I can help, I try to do it," he said. "That was a major problem. I know how much water we waste in a day. If we leave the faucet on or we don't finish a bottle of water, how important is it to someone who doesn't have it? When you talk about something that's in the water or shutting pipes down, I feel it's pretty important that we do everything we can. If there's a need there and I can help, I'm going to try to do it."
Tigers PA announcer retiring
Bobb Vergiels, the public address voice at Comerica Park for the past 15 years, called his final game in Detroit on Sunday with the Tigers' home finale.
Vergiels has become a recognizable voice in Detroit between his work on Tigers games, University of Michigan basketball and in commercials. It has been a labor of love for him, enough that he has driven back and forth between Detroit and his home in Florida to do games the past few seasons.
Vergiels will stay on the microphone for Tigers Spring Training home games next year. He'll also serve as the PA voice of the Class A Advanced Lakeland Flying Tigers.
Tigers could still play spoiler
While the Tigers are done facing American League playoff teams, they could still play a role in the National League postseason race. They end the season next weekend on the road in Milwaukee against the Brewers, who entered Sunday on top of the NL Wild Card race while staying within reach of the Cubs in the NL Central.
"If it comes down to them beating us, that would be entertaining for our guys," Detroit manager Ron Gardenhire said. "There's still things we hope for, and that would be one of them, a chance to feel what it's like to be in those races at the end."
Gardenhire not only plans on fielding a competitive team for those final games, he expects his team to give a fight.
"It's respecting the game," he said. "We'll definitely try to put forth a team that's going to give them hell, let's put it that way. We don't plan on lying down if we're in that situation. It's disrespecting baseball when you do this. I think our players would want to be a part of that. That's good experience for them."