In tight Central, Crew expects fight to the end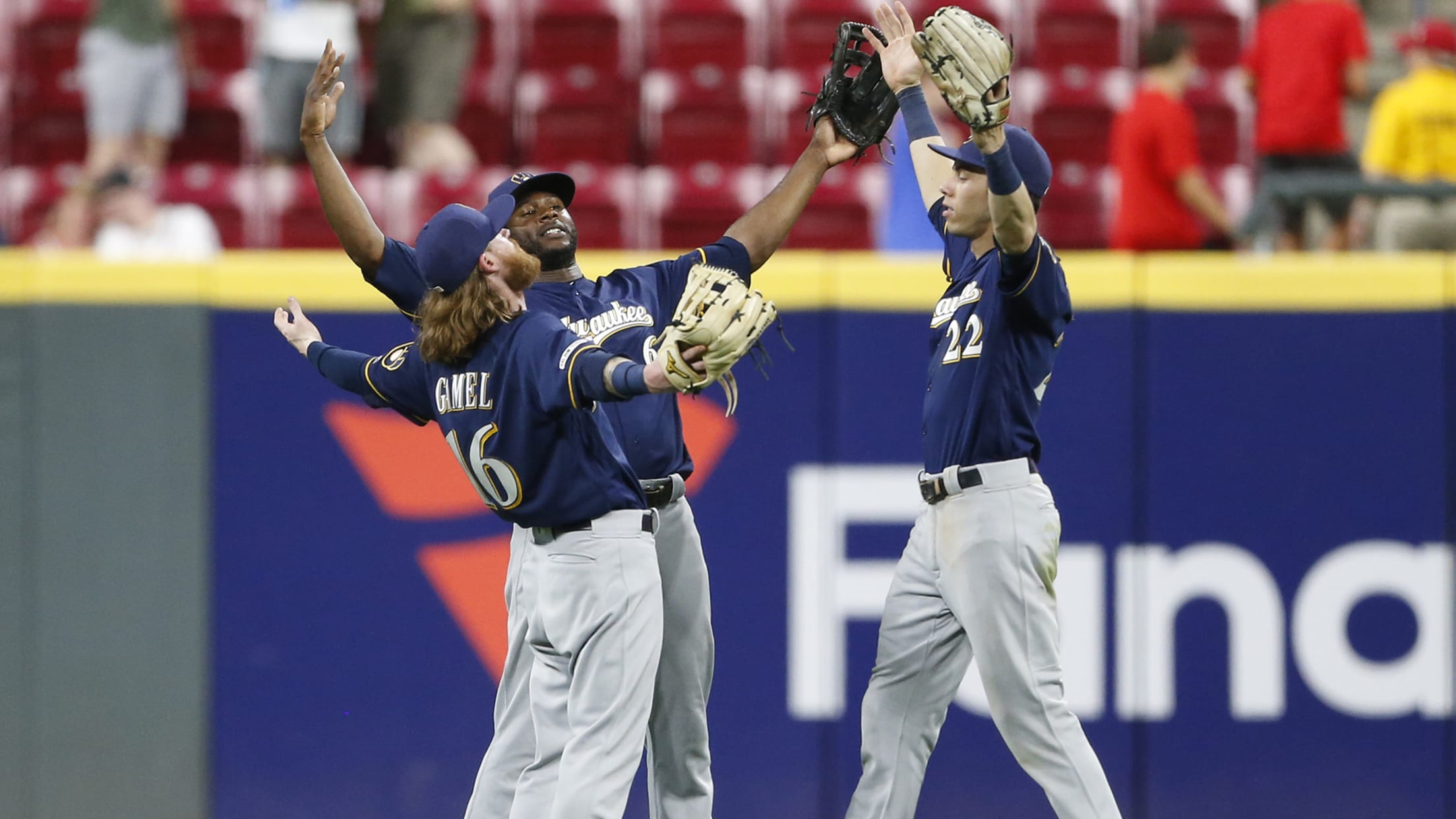 CINCINNATI -- If the last three months of the 2019 season are anything like the month that just passed, Lorenzo Cain is gearing up for a battle. The Milwaukee center fielder has watched with more than casual interest as the five National League Central Division teams have basically been running
CINCINNATI -- If the last three months of the 2019 season are anything like the month that just passed, Lorenzo Cain is gearing up for a battle.
The Milwaukee center fielder has watched with more than casual interest as the five National League Central Division teams have basically been running in place. Over their last 31 games going into Wednesday's schedule, four of the division teams went 15-16. Chicago was 14-17.
Over that span of time, the margin between first and second place has never been more than 1.5 games, and while the last-place Reds have trailed by as many as 8.5 games, they had narrowed that gap to 5.5 going into Wednesday's game.
"For me, it just says how balanced the division is," Cain said before Wednesday's third game of the four-game series against Cincinnati. "I feel like our division is the toughest in baseball. Everybody has good pitching. Any of the teams can beat the others on any night. I think anybody can win it."
Entering Wednesday, Milwaukee led the division by one game over the Cubs, thanks in large part to a combined 23-14 record against division opponents. The Brewers were 46-40 overall despite being on the negative side in run differential. They'd been outscored by their opponents by three runs.
Compare that to the 39-44 Reds, who'd outscored their opponents by a whopping 38 runs. They had the division's second-highest run differential, nine runs behind the Cubs. The Pirates were only four games out of first place despite having been outscored by 39 runs over the entire season.
"It probably means the teams are a lot closer than expected by everybody -- the experts, you guys," manager Craig Counsell said during his pregame media session. "It is a little odd, but it's not going to continue. Teams are going to get hot.
"The whole National League is bunched up. It makes it interesting for a lot of cities. I know the Reds got better, without question. The Pirates are a case where some offensive players got hot -- [All-Star] Josh Bell, [Kevin] Newman, [Bryan Reynolds]. This is where we're at."
It was clear to Cain that any team that wants to open some space has to go on a run, but he wasn't convinced that would happen.
"Nobody's going to run away with it," he said. "It's going to be a lot of fun."
"Nothing's been decided," Counsell added. "There's a lot left to be decided."
Worth Noting
Infielder-outfielder Hernan Perez cleared waivers and was outrighted to Triple-A San Antonio on Wednesday. Perez, 28, was designated for assignment on Friday.
INF/OF Hernán Pérez cleared waivers and has been outrighted to Triple-A San Antonio. pic.twitter.com/YDPvxI4eWE

— Milwaukee Brewers (@Brewers) July 3, 2019
Counsell was happy that the veteran utility player remained in the organization.
"That's good news," he said. "That's the best situation. He's still in the picture for us. He's another option for us. Knowing that Hernan is there is a good feeling for us."