NL Central: Moving forward post-Trade Deadline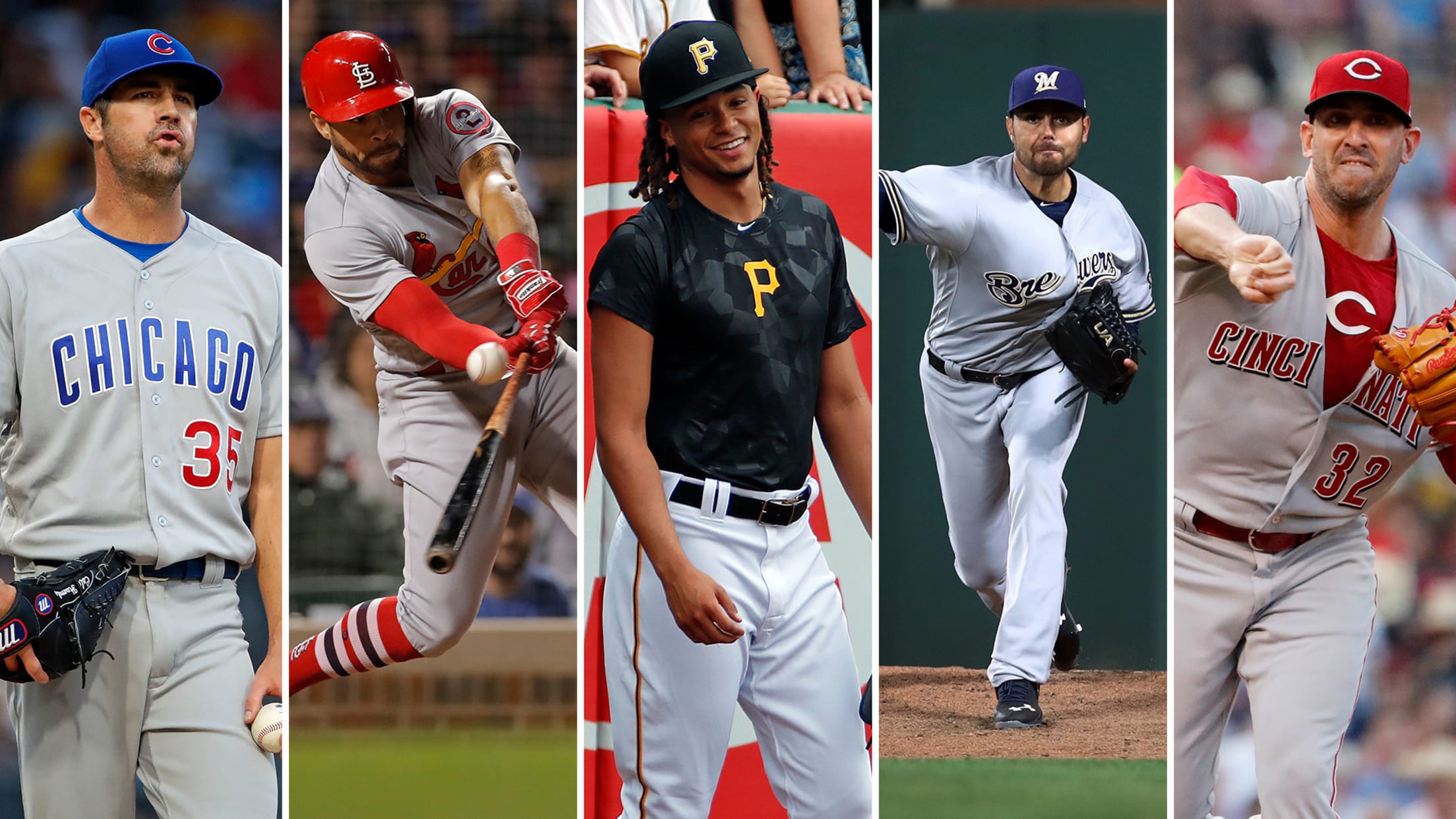 If you were asked in Spring Training and had the Cardinals as non-waiver Trade Deadline sellers and the Pirates as big buyers, step up and claim your prize.For the rest of you, welcome to the uncertainty of baseball wheeling and dealing.The disappointing Cardinals continued to trade pieces of an outfield
If you were asked in Spring Training and had the Cardinals as non-waiver Trade Deadline sellers and the Pirates as big buyers, step up and claim your prize.
For the rest of you, welcome to the uncertainty of baseball wheeling and dealing.
The disappointing Cardinals continued to trade pieces of an outfield they once thought would be part of their longtime core, while the Pirates jumped into the fray late for arguably the best starting pitcher to change hands. With Tommy Pham gone from St. Louis and Chris Archer preparing for his Pittsburgh debut at home, those look like two clubs headed in different directions.
"The Pirates have a lot of good talent," said Brewers GM David Stearns, who was busy himself. "They've been playing really well and clearly, they made a very aggressive play. They gave up a couple of really good, controllable players. It didn't really surprise me."
For Archer, it meant the end of incessant trade rumors.
"Having your name floated around is tough, but from hearing the way these guys talk about me and what they've told me, this is for now and for the future," Archer said. "The future looks very, very bright here. I'm excited to be a part of it, and I'm excited to be playing meaningful baseball again."
There's meaningful baseball to be played all around the National League Central. Here's a look at what where those clubs stood as the calendar turned to August:
BREWERS
What they did at the Deadline
• Acquired Joakim Soria from the White Sox for Minor League pitchers Kodi Medeiros and Wilber Perez
• Acquired Mike Moustakas from the Royals for Brett Phillips and Jorge Lopez
• Acquired Jonathan Schoop from the Orioles for Jonathan Villar, Minor League pitcher Luis Ortiz and infielder Jean Carmona
What it tells us
That Stearns is a creative problem-solver. While outsiders opined that the Brewers' chief need was a starting pitcher, Stearns balked at the high prices asked for the likes of Archer and bolstered other areas of the club instead. Soria was a big add to an already excellent bullpen, and Moustakas and Schoop, coming off 30-plus home runs in 2017, give manager Craig Counsell a lot of choices to make on a crowded infield.
What's the goal
As indicated by their outside-the-box acquisitions of Lorenzo Cain and Christian Yelich in January, the Brewers think they have a core in place to make the postseason.
Big question
Is the starting pitching good enough?
The statistics say yes. Milwaukee leads the NL in quality starts despite rolling out a rotation with no clear ace. Stearns says he will continue to shop in August for a trade that makes sense.
CARDINALS
What they did at the Deadline
• Traded Pham to the Rays for Minor Leaguers Justin Williams, Genesis Cabrera and Roel Ramirez
• Traded Oscar Mercado to the Indians for Minor League outfielders Conner Capel and Jhon Torres
• Traded Luke Voit to the Yankees for relievers Chasen Shreve and Giovanny Gallegos
• Traded Sam Tuivailala to the Mariners for Minor League right-hander Seth Elledge.
What it tells us
The Cardinals continue to overhaul their roster -- the bullpen, in particular -- after underachieving in the first half. The Major League club has been inundated with new, young faces as St. Louis seeks to get back to building a roster largely through a draft-and-develop approach.
What's the goal
Though the organization insists that it is not punting on 2018, these next two months will provide an opportunity for the Cardinals to evaluate what they've got and who might fit into the club's future plans. It's one way for the Cards to get a head start on building a contender for '19.
Big question
Can St. Louis stay competitive with so many unknown players?
Refusing to go all-in on a rebuild, the Cardinals are adamant that they can still compete for a postseason berth this season. They'll need substantial contributions from unknown commodities to do so, and they'll have to take advantage of their schedule. Thirty-nine of the team's final 54 games will come against clubs in the National League Wild Card race.
CUBS
What they did at the Deadline
• Acquired Jesse Chavez from the Rangers for Minor League pitcher Tyler Thomas
• Acquired Cole Hamels from the Rangers for Eddie Butler
• Acquired Brandon Kintzler from the Nationals for Minor League pitcher Jhon Romero
What it tells us
The goal was to add more pitching, and the Cubs did just that without having to sacrifice any of their young position players. Chavez and Kintzler are versatile pieces for the bullpen and can help close while Brandon Morrow rehabs from right biceps inflammation. Hamels gives them depth in the rotation, especially with Tyler Chatwood struggling. Chatwood leads the Majors in walks and just wasn't able to make corrections.
What's the goal
Manager Joe Maddon likes versatile players and versatile pitchers in the bullpen, and he's got more depth now. Chicago had been able to fill in gaps with young pitchers promoted from Triple-A Iowa, but now it has experienced arms. The goal? To win the last game of the season. The Cubs still have a sour taste after last year. Winning the World Series in 2016 spoiled them.
Big question
Will they be able to live up to expectations?
The Cubs have three stars on the DL -- Yu Darvish, Morrow, and third baseman Kristopher Bryant. Imagine how they'll look once that trio returns. That will be like getting three new players in the second half.
PIRATES
What they did at the Deadline
• Acquired Archer from the Rays for Austin Meadows, Tyler Glasnow and a player ("of significance," per GM Neal Huntington) to be named later
• Acquired Keone Kela from the Rangers for Taylor Hearn and a player to be named later
What it tells us
The Pirates' surprising surge up the standings in July restored management's confidence in the club's young core, so the Bucs bought in an unexpectedly big way. But Pittsburgh still isn't all-in on this season, because the moves were made with one eye on the present and the other on the immediate future. Archer will work atop their rotation for up to 3 1/2 years, while Kela will bolster the back end of their bullpen for two years after this season.
What's the goal
The odds aren't in the Pirates' favor, but they hope to keep pushing their way into the postseason for the first time since 2015. Pittsburgh sits well behind the Cubs in the division race and trails three clubs for the second NL Wild Card spot. The Pirates will have to get Corey Dickerson and Josh Bell healthy and capitalize on their recent additions to remain in the race.
Big question
Can they keep it up?
Pittsburgh has been streaky, following a 26-17 start with a 14-31 skid and now this 16-5 run into contention. Another significant slump would drop the Pirates out of the race and force them to start looking ahead to 2019.
REDS
What they did at the Deadline
• Traded Adam Duvall to the Braves for pitchers Lucas Sims and Matt Wisler, and outfielder Preston Tucker
What it tells us
The Reds didn't deal Matt Harvey, or anyone else, and were not willing to settle on the return. That indicates they have confidence in most of the current roster and feel they can be competitive this season with an eye toward contending in 2019.
What's the goal
After a woeful 3-18 start, Cincinnati is trying to get as close to .500 as possible over the final 50-plus games while also seeing what it has in some of its young players.
Big question
Can interim manager Jim Riggleman earn the full-time job?
It won't be decided until after the season, but the Reds are 45-45 under Riggleman after their terrible start. If they keep winning and finish close to .500 overall, it could help his chances.