NL West storylines by the numbers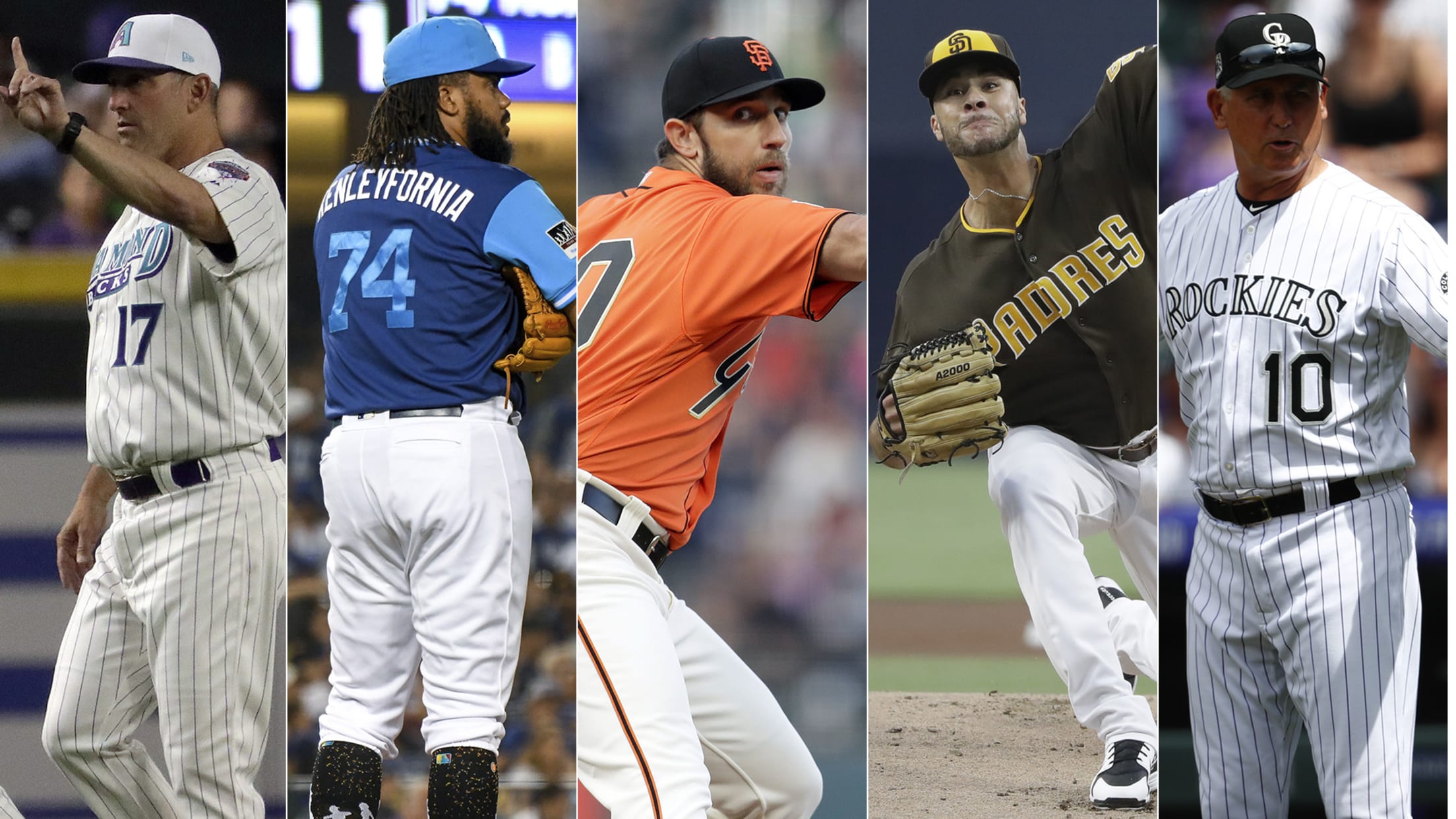 No game is defined by its numbers more than baseball. And the 2018 edition of the National League West has certainly seen its share of bizarre stats.With 2 1/2 weeks remaining in the tightest three-way division race in baseball, here's a look at the key number which best explains why
No game is defined by its numbers more than baseball. And the 2018 edition of the National League West has certainly seen its share of bizarre stats.
With 2 1/2 weeks remaining in the tightest three-way division race in baseball, here's a look at the key number which best explains why all five teams in the NL West find themselves in their current predicament.
D-BACKS
The number: 5
What it means: When the D-backs got rolling in 2017, they rolled. They pieced together winning streaks of 13 games, seven games and -- on three occasions -- five games.
This year, Arizona's longest winning streak has been five, and it has reached that mark only once -- in early May. Indeed, every time the D-backs appeared poised to surge, they hit a snag. For a number of reasons, the pivotal pieces on the roster have yet to click simultaneously.
There's still time to salvage the season. Arizona sits 3 1/2 games back of Colorado and two behind Los Angeles, with series remaining against the Rockies and Dodgers. But to do so, the D-backs will need to finish with a hot stretch, the likes of which they've yet to produce this year.
DODGERS
The number: 27
What it means: The Dodgers' weakness is no secret. Their bullpen has blown 27 saves -- already 11 more than the 2017 club, which reached the World Series and saw its relief corps turn into a strength during its NL Division Series and NL Championship Series victories.
That's in part due to Kenley Jansen's journey. Los Angeles' closer wasn't particularly effective in the early stages, and he's missed time over the past two months with an irregular heartbeat.
But the 27 blown saves are more attributable to the 'pen around Jansen, which has struggled immensely -- whether Jansen's been there or not. Jansen has only blown four of those saves. Erik Goeddel, JT Chargois, Pedro Baez, Scott Alexander and Tony Cingrani all have multiple blown saves to their name this year.
GIANTS
The number: 15
What it means: Madison Bumgarner, Johnny Cueto and Jeff Samardzija were supposed to anchor San Francisco's playoff push this season. Instead, the Giants have won only 15 games when any one of those three has started. The trio has combined for nine victories.
Of course, that's largely been the product of injuries. Samardzija (right shoulder inflammation) and Cueto (Tommy John surgery) are done for the season, and neither has pitched since July. Bumgarner, meanwhile, missed the first two months of the season with a fracture in his left hand.
San Francisco hung around for a while in a crowded NL West race. If there's one reason the Giants have faded, it's the minimal contributions from their supposed front-line arms.
PADRES
The number: 16
What it means: It was always going to be a season for development in San Diego. Fifteen players have made their big league debut for the Padres. That number will grow when left-hander Brad Wieck takes the mound for the first time. (Wieck was recalled Tuesday, but he didn't pitch in either of the team's two games in Seattle.)
For a handful of those players, the first taste of the big leagues has proved wildly successful. Left-hander Joey Lucchesi has been arguably San Diego's best starter this season. Franmil Reyes could be establishing himself as a long-term presence in the outfield. Right-hander Robert Stock appears capable of becoming a big-time bullpen arm.
But the rookies who have struggled have still gained valuable big league experience. The building blocks are clearly in place. The Padres are optimistic those 2018 debutants can take a step forward in '19.
ROCKIES
The number: 40
What it means: The Rockies have already won 40 road games this season -- perhaps the biggest reason they own a 1 1/2-game lead in the division
The franchise record for road victories is 41, set in 2009 and '17, and Colorado still has nine more games away from Coors Field this season. That mark should fall shortly.
Of course, two of those remaining road series come against the Dodgers and D-backs -- the teams chasing the Rockies in the NL West race. If Colorado -- which has thrived historically at Coors Field while struggling elsewhere -- can tack on road victories at its current .556 clip, it will be in good shape for the first division title in franchise history.