Thor vs. deGrom? A matchup you can't miss
Mets pitchers go head-to-head in intrasquad game and don't disappoint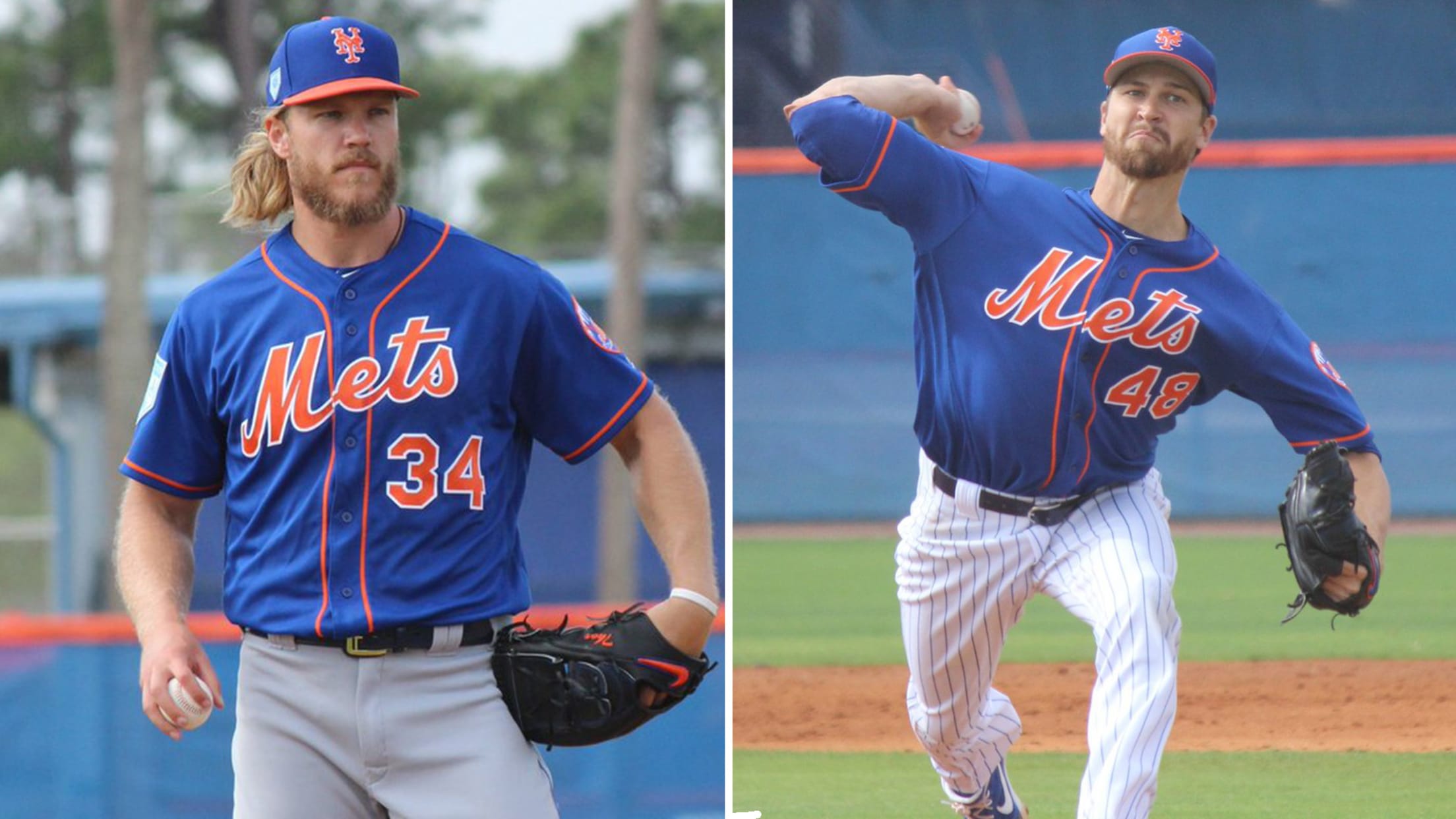 PORT ST. LUCIE, Fla. -- Few back-field scenes can match what unfolded on Field 7 at the Mets' Spring Training complex on Monday morning. In one dugout was Jacob deGrom, the reigning National League Cy Young Award winner. In the other was Noah Syndergaard, one of the few pitchers on
PORT ST. LUCIE, Fla. -- Few back-field scenes can match what unfolded on Field 7 at the Mets' Spring Training complex on Monday morning. In one dugout was Jacob deGrom, the reigning National League Cy Young Award winner. In the other was Noah Syndergaard, one of the few pitchers on earth who can rival deGrom's talent.
With those two opposing each other in a Minor League intrasquad game, dozens of prospects sat in the bleachers and lined the chain-link fences around the fields. Nearly every team executive was also present to take an up-close look at the Mets' top two starters.
"I still get nervous for games like that," Syndergaard said. "It's just the competitive nature inside me."
Syndergaard allowed three earned runs, including back-to-back homers by Andres Gimenez and Wilson Ramos. deGrom proved stingier, ceding a first-inning double to prospect Ronny Mauricio but only one run. Combined, deGrom and Syndergaard struck out 24 batters against two walks.
"Definitely productive," deGrom said.
The marquee matchup occurred because the Mets were wary of using either pitcher in their Grapefruit League game against the Nationals so soon before Opening Day. As deGrom put it, "Why give them another look?"
Over the weekend, Nats starter Stephen Strasburg shrugged off the issue, saying he's faced the Mets 17 times in his career and doesn't feel one additional spring start would change anything.
The Mets and their pitchers disagree.
"I would think that Stephen Strasburg is the exception to the rule in that regard, as far as what people feel," Mets manager Mickey Callaway said. "Every place I've ever been, you take the approach that we're taking."
Back where it all began
More than two weeks after signing a Minor League deal with the Mets, Carlos Gómez received his work visa and made his Grapefruit League debut, going 0-for-2 in the Mets' 6-5 loss to the Nationals. It was Gomez's first game for the Mets since they dealt him as part of a package for Johan Santana before the 2008 season.
"It's a lot of emotion -- exciting, nervous, happy," Gomez said. "It's a dream come true, coming back here and doing what I love."
Realistically with less than a week left in camp, Gomez will not have enough time to leapfrog anyone on the Mets' depth chart. The team has four outfielders under guaranteed contracts ahead of him, plus Jeff McNeil, J.D. Davis and veteran Rajai Davis. But Callaway at least left the door cracked that Gomez could break camp with the team.
"If he hits seven homers in the next week …" Callaway said, laughing. "So we'll see."
Decisions, decisions
Among those making pitches for the Mets' final bullpen spot are Kyle Dowdy, who escaped an early jam Monday to deliver three scoreless innings against the Nationals, and Tim Peterson, who allowed three runs to bloat his ERA to 5.40.
Outside of Luis Avilán, who is all but official as the Mets' sixth reliever, the Mets have had trouble distinguishing between a half-dozen other candidates for their final spot. Statistically, Ryan O'Rourke has pitched the best, allowing just two runs in 8 1/3 innings, but he is not on the 40-man roster. Same with Hector Santiago, who led the pack before blowing up for six runs in a start last weekend.
Peterson remains in decent standing despite two recent hiccups, mostly because he is on the 40-man roster. So is Dowdy, a Rule 5 Draft pick who must be offered back to the Indians if he doesn't make the team -- but his 7.36 ERA and six walks in 7 1/3 innings have given the Mets pause. The Mets have not told Dowdy when they might make a decision.
"I completely understand them taking as long as they possibly can because we have so many good players in this locker room," Dowdy said. "You don't want to cut anybody loose."
And more decisions
Another possible casualty of a crowded roster is Luis Guillorme, who is batting .355 in 36 plate appearances. Shuttled multiple times between the Majors and Minors last season, Guillorme hit just .209 with a .523 OPS in the big leagues. But he spent this winter shedding weight and adding muscle, and he believes he has become a different offensive player.
"I've always been seen as all glove, no bat," Guillorme said. "I just want to change that. I think I can swing it a little bit."
To make the team, however, Guillorme must prove he's a better option than veteran Adeiny Hechavarria, the Mets' other healthy source of middle-infield depth. Hechavarria is batting .233 this spring.
Up next
Zack Wheeler, who won't face the Marlins early in the regular season, was to start Tuesday opposite Miami right-hander Dan Straily in Jupiter, but the game was canceled because of rain. Also scheduled to appear for the Mets were bullpen candidates O'Rourke and Tyler Bashlor. The Mets will be off on Wednesday before seeing the Marlins again at 1:10 p.m. ET on Thursday in Port St. Lucie.