Class A stars shine at Carolina League Classic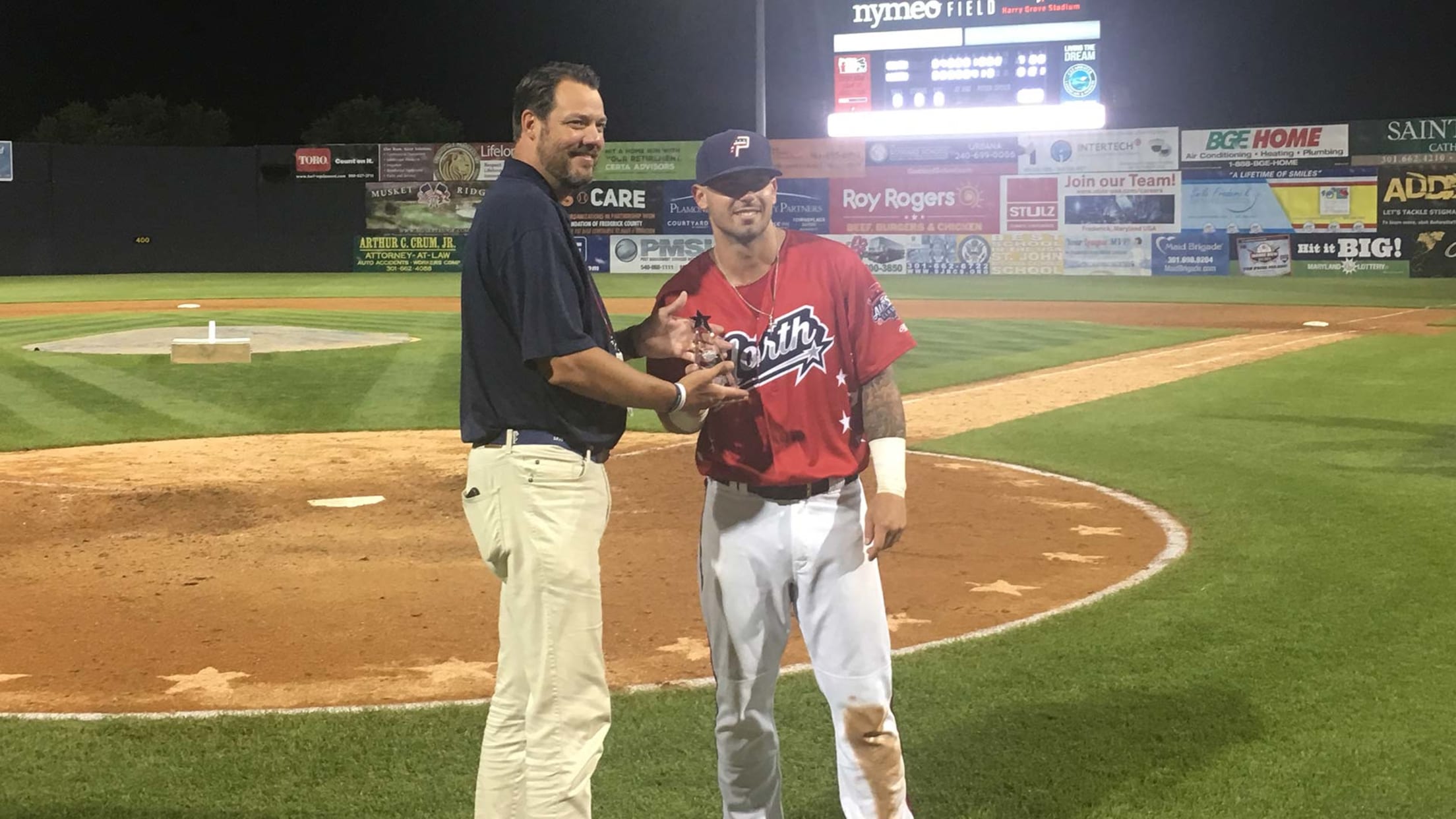 FREDERICK, Md. -- Nick Banks thought he missed it. As he rounded first base with his head down, he was sure it wasn't hit high enough. Maybe a loud double, sure, but a game-winning homer? "And then I saw everyone else slow down, and that's when I knew," the Nationals'
FREDERICK, Md. -- Nick Banks thought he missed it. As he rounded first base with his head down, he was sure it wasn't hit high enough. Maybe a loud double, sure, but a game-winning homer?
"And then I saw everyone else slow down, and that's when I knew," the Nationals' outfield prospect with Class A Advanced Potomac said.
Banks' eighth-inning three-run homer held strong to serve as the difference for the North squad's 8-7 win over the South in the 2019 Carolina League All-Star Classic, held Tuesday at the Frederick Keys' Nymeo Field at Harry Grove Stadium.
"Oh yeah, it did. It felt good," smiled Banks, whose opposite-field blast was part of a 3-for-4 performance at the plate to earn him MVP honors.
That's a Gatorade shower for Nationals outfield prospect and Carolina League All-Star Classic MVP Nick Banks, whose eighth-inning three-run homer solidified an 8-7 win for the North squad. pic.twitter.com/BWtrweSuhR

— Zachary Silver (@zachsilver) June 19, 2019
The Carolina League is the Class A Advanced division for 10 Major League organizations. Among the 45 individuals selected for the game, the Frederick Keys (Orioles) led all clubs with nine representatives. The Winston-Salem Dash (White Sox), Down East Wood Ducks (Rangers) and Carolina Mudcats (Brewers) all followed in second with five All-Stars each. The Wilmington Blue Rocks (Royals), Potomac Nationals (Nationals) and Myrtle Beach Pelicans (Cubs) sent four each, while the Lynchburg Hillcats (Indians), Salem Red Sox (Red Sox) and Fayetteville Woodpeckers (Astros) sent three.
Until 2017, the All-Star festivities usually featured a showdown between the Carolina and California Leagues. But Tuesday's game in Frederick -- which played host for the first time since 2005 -- was the third time the North and South divisions' best faced off. The North now owns a 2-1 edge in the series.
"It's been a cool experience to have teammates alongside you that you've grinded with, and gone through the season with, to be rewarded for your play," Frederick outfielder Cole Billingsley, the Orioles' 19th-round pick in 2016, who stole two bases and scored a run, said before the game. "To get to do it at your home stadium, it's a cool experience."
Team South stormed out to a 4-0 lead in the second inning. A fielder's choice compounded by a throwing error scored a pair, followed by a two-RBI single from catcher Payton Henry -- the Brewers' No. 10 prospect, according to MLB Pipeline.
A run was tacked on in the top of the sixth before the North showcased some small ball to bring the game back within reach in the sixth, and later tied it in the seventh.
And then Banks stepped up in the eighth.
The makeup of the game included a mix of highly drafted, highly rated top prospects for their respective organizations, as well as guys who have clawed and scratched for this chance in the limelight.
Of the nine Keys selected to the North roster, chief among them was 2016 first-round Draft pick Cody Sedlock. The right-handed pitcher has not appeared in a game since May 25, as the organization's training staff is hoping to rest him and keep him pitching later into the season after experiencing elbow discomfort. He's expected to return to action with the Keys on Thursday, however.
Sedlock was not alone in serving as some of the higher-regarded prospects that play in the Carolina League. Among several top-round Draft picks, 10 selections in the game fall within MLB Pipeline's top 30 prospects for their respective Major League ballclubs.
But for every cream-of-the-crop prospect is one who's scratched and clawed his way there.
Chief among that group is infielder Willy Yahn of the Keys. The 2017 25th-round Draft pick of the Orioles has turned heads this season, putting together a slash line of .296/.314/.426 with 13 doubles and 35 RBIs.
Yahn had a sure double robbed of him in the fifth inning Tuesday, but he laced a two-RBI double his next at-bat that brought the North squad within one run in the sixth. He also singled with a man on in the eighth to set up Banks' winning blast.
"You have top-of-the-line talent to guys who are considered non-prospects," said Keys manager Ryan Minor, who managed Team North. "But they are all equally out there playing the same game and doing it the same way they do it to get noticed, and tonight was an example of that for some guys."
Yahn was also Team North's firecracker.
"I was saying, 'We are going to have the greatest All-Star Game comeback in history,'" he recalled.
And the North did, erasing a five-run deficit before blasting its way to an 8-5 lead, and later holding off a two-run rally from the South in the top of the ninth.
Regardless of how Tuesday's participants got there, each brought their own spice, their own game-day quirks, their own idiosyncratic batting stances and their own walk-up songs to show off in front of 6,927 fans at Harry Grove Stadium in the mid-Atlantic.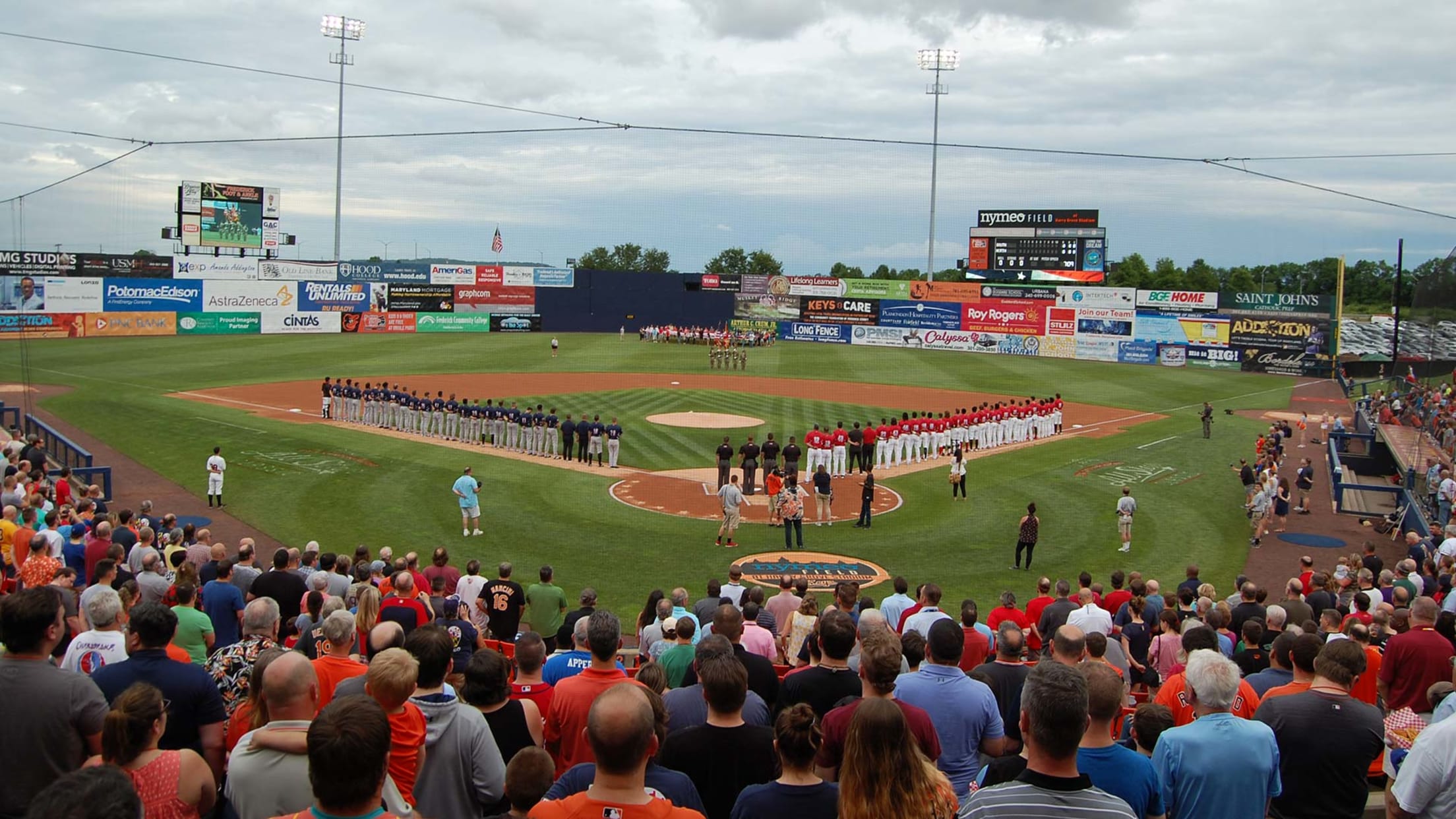 "It's fun to meet guys from all walks of life," Yahn said. "From wherever we come from, we all have different stories."
Also in attendance were scouts from a score of different Major League organizations. While all participants in the game hoped to put on a show for both fans and scouts, some sought to reap ulterior benefits of the festivities.
"Pick each other's brains a little bit, establish some friendships," Henry said before the game. "Never know what's going to happen in your career, their career. Never know if you're going to be winding up on the same team."
And of a similar vein, Tuesday was the culmination of offseason refinements and adjustments being recognized on the biggest stage at the Class A Advanced level. For Henry, that means cashing in on the advice he soaked up when he was a non-roster invite to Milwaukee's Spring Training this past February.
"That was fun being with them and being able to learn from them, so I'm definitely applying some of the things I've learned throughout this season," Henry said. "All that is important, but everybody is here to have a good time right now."
A good time can include a competitive spirit, though.
"We are always still wanting to win the game," Henry reaffirmed, later adding, "Hopefully we'll be in a lot more All-Star Games going up together."