O'Brien among top prospect performers Saturday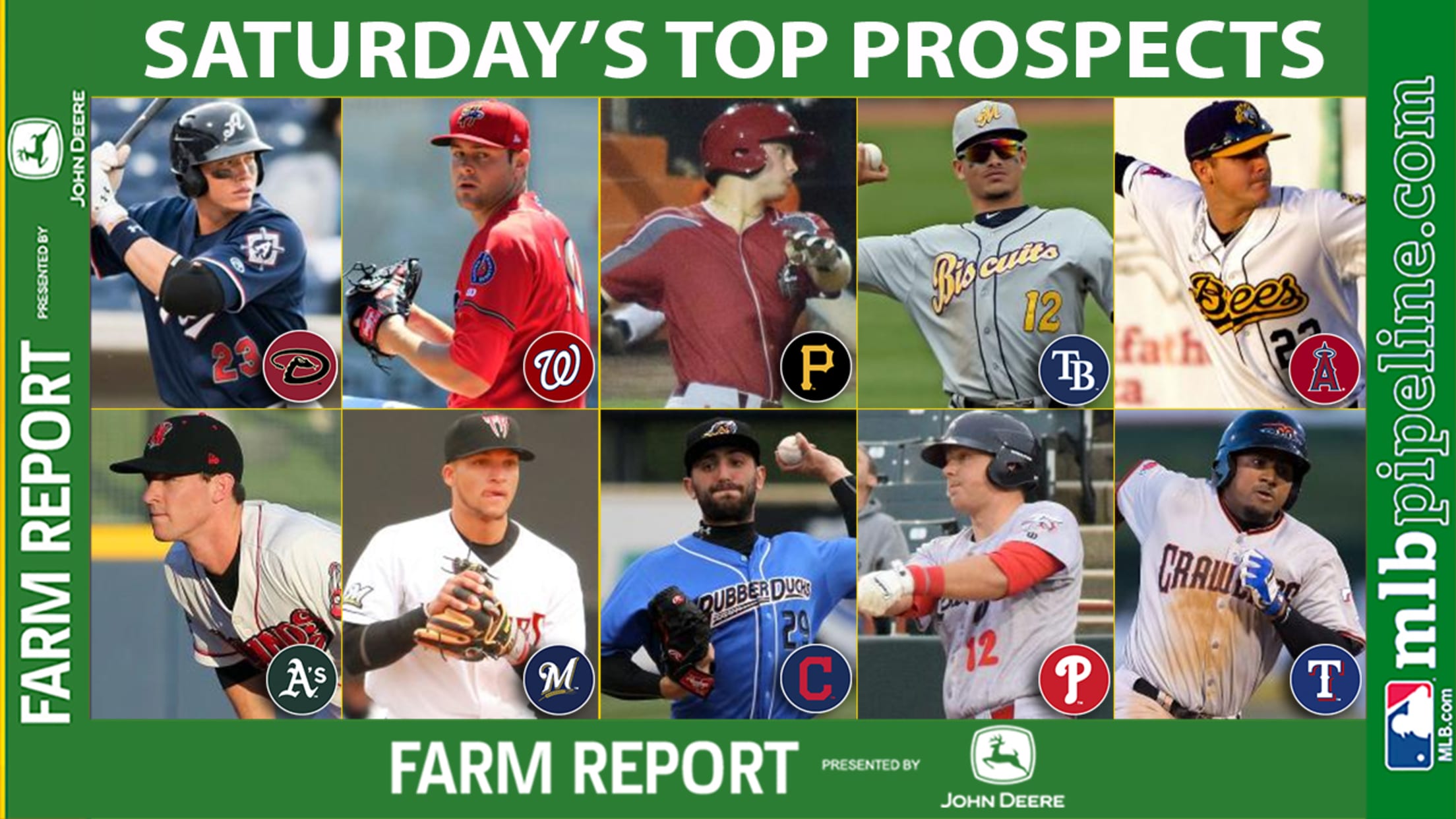 (Paul Sancya/AP)
Peter O'Brien's monstrous week continued Thursday as he hit a first-inning grand slam and went 2-for-4 at the plate for Triple-A Reno in their 14-13 win over Salt Lake.The grand slam was O'Brien's second in his past four games and comes one day after he hit a pair of home
Peter O'Brien's monstrous week continued Thursday as he hit a first-inning grand slam and went 2-for-4 at the plate for Triple-A Reno in their 14-13 win over Salt Lake.
The grand slam was O'Brien's second in his past four games and comes one day after he hit a pair of home runs against Las Vegas. The D-backs' No. 7 prospect has gone deep 16 times in 47 games, giving him a share of the Minor League lead.
O'Brien, 25, has been one of the top run producers in the Minors this season, hitting .325/.348/.670 with 48 RBIs for the Aces, and he's been especially hot during his current six-game hitting streak, with a .444 average, four home runs and 17 RBIs in that span.
The rest of the best performances from top prospects Saturday:
• No. 1 overall prospect Lucas Giolito had a shaky first inning for Double-A Harrisburg as he allowed one run on three hits and one walk and pitched his was out of a bases-loaded jam. The Nationals' No. 1 prospect was dominant after that, however, as he allowed just four hits over his final five frames to pace the Senators in a 3-1 win over Richmond. Giolito recorded a season-high eight strikeouts in the outing, with 66 of his 88 pitches going for strikes. Overall, he's pitched to a 2.98 ERA in 54 1/3 innings over 11 starts, 10 of which have seen him allow two or fewer earned runs.
• No. 16 overall prospect Austin Meadows extended his hitting and triples streaks to 13 and four, respectively, in Double-A Altoona's loss to Binghamton. After finishing 1-for-3 at the plate, he's hitting .458 (22-for-48) with eight multi-hit performances during his streak, and six of his Eastern League-leading eight triples have come in that span. The Pirates' No. 2 prospect is off to a strong start in his first full Double-A campaign, slashing .298/.362/.521 with 17 extra-base hits through 34 games for the Curve.
• No. 75 overall prospect Willy Adames' (Rays' No. 3) seventh home run was a game-winner as he connected on a two-run shot in the top of the ninth inning to help Double-A Montgomery edge Jacksonville, 3-1. The 20-year-old shortstop is hitting .284/.388/.511 this season for the Biscuits, and he's now one homer shy of matching his career high (eight), which he achieved over 125 games in 2014.
MILB Video - Title: Adames' go-ahead homer - Url: http://www.milb.com/r/video?content_id=776913983
• Angels' No. 16 prospect Brandon Sanger hit a pair of solo home runs in Class-A Burlington's 4-1 win over Quad Cities. He also added an RBI double, driving in three runs total, in what was his first multi-homer game as a pro.
MILB Video - Title: Sanger's second homer - Url: http://www.milb.com/r/video?content_id=777100683
• Athletics' No. 13 prospect Joey Wendle blasted a grand slam and tallied five RBIs for the second time in his past six games to pace Triple-A Nashville in a 13-5 rout over Omaha. The 26-year-old second baseman went 3-for-5 in the contest to extend his hitting streak to eight games, during which he's batting .444 (16-for-36) with 17 RBIs.
"The goal is not to have medium or hot streaks," Wendle told MiLB.com. "I just want to stay consistent. I've been feeling a little more comfortable at the plate lately and I think my timing has been a little better and I've just been getting myself in better hitting positions."
MILB Video - Title: Wendle slugs grand slam - Url: http://www.milb.com/r/video?content_id=777515983
• In Class-A Wisconsin's 5-1 win over Kane County, Brewers' No. 11 prospect Isan Diaz hit his fifth home run of the season and second in as many games. Monte Harrison (Brewers' No. 15) hit a pair of solo home runs, with both players finishing 2-for-4 at the plate.
• In what turned out to be the duel of the day, Orioles' No. 9 prospect Jason Garcia and Rob Kaminsky (Indians' No. 10) combined to allow three hits over 11 scoreless innings in Double-A Akron's 2-1 win over Bowie. Kaminsky recorded a season-high six strikeouts over five one-hit frames for the RubberDucks, while Garcia fired six innings of two-hit ball, walking one and fanning five, in his best start of the season for the Bowie.
"Tonight was one of the first times I felt I had my command back," Kaminsky told MiLB.com. "Everything started to click, especially with the off-speed pitches. Sinker felt really good tonight, and [catcher Jeremy] Lucas called a great game. It's great when the defense plays an awesome game behind you, and it was good for the team to come out with a 'W.' "
• Phillies' No. 19 prospect Rhys Hoskins hit a walk-off home run in the bottom of the 10th inning to lead Double-A Reading past New Hampshire, 6-5. The 23-year-old first baseman hit a pair of solo shots in the contest, giving him three in his past two games, and he's now gone deep 12 times in 51 games for the Fightin Phils.
"That's definitely something that is one of the most cool things in the game, rounding the bases in a walk-off," Hoskins told MiLB.com. "It's cool to know that the guys are there, waiting for you at home plate, just waiting to celebrate."
MILB Video - Title: Hoskins walks it off - Url: http://www.milb.com/r/video?content_id=777347083
• Rangers' No. 15 prospect Andy Ibanez's power surge continued Saturday as he went deep twice for the first time as a Minor Leaguer in Class-A Hickory's win over Lakewood. Thanks to four homers in his last seven games, Ibanez, 23, has now hit seven home runs to go along his .324/.413/.546 slash line in 49 games for the Crawdads.
• In that same game that Adames hit a go-ahead bomb, Rays' No. 18 prospect Ryne Stanek set a new career-high with 10 strikeouts, while hurling six-one run innings for Double-A Montgomery. After injuries limited the 2013 first-rounder to just 171 innings across his first three pro seasons, Stanek, 24, is making a name for himself this year by leading the Southern League with 73 strikeouts in 60 1/3 innings.
• Rockies' No. 13 prospect Peter Lambert was sharp yet again Saturday in Class-A Asheville's loss to Greenville as he struck out six in five scoreless innings. The outing lowered the 2015 second-rounder's ERA to 2.29, and he owns an impressive 48/7 strikeout-to-walk ratio in 51 innings (11 starts) this season.
• Tigers' No. 4 prospect Christin Stewart hit his 16th home run of the season in Class-A Advanced Lakeland's loss to Bradenton, tying him with O'Brien for the Minor League lead. The 2015 first-rounder has collected two hits in four straight games and owns an even .500 average (11-for-22) during his current seven-game hitting streak.
• Twins' No. 6 prospect Stephen Gonsalves yielded one hit over his first six innings, but gave up two runs in the seventh -- one earned -- to take the loss as Class-A Advanced Fort Myers fell to Daytona, 2-1, in game two of a doubleheader. It still marked the first complete game of the season for the 21-year-old southpaw, who fanned eight hitters without issuing a walk.