One X-factor on every team in the postseason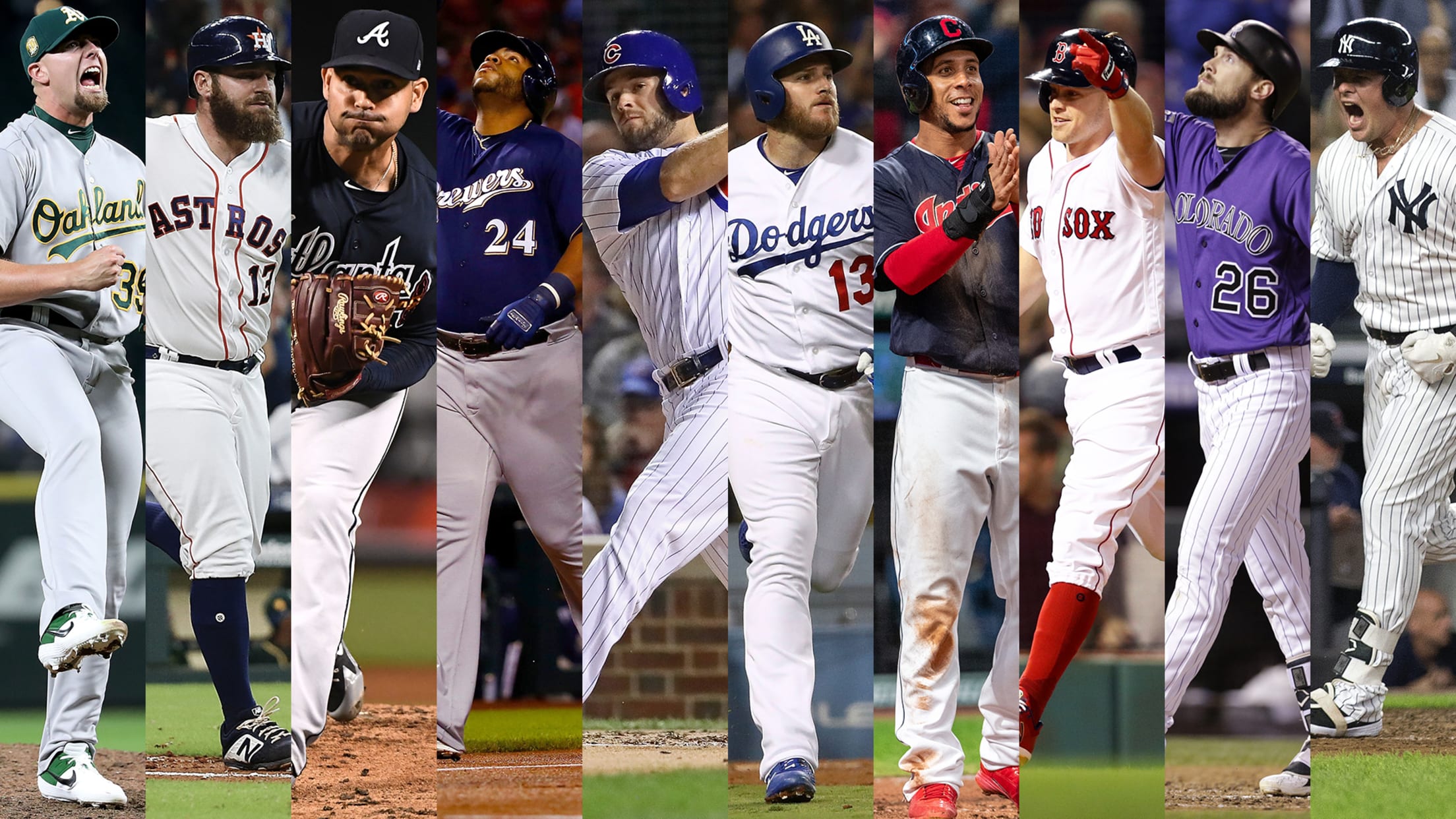 If you spent about eight minutes with the Brewers this past spring, Jesus Aguilar's name would have come up.First, there's Aguilar's size. At 6-foot-3, 250 pounds, he's a large man with a big presence in the clubhouse. His laughter is infectious.Aguilar is that guy other players gravitate toward because, for
If you spent about eight minutes with the Brewers this past spring, Jesus Aguilar's name would have come up.
First, there's Aguilar's size. At 6-foot-3, 250 pounds, he's a large man with a big presence in the clubhouse. His laughter is infectious.
Aguilar is that guy other players gravitate toward because, for one thing, he never seems to have a bad day. In 2017, when he was a part-time player, the Brewers said he was a significant part of their success.
None of us on the outside will ever quite understand the dynamics of a successful clubhouse, but it's clear that Aguilar contributed in Milwaukee's culture and joy.
And that's how 2018 started.
The Brewers also thought Aguilar could play. He hit 16 home runs and had an .837 OPS in 311 plate appearances in 2017. But they weren't sure they'd get him more playing time than that this year.
All they'd seen in 2017 was enough to be intrigued. Turns out, the Brewers didn't have to carve out playing time for Aguilar. He did that himself in a season in which he has 34 homers, 25 doubles and an .888 OPS.
Playing full-time for the first time in his brief career, Aguilar made the National League All-Star team, while the Brewers returned to the postseason for the first time since 2011.
These are the best parts of a baseball season. To watch players emerge or to see them take their performance to a higher level is as good as it gets.
Let's take a look at the most interesting players of 2018, the players who have surprised, entertained and impressed us in their roles in shaping playoff races. Here is one X-factor from each of the 10 postseason teams.
A's
CloserBlake Treinen:38 saves, 0.78 ERA, 11.2 strikeouts per nine innings
What happens when a player with talent and smarts joins a relentlessly creative organization? Far from the player with the 5.73 ERA during the first half of the 2017 season with the Nationals, Treinen has become more consistent with his 97-mph stuff, while adding a cutter that is a devastating setup pitch.
Astros
First baseman/designated hitterTyler White: 12 home runs, 12 doubles, .888 OPS in 65 games
The former 33rd-round Draft pick played a huge role in carrying the defending World Series champions at a time when they were almost gutted by injuries. White had a huge August, hitting .325 with eight home runs and 23 RBIs in 23 games.
Braves
Right-handerAnibal Sanchez: 2.83 ERA in 25 games (24 starts), 1.08 WHIP
The Braves envisioned Sanchez being a long reliever and spot starter when he was signed during the spring after being released by the Twins. What they couldn't have known is that three years of tinkering with his mechanics and repertoire had created a nearly complete pitcher.
Brewers
First baseman Jesus Aguilar: 34 home runs, 25 doubles, .888 OPS
He spent three seasons buried on the depth chart in Cleveland and another in Milwaukee, when Eric Thames burst onto the scene. When given a chance to play this season, Aguilar took the opportunity and ran right onto the NL All-Star team with it.
Cubs
InfielderDavid Bote: Six home runs, nine doubles, .730 OPS in 73 games
Who can resist an 18th-round Draft pick who never gave up on his big league dream during seven seasons in the Minors? He has contributed some of the biggest moments of the season, including a two-run triple in a 3-0 victory over the Pirates on Thursday.
Dodgers
Utility manPlayer Page for Max Muncy: 33 home runs, 17 doubles, .958 OPS
Muncy reinvented his swing and approach after being released by the A's and spending the 2017 season in the Minor Leagues. When the Dodgers called him up in mid-April, he homered in his second game and has kept going.
Indians
OutfielderMichael Brantley: 17 home runs, 36 doubles, .832 OPS
Just when it looked as if Brantley might never have another healthy, productive season, and that he might miss out on the fun the Indians have had the past three seasons, he has bounced back with one of his best years. His work ethic should not be underestimated as a part of the Indians' 2018 success.
Red Sox
Utility manBrock Holt: Seven home runs, 17 doubles, .766 OPS
If Holt could not do everything -- literally, everything -- manager Alex Cora would have to invent him. Holt's best offensive season has come in a year in which he has started games at eight positions, and held his own at all of them.
Rockies
OutfielderDavid Dahl: 15 home runs, 11 doubles, .864 OPS in 75 games
After missing almost all of the 2017 season with a stress reaction in his rib cage, it wasn't clear what Dahl's role would be in '18. Just when he carved out a role for himself, he was sidelined for a month with a broken foot. Down the stretch, he has been a huge part of Colorado's push to the postseason. Before Saturday, he homered in five straight games.
Yankees
First basemanLuke Voit: 13 home runs, 31 RBIs, 1.075 OPS in 38 games with Yankees
Few organizations are better at identifying underutilized players, and the Yankees had had their eye on Voit for a while as he made his way through the Cardinals' farm system. A trade that got little notice has added a powerful presence to the middle of New York's lineup.