Tillman deflects shoulder talk, sees easy fix
O's righty allows 5 runs in 2 2/3 innings, but says he feels fine physically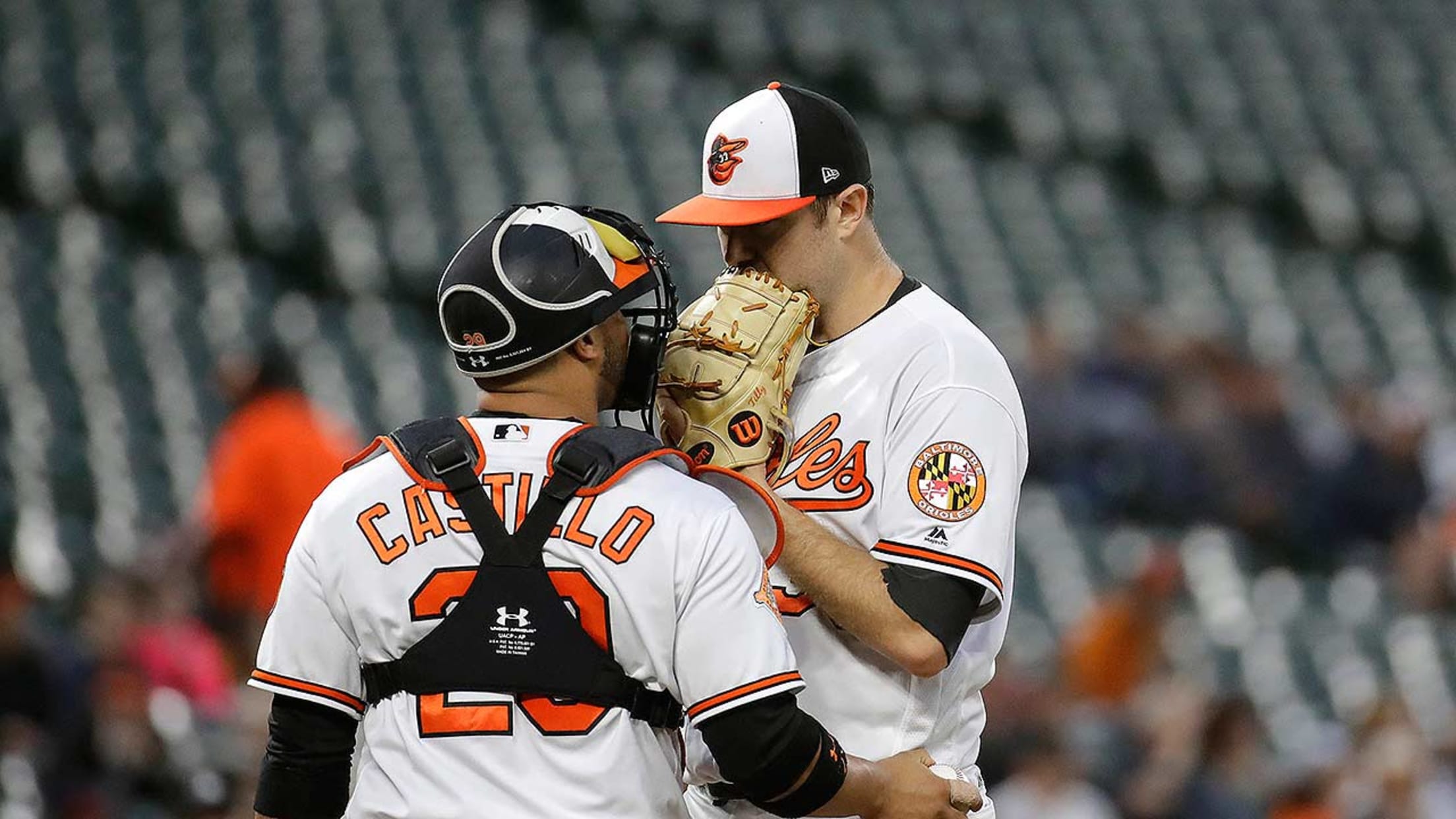 Buck Showalter called Chris Tillman "a good guy about looking in the mirror." (AP)
BALTIMORE -- All the goodwill from Monday's Orioles win -- which snapped a season-high seven-game losing streak -- washed away by the third inning on Tuesday night.Instead, Baltimore watched as starter Chris Tillman exited the game after a season-low 2 2/3 innings, having put his team in a five-run deficit
BALTIMORE -- All the goodwill from Monday's Orioles win -- which snapped a season-high seven-game losing streak -- washed away by the third inning on Tuesday night.
Instead, Baltimore watched as starter Chris Tillman exited the game after a season-low 2 2/3 innings, having put his team in a five-run deficit that would pave the way for an 8-3 loss to the Yankees.
"I think it is more of an execution thing than it is arm strength. And mechanical, too," Tillman said of his struggles. "That's an easy excuse [to blame arm strength], but when you're off mechanically, I feel like you're out there trying to search and search and search to find the right one to make pitches, and it just kind of snowballed tonight. They came out hacking and never stopped."
Tillman, who is 1-2 with a 5.87 ERA and just one quality start through five starts this season, isn't alone in his struggles in the Orioles' rotation.
But the righty, activated from the disabled list prior to his start May 7, was supposed to be a shot in the arm for the O's. Instead, Tillman has struggled to regain the form that saw him win 16 games and post a 3.77 ERA last year. He has been unable to find consistency in a rotation he was supposed to head. And that's a major problem for a Baltimore team that currently can only count on Dylan Bundy to get past the fifth inning.
"I feel pretty good about what he's telling us [about how he feels physically] and everything," Orioles manager Buck Showalter said of Tillman's health. "Chris is a good communicator and understands how important it is the job he's being asked to be done, and he's not going to put the team in harm's way if he doesn't feel like he can do it. He's not going to be one of those guys who's going to reach for some excuse when things aren't going well and [say], 'Oh there's the reason.'
"No, he's a good guy about looking in the mirror. Pretty good club over there, and if you aren't carrying good stuff with good command, you're going to have nights like tonight."
Tillman, who's had first-inning trouble for most of his career, surrendered a leadoff homer to Brett Gardner on Tuesday night. One out later, Matthew Holliday followed suit. The Yankees' designated hitter homered off Tillman again in his next at-bat in the third, helping chase the righty after he recorded just eight outs.
Physically, Tillman says he feels great, and that the shoulder injury that sent him to the DL is behind him. The righty was equally adamant that getting back on track is a simple fix.
"It's right there in front of me. I feel like it's an easy adjustment," Tillman said. "We know what it is and we worked on it this last time. The bullpen went really well, and when I went out there, I felt like I was trying to search to feel it again, and it never quite got there. I made some good pitches. I made some really bad ones, and I think that goes without saying."