O's focus turns to returning to playoffs in '17
Showalter, Duquette hold end-of-season press conference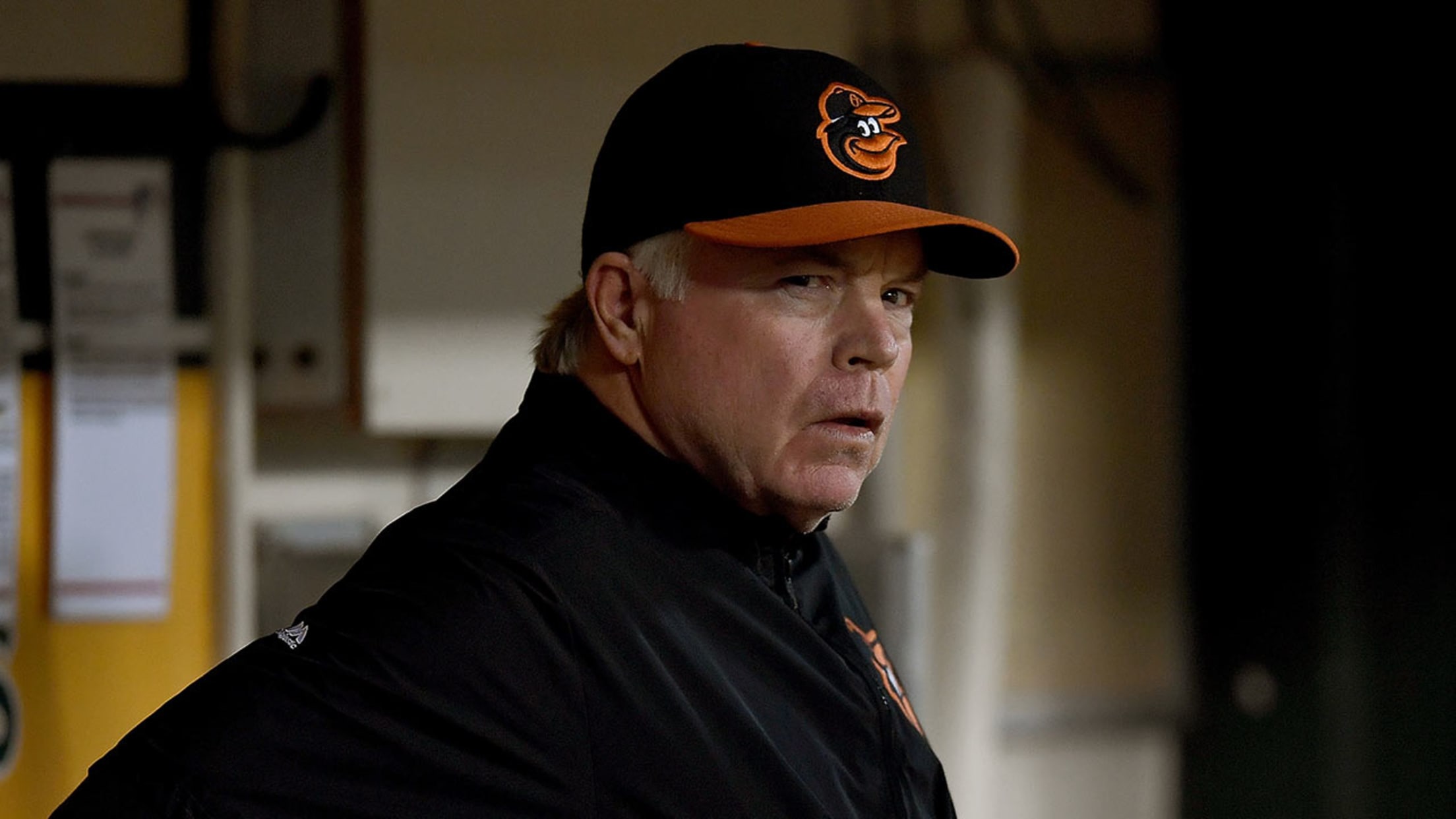 Buck Showalter discussed changes he hopes to implement following the O's loss in the AL Wild Card Game. (Getty)
BALTIMORE -- Orioles executive vice president of baseball operations Dan Duquette and manager Buck Showalter addressed several topics during their end-of-season press conference Thursday, including the possibility that the team will make qualifying offers to top free agents Mark Trumbo and Matt Wieters as they look to return to the
BALTIMORE -- Orioles executive vice president of baseball operations Dan Duquette and manager Buck Showalter addressed several topics during their end-of-season press conference Thursday, including the possibility that the team will make qualifying offers to top free agents Mark Trumbo and Matt Wieters as they look to return to the playoffs in 2017.
"It's under consideration," Duquette said. "They both had good years. I'm not sure that qualifying offer system is going to be in place. That's up for discussion between the Players Association and Major League Baseball. We'll have to see where they come out on that issue."
Wieters signed his one-year qualifying offer last offseason, and the Orioles obtained Trumbo in a trade with the Mariners. Both should draw plenty of interest on the free-agent market, and it isn't certain that the Orioles can bring them back.
The Orioles have already approached Chris Tillman and Manny Machado twice regarding contract extensions, according to Duquette, but they haven't yet broached the subject with Jonathan Schoop. However, talks with the second baseman could begin in the coming months.
Duquette said the Orioles will likely replicate their 2016 approach -- lots of power, good defense and a strong bullpen -- in 2017 as they try to earn a playoff spot for the fourth time in six seasons. They are looking to improve their starting rotation, though Duquette and Showalter both spoke of the importance of getting help from the entire team to win games on a regular basis.
"This American League East is a tough, tough division," Duquette said. "We're facing a good team night in and night out. We like to have power throughout our lineup. The power plays pretty well in our ballpark. They don't have any fielders on the other side of the fence."
Showalter also addressed his decision not to use closer Zach Britton in the AL Wild Card Game in Toronto once more, saying taking the heat on that choices like that come with the job.
"I'll wear it. It's OK," Showalter said. "You're going to be critiqued. Is it fair? Yeah, it probably is fair because that's the world that you choose to participate in. There's a lot of coulda, shoulda, woulda, but you're a human being. There's certain things in my capacity that you just have to wear, and I'm used to it."
Showalter also said that pitching coach Dave Wallace is retiring from active coaching. The Orioles hope that Wallace will have some kind of role next year, but that's still up in the air. They're going to look inside the organization first when searching for replacements, and the rest of the coaching staff is expected to remain in place, including bullpen coach Dom Chiti, though Chiti also will receive consideration for Wallace's vacated position.
In other notes, Showalter said he'd like to pull Adam Jones out of the leadoff spot next year, though the manager was pleased with Jones' performance in that spot.
Showalter also confirmed the hand injury that Chris Davis dealt with this season might have bothered him more than people realized, as the first baseman couldn't take the time to rest and let the hand get back to 100 percent.
Jeff Seidel is a contributor to MLB.com based in Baltimore.