Orioles let big lead unravel in 'tough' loss
Brach gives up first runs of season as Baltimore's offensive breakthrough overshadowed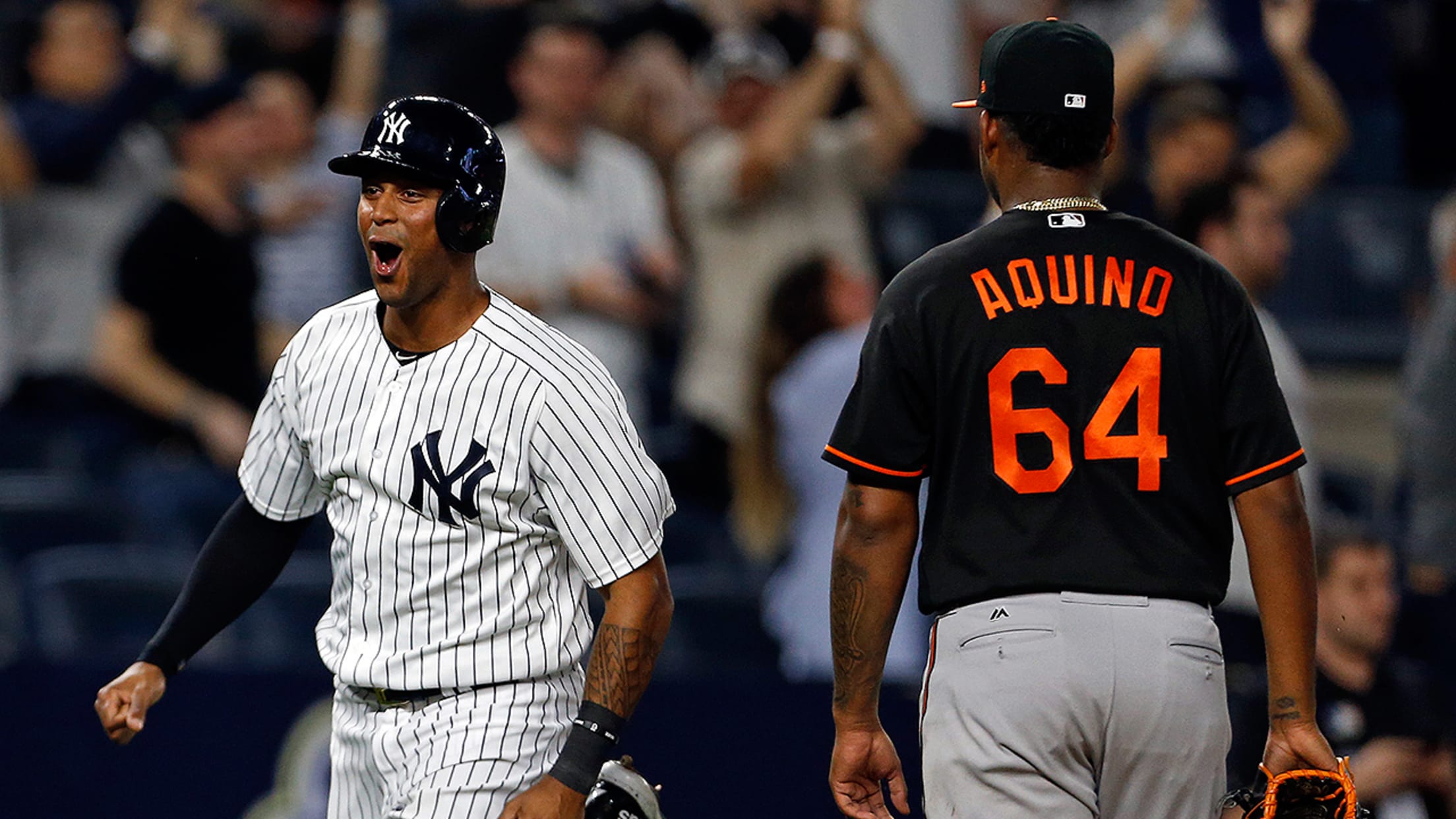 Jayson Aquino allowed Matt Holliday's three-run walk-off homer on Friday. (Getty)
NEW YORK -- Friday's 14-11 loss to the Yankees was supposed to be the game that Orioles fans remembered as the offensive awakening. Baltimore, up 9-1 in the sixth inning, was firing on all cylinders and getting big home runs from guys such as Manny Machado and Mark Trumbo.And then
NEW YORK -- Friday's 14-11 loss to the Yankees was supposed to be the game that Orioles fans remembered as the offensive awakening. Baltimore, up 9-1 in the sixth inning, was firing on all cylinders and getting big home runs from guys such as Manny Machado and Mark Trumbo.
And then it all unraveled in the grim 10-inning walk-off loss.
"It's tough," said Brad Brach, who gave up his first three runs of the year in the ninth, including a game-tying two-run homer. "I think that's the worst part about it. We were up by so much there, and finally Darren [O'Day] came in and settled things down and I just … the leadoff walk, I felt, was the bad thing.
"I know I gave up the home run later [to Starlin Castro], but with a three-run lead, I've got to attack the hitter. I can't be messing around like I did. You just don't want to lose those games."
Friday's game was frustrating on many levels. O's fans' feelings of "They finally hit! Struggling starter Kevin Gausman looked better!" started slowly coming undone. New York chipped away for three runs in the bottom of the sixth, then four in the seventh.
"I'm more [upset] about the fact that I gave up three in the sixth," said Gausman, who gave up a two-run homer to Aaron Judge in that frame. Kind of let them get off the hook, let them back in the ballgame. Darren [O'Day] and Brad shouldn't even be getting in the game, especially when we're up, 9-1."
By the time Brach entered the game, it was 11-8, and the O's just three outs away from another win. But Brach's leadoff walk quickly turned into runners on the corners. After an RBI groundout, Castro ambushed the first pitch he saw to force extras.
Brach, an All-Star last year, said he simply got away from his game plan. He started rushing a bit, and the right-hander paid for it.
"It's kinda like, you see a guy with a great track record," Orioles manager Buck Showalter said. "And we think highly of [Trumbo], and Manny had a big night. And a guy who has been rock solid for us had an off night with Brad. And that's just part of it. You try to keep the ebb and flow and realize that reality. That's a good team over there, and we're a good team."
With closer Zach Britton on the disabled list and Brach and O'Day already used, Showalter called on Jayson Aquino for the 10th. Aquino walked the first two hitters he faced before Matthew Holliday sealed the win for New York with a walk-off homer.
"I think it was the first real warm game, and the ball was definitely jumping today," Brach said of the eight homers between the two clubs. "Just a lot of runs scored there. I've got to hold the lead there. That's about it."