O's focus on big picture after another loss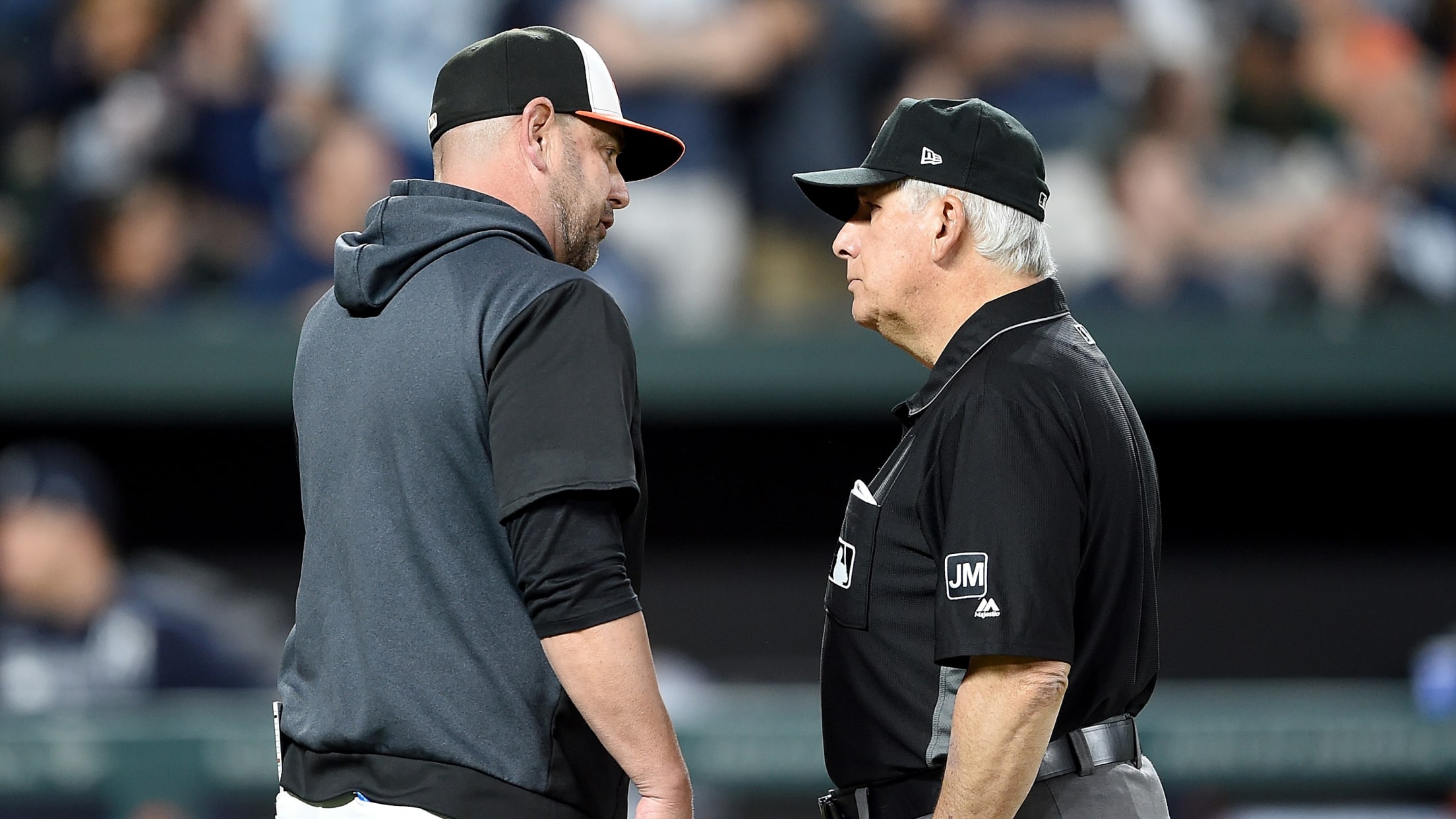 BALTIMORE -- Hours before the Orioles' current losing streak stretched to five games, dropping their record to the Majors' worst by percentage points, executive vice president and general manager Mike Elias sat in the home dugout and gave a telling public briefing. Elias began by providing reasoning for the acquisition
BALTIMORE -- Hours before the Orioles' current losing streak stretched to five games, dropping their record to the Majors' worst by percentage points, executive vice president and general manager Mike Elias sat in the home dugout and gave a telling public briefing. Elias began by providing reasoning for the acquisition of Keon Broxton, and near the end offered a glowing endorsement of rookie skipper Brandon Hyde.
But only one other time during Elias' 12-plus minute scrum was his opinion requested regarding another member of the current team, much of the conversation spent bouncing between myriad other topics. He answered questions about next month's Draft. He teased an unprecedented wave of international amateur signings to come in July. He spoke of the club's advancements in the analytics space and provided updates on some of its top prospects.
The dynamic was clear, as it has been since Elias took over the baseball operations department late last year: Given the prescient stage of their rebuild, the organization remains focused on the future. And by extension, the big picture. Even if the present sometimes hurts.
"There have been good things this year so far with the Major League team. The win-loss record has not been one of those things," Elias said. "This is the beginning of it. We all know what this looks like. It doesn't mean we're not going to push harder to get better, but it's where we're at right now."
That doesn't make nights like Wednesday any easier to handle for anyone wearing a uniform, now that they've begun piling up. Hyde was visibly frustrated discussing the O's latest 7-5 loss to the Yankees, which dropped Baltimore to 19 games under .500 and followed a similar script.
New York tagged Baltimore's combustible pitching staff for five more home runs, taking its seventh straight head-to-head matchup with the Orioles and 11th consecutive at Oriole Park at Camden Yards dating back to last season. A couple of middle-inning rallies weren't enough to erase another abbreviated Dan Straily start, the six runs the veteran righty allowed ballooning his ERA to 9.09. It was Gary Sánchez and Gleyber Torres again leading the charge for New York, with Sanchez hitting his ninth home run against the Orioles this season and Torres notching his ninth and 10th.
The Yankees have now hit at least three home runs in six consecutive games at Oriole Park, the longest streak by any team at any park in Major League history, according to STATS. The Orioles have now surrendered five or more homers seven times -- the highest single-season total in American League history -- through 49 games.
"I saw some of the highlights, and those balls were right down the middle. I don't know what to say, really," Hyde said. "There is definitely a pitching plan, and it definitely isn't 'throw the ball in the middle part of the plate.' And we continue to do it."
Torres hit solo shots off Straily in the third and Gabriel Ynoa in the fifth, giving him his fourth multi-homer game against Baltimore already this season. Eight matchups remain between the two clubs in 2019.
"Gleyber has two homers besides facing the Orioles, hitting .220 or something," Hyde said. "Major League pitchers are pitching to him. Gleyber is a good player. That was a really nice piece of hitting on Ynoa, taking the ball the other way. You tip your hat to that. But the other stuff, that's inexcusable at this level."
As he often does, Hyde found time to highlight the positives, and Wednesday he had to squint less than usual to see them. He lauded the pressure his young lineup put on winning pitcher CC Sabathia in the fifth, when it sliced into the Yankees' lead via Renato Núñez's two-run homer and Richie Martin's first career tater. They thrice brought the tying run to the plate in the late innings thanks in large part to two more fine outings from Branden Kline and Shawn Armstrong, who are quickly carving their names onto Hyde's short list of trusted bullpen arms.
"We battled tonight," Hyde said. "I can watch that."
But Hyde was also left to answer questions about a problem -- again on the pitching side -- that he admits the Orioles don't have the depth to solve. In responding to Straily's rotation status, Hyde repeated what he said Tuesday night in regards to struggling righty David Hess, who is in a similar boat: "We are going with what we have."
"I think he's done an excellent job," Elias said of Hyde. "It's a difficult circumstance with a young team, lot of players coming in from all different directions, guys coming and going. I know the players have received his message really well."