Tillman tests hip flexor in Grapefruit debut
Orioles right-hander allows two runs in 1 2/3 innings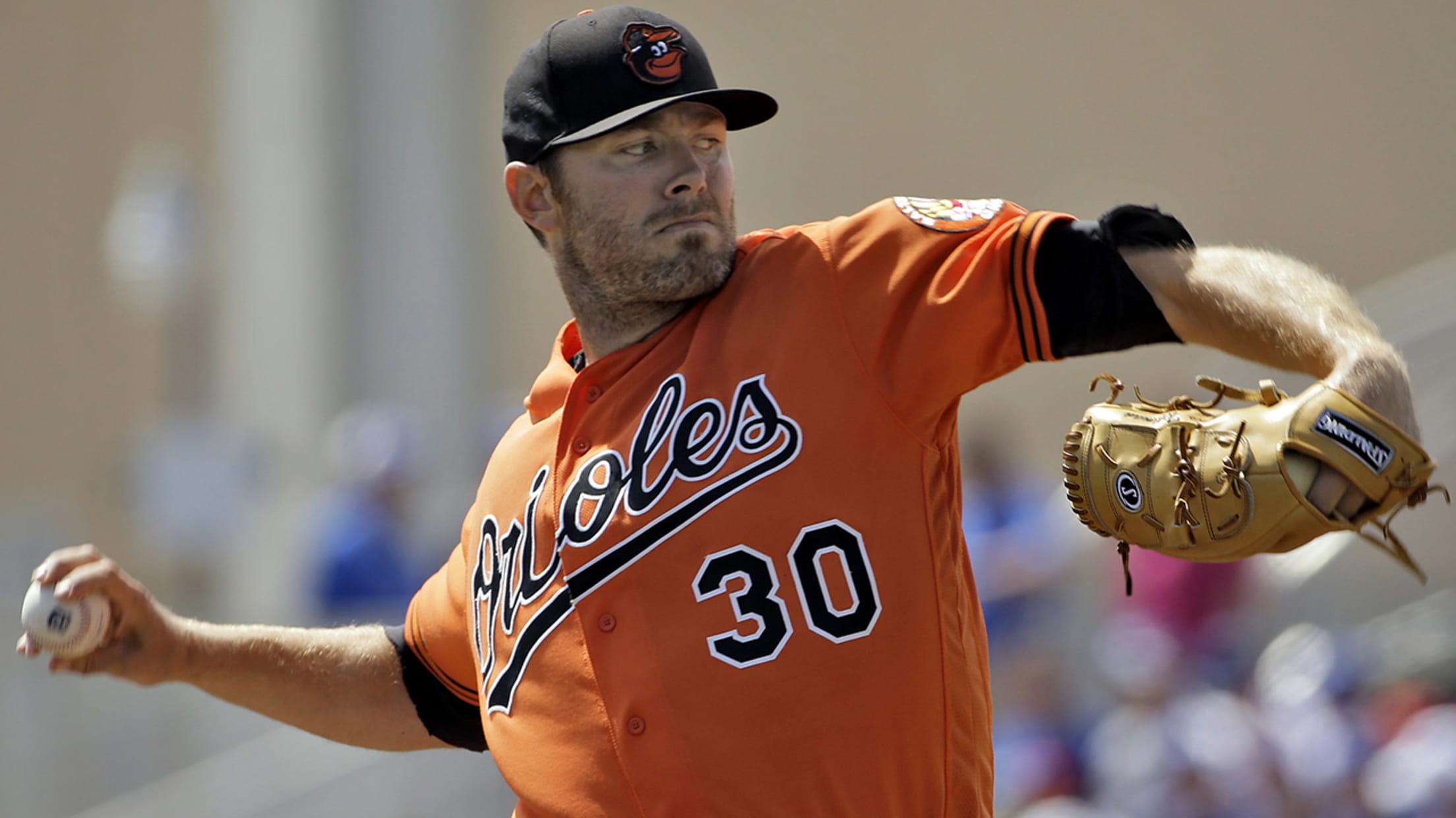 Orioles pitcher Chris Tillman throws a pitch in his first Grapefruit League game of spring. (Chris O'Meara/AP) (Chris O'Meara/AP)
DUNEDIN, Fla. -- During Spring Training, veteran pitchers don't often make road starts against division opponents. Teams typically try not to give a rival an extra look at an important, established arm.Chris Tillman was the exception in Tuesday's 6-6 tie against the Blue Jays. The Orioles' right-hander, behind schedule a
DUNEDIN, Fla. -- During Spring Training, veteran pitchers don't often make road starts against division opponents. Teams typically try not to give a rival an extra look at an important, established arm.
Chris Tillman was the exception in Tuesday's 6-6 tie against the Blue Jays. The Orioles' right-hander, behind schedule a bit this spring due to a right hip flexor problem, took the mound at Florida Auto Exchange Stadium. The results weren't pretty for Tillman, but after making his last appearance in a Minor League "B" game, he was glad for the opportunity to test his stuff against a potent lineup.
Spring Training:Tickets| Schedule| Ballpark
"It felt good to be back out there, get the butterflies going and the adrenaline," Tillman said. "That makes it a lot of fun. It's hard to do that on the back fields at Ed Smith [Stadium], but you know, there's nothing like getting those butterflies going in game, and having your guys behind you, and the fans booing you, or at home cheering you on."
Toronto has always given Tillman trouble, and that was especially true in 2015, when Tillman posted an 11.72 ERA and allowed a 1.129 OPS over six meetings. But on Monday, Orioles manager Buck Showalter explained that under these circumstances, he didn't mind giving Tillman the assignment.
"What have you got to lose?" Showalter said. "He needs to get in a competitive environment where if they bloody his nose, they bloody his nose."
The Jays, who started several regulars, did bloody Tillman's nose, at least metaphorically. Over 1 2/3 innings, he allowed two earned runs on five hits and three walks with one strikeout.
Kevin Pillar opened the bottom of the first with a high blast off the left-center-field wall for a double, and eight of 12 batters Tillman faced reached safely. Afterward, Tillman said he felt good physically and with his mechanics but was having some trouble with his curveball, which typically is the pitch that takes him longer to find.
"I need to get better with my secondary stuff, my spin," he said. "My changeup was really good. Fastball was really good. Spin was a little bit behind."
Worth noting:
• Right-hander Tyler Wilson took over for Tillman and fired 3 1/3 scoreless innings, allowing two hits and no walks, with two strikeouts against a tough Jays lineup. The 26-year-old, who made his Major League debut last season, owns a 2.89 ERA and hasn't walked a batter in four appearances this spring.
That helps Wilson stand out on an Orioles staff that has seen its share of struggles this spring. Miguel Gonzalez, for example, has allowed 14 earned runs over 5 2/3 innings.
"We've just got to get our five guys [for our rotation] before we leave here ready to go, and it could be Tyler Wilson," Showalter said. "There's some competition here that I don't think people understand."